I don't know about you but I am so sick of "greige" and "griolet" and every other bastardization of grey nail polish. To the point that it's extremely refreshing to see the real deal re-emerge as a hot nail polish trend for Fall 2011. It's not exactly like grey has been on hiatus for the past few years but it was feeling pretty tired post-2008 and I'm ecstatic to see it coming back.
During NYFW Teen Vogue's Eva Chen tweeted from backstage at Rag & Bone about the Revlon Stormy Canvas nail color Manicurist Jin Soon Choi used. Jin was quoted as saying, "I love this color because it's a true grey. I'm sick of greige," and upon reading that all I could say was, "Yes! Real f*cking grey is back!" Sorry, I'm just not the type to use "effing" in my everyday vernacular. The boyfriend, who I constantly embarrass with my ill-timed, foul-mouthed outbursts, would concur.
Black and grey are pretty much staple colors in most fall wardrobes but it wasn't until 2007/8 that grey really became a staple in nail world. Before brands like Rescue Beauty Lounge and China Glaze started producing hot greys, we were left to franken our own. I still remember, with longing, the dove grey CND previewed at the Fall '08 shows that was slated to go into production before they overhauled their polish line. Now, we have so many grey nail polish options it would make Rachel Zoe proud.

Grey is the new Grey (Fall 2011 Release) – all polishes are shown using two coats
From left to right - Pop Beauty Foggy (laying down), Zoya Tao, Deborah Lippmann Stormy Weather, Nails Inc Paddington, Finger Paints Stunning Stiletto (laying across), Essie Power Clutch, Sally Hansen Dorien Gray, China Glaze Concrete Catwalk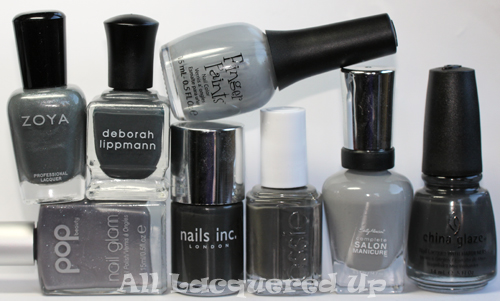 China Glaze Concrete Catwalk ($3, Head2ToeBeauty, TransDesign. $6, Sally Beauty) is a blue-based wet cement creme. It's the moody, blackened older sister of fan fave China Glaze Recycle.
Deborah Lippmann Stormy Weather ($16, DeborahLippmann.com, Barneys, Neiman Marcus, Nordstrom) is a deep granite creme that was created with Narciso Rodriguez for his Fall 2011 collection. It doesn't bear any resemblance to that other "Stormy" grey we all know so well (see below). It's much darker and moodier and blue-based as opposed to green.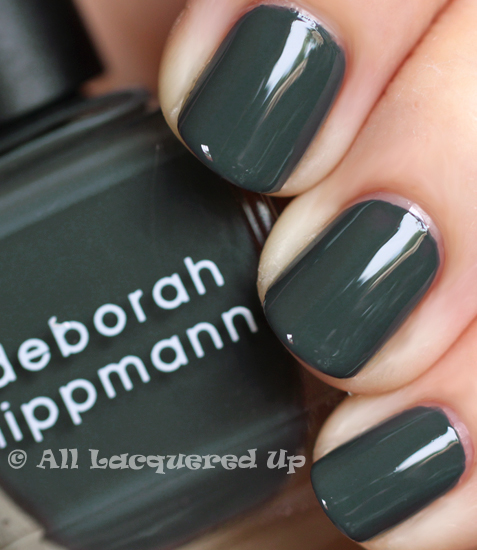 Essie Power Clutch ($8, Essie.com for locations and online shopping) I feel completely colorblind when it comes to this color. It's described by Essie as "green" and yet I've been wearing it for over a week and do not see it as green, no matter the lighting. Yes, it has a green base but I would never file this away in my green Helmer drawer.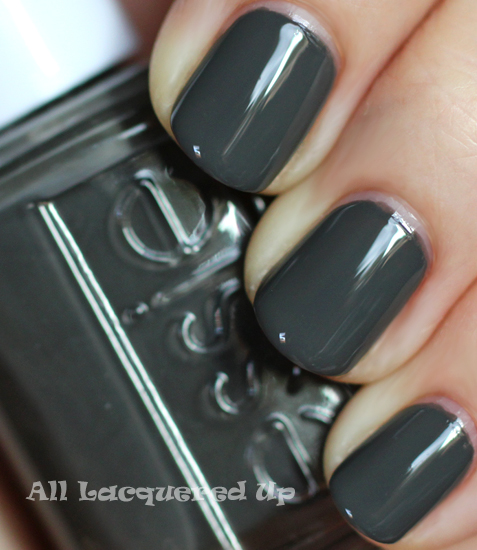 Finger Paints Stunning Stilettos ($4.99, SallyBeauty.com) really would make a "stunning" shoe color. I'd probably scuff the heck out of them in a week this blue-based mid-tone grey would pair perfectly with any ensemble.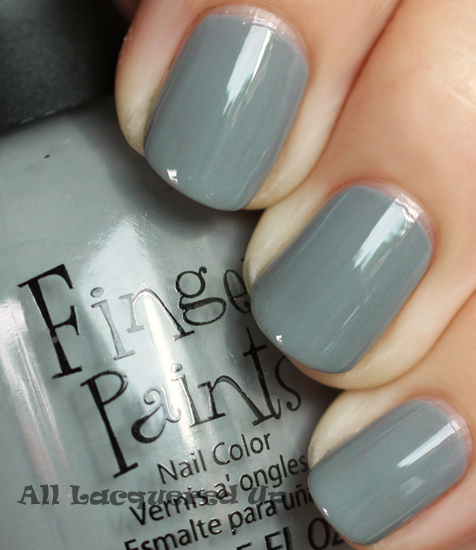 Nails Inc Paddington ($9.50, Sephora.com) is knocking on the door of "almost black" territory so this green-based grey is great for all the vampy nail polish lovers out there.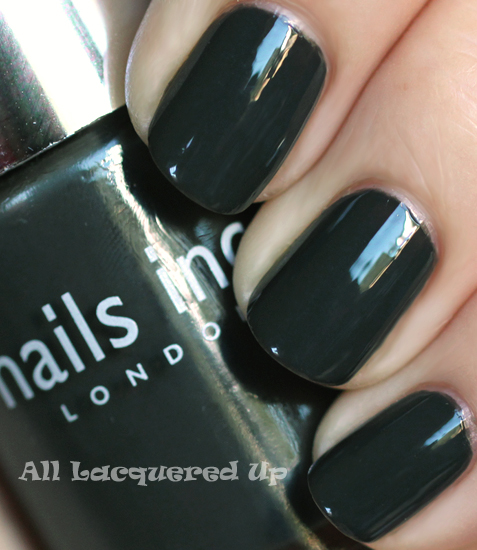 Pop Beauty Foggy ($10, PopBeautyCosmetics.com) isn't really a fall collection release but it's relatively new enough for me to include. It has a neutral, rubbery base color that's been glammed up with silvery shimmer and micro-glitter. I dig that they didn't pack in so much sparkle that it messed with the integrity of the color. It's still a grey at its core.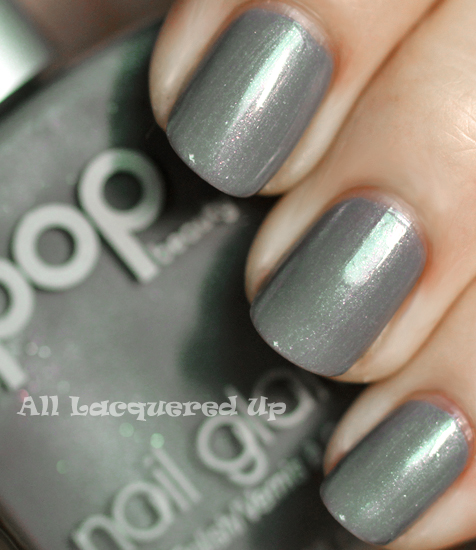 Sally Hansen Dorien Grey ($7.99 at drugstores and mass retailers nationwide) is the palest of the new greys and has that fresh and clean feeling that I love about dove hues. It's work safe for even the most conservative offices but still on trend.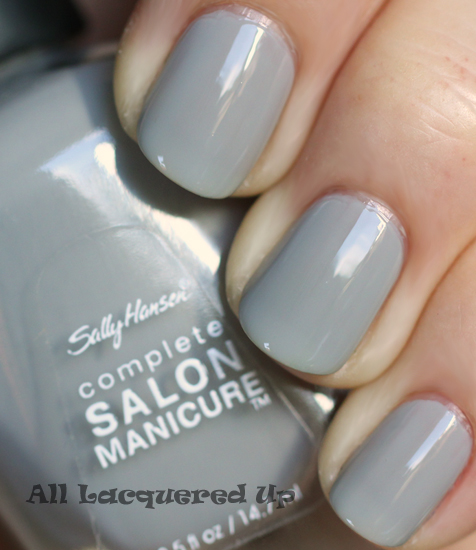 Zoya Tao ($8, Zoya.com) is unique in that it's a medium grey with shimmer that doesn't venture into the more traditional gunmetal territory. It's softer and more feminine while maintaining that urban edge normally associated with grey. Think uptown meets downtown.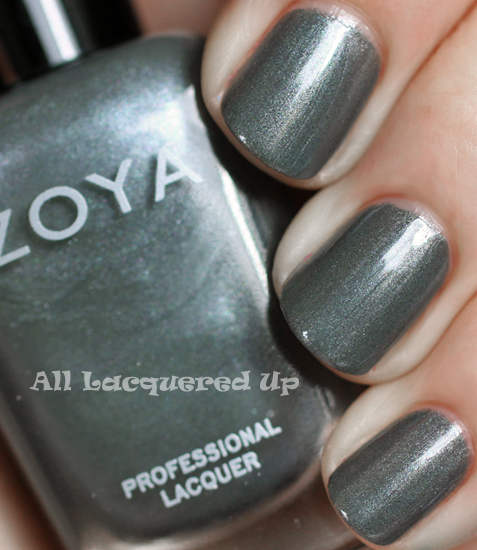 The OG's – The "Original Greys" in my stash
Not all of these shades are still available but if you have them in your nail wardrobe, now is the time to rock 'em.
Click the names to view swatches: Illamasqua DWS, RGB Steel (laying across), Orly Mirror Mirror, ULTA Concrete Evidence (bottom), Zoya Dove (top), Rescue Beauty Lounge Stormy (laying down), China Glaze Pelican Gray.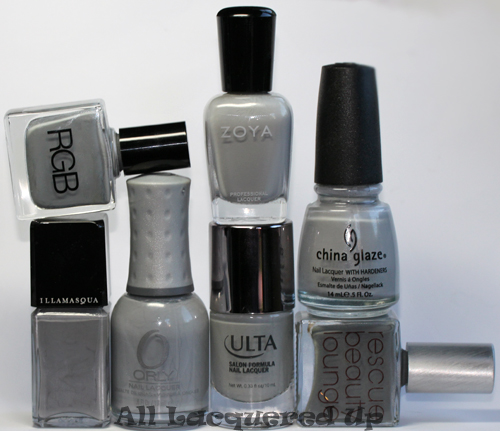 CND Asphalt, American Apparel Factory Grey (laying down), Barry M Grey, Essence Movie Star, China Glaze Recycle, Barielle U-Concrete-Me (laying across), OCC Dangerous, Models Own Moody Grey.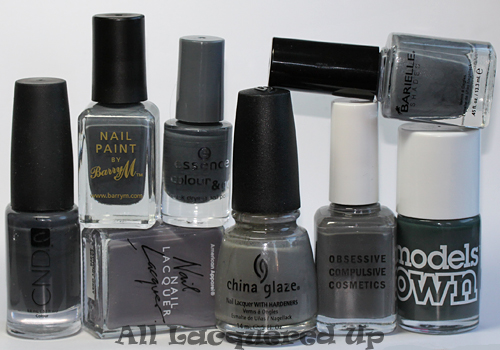 Best colors to pair with Grey – Teal, eggplant, sapphire, plum
Thoughts on the Real Grey nail color trend? Are you happy to see it make a comeback? Or did you never stop wearing it? Are you over "greige" as much as I am? Which new colors do you plan to pick up? What are your favorite grey nail polishes?
Disclosure: Product samples were provided by reps for China Glaze, Deborah Lippmann, Essie, Finger Paints, Nails Inc, Sally Hansen and Zoya. I purchased Pop Beauty Foggy. For more info view my Disclosure Policy.