Holiday 2010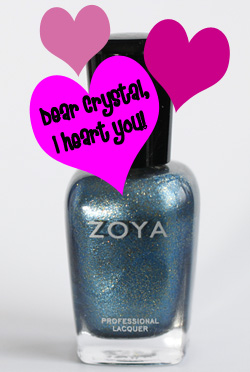 I've been experiencing a major nail polish depression of late.  I'm having issues finding polishes that truly thrill me to my core.  It's not that I'm not enjoying polish or anything but I haven't had too many OH.MY.GOD. moments this fall.

I don't know what it is but I feel like everything "new" that comes out is something I've seen before.  That is until I put Zoya Crystal on my nails.  I didn't just have an OMG moment.  More like an OMFG IT'S BEAUTIFUL moment.  I'm so smitten with the color I've worn it three, THREE, times.  Once for eight days and it still looked fab!  And if that's not telling of my adoration, I don't know what is.

Crystal is the star of the Zoya Flame collection for Winter 2010 and if you keep reading, you'll see why.