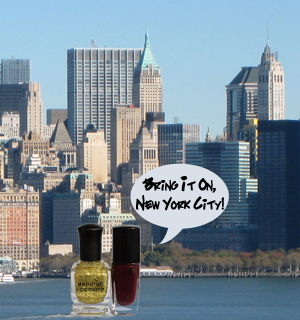 As you know I was in NYC for Halloween weekend with the boyfriend and per my usual travel ritual I was up late the night before we left. I did actually get five hours sleep with is a record for me. Baby steps…

Anywho, as I tend to do, I gave myself a middle of the night manicure, procrastinating because I couldn't decide on a color. Unlike my trips to NYC for Fashion Week, I wasn't going to be changing my color daily so I wanted something that would not only last but go with every outfit I packed. Finally, around 2 am, I pulled out the polishes I bought the day before, determined to wear something new. Little did I know, the combination I ended up choosing would last me 7+ days with barely any tip wear.

Read on to see my manicure with Lancôme Les Rouge L'Wren and Deborah Lippmann Boom Boom Pow and check out some pics from my trip.

On my trip to the mall I picked up the new Lancôme L'Wren Scott Holiday Collection polishes and a few of the Sephora by OPI Holiday colors. When I pulled them out Friday night I fully expected to put on the slate grey, Le Gris L'Wren, and surprised myself by falling hard for the garnet red shimmer, Les Rouge L'Wren. This red kick I'm on seems to have no signs of stopping. Weird, I know!
If you haven't seen the new Lancôme polish bottles, they've changed the size and brush on us. After releasing a mini set for Fall they've changed things up, opting for a bottle somewhere between the .185oz minis and the old .34oz bottles. This new slimmer bottle holds .21oz of polish and has a lower price point ($14.50).
My only point of contention is with the brush. I loved the old flat brush and this one has a similar shape and length, it's just not as firm. The floppy bristles make the polish harder to control. I would suggest that Lancôme bring back the old bristles because they were the bomb.

Okay on to the color… Les Rouge L'Wren was created in collaboration with famed designer L'Wren Scott. Last February we saw the blue-grey color from this collection grace the tips of the models at L'Wren's show and Les Rouge L'Wren hit the runway in September. The lush wine hue has a sprinkling of silver, gold and red micro-glitter that lights up the polish on the nail. I'm seriously infatuated with it.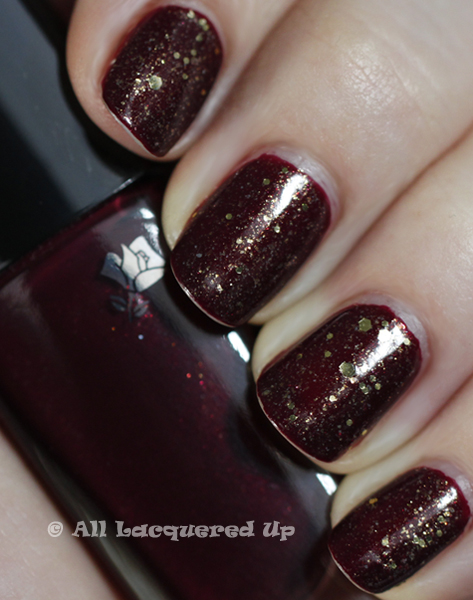 I didn't originally intend to wear it layered but considering that I barely held my eyes open long enough to polish my nails, it was no surprise when I woke up to see sheet marks wrecking my mani. So in a quick rush before heading to the airport I threw on a layer of Deborah Lippmann Boom Boom Pow, the gold Holiday Collection counterpart to Today Was A Fairytale, which I showed you back in August.  Boom Boom Pow contains 24K gold dust, gold micro-glitter and gold hexagonal sequins in a clear base.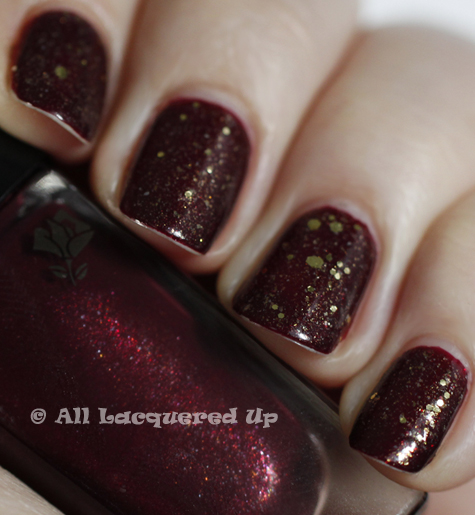 These shots were all taken after SEVEN DAYS of wear. That's right, we're talking seven full days that included hauling luggage, schlepping all over NYC, multiple subway rides and constant hand washing (NYC is a germaphobe's nightmare). I used Dermelect Launchpad Anti-Aging Base Coat and Olan Quick & Slick Top Coat but you would think I used glue.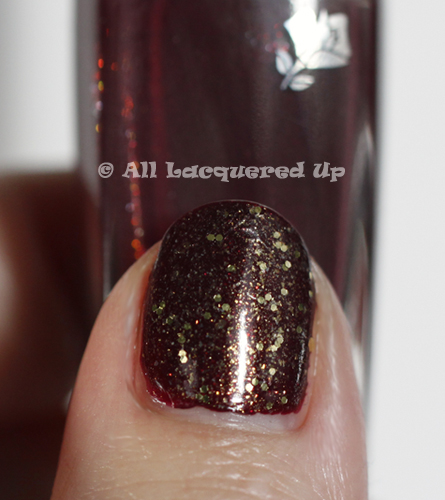 The only casualty was my right thumb and that didn't happen until I went to bowling on the Thursday following our trip.  Yep, I'm in a bowling league with the boyfriend.  It's a beer league and a lot of fun.  The only downside is that my thumb nail always takes a hit.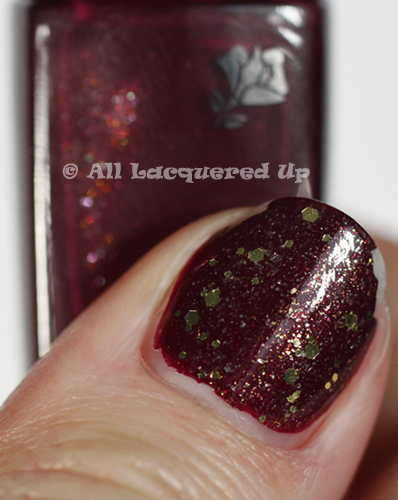 Halloween Weekend in NYC
I wasn't sure what to expect being in the city for Halloween. I'm not a fan of the holiday so we avoided the famous NYC Village Halloween Parade but it was a lot of fun seeing people with the outrageous costumes riding the subway or walking the streets with everyone else in their street clothes.  Though I could have done without seeing the drunk girls wearing little more than a bandage and dental floss barely keeping it together in Times Square.  It was way too cold for that.
Since we were staying in midtown near Rockefeller Center we wandered through Times Square and around the shops on 5th Avenue on Saturday, ending the evening at Aroma Kitchen, a restaurant I visited during a NYC beauty tour a few years back.  The food at Aroma Kitchen was fabulous and not much of a strain on the wallet.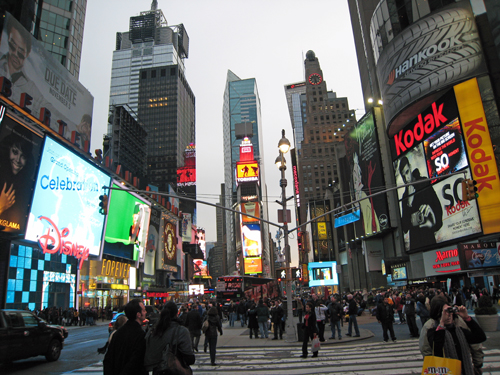 Sunday Funday found us venturing out to Brooklyn for brunch with my pal, StyleIt's Sarah Conley.  Silly me, I thought that since the restaurant was in Brooklyn, where Sarah lives, it would be an easy trip for her.  Little did I know it was a shorter trip for us than it was for her.  Shows what I know about NYC transporation.
Anywho, I chose Seersucker after hearing about it from co-owner, Lancome VP of PR Kerry Diamond.  Kerry and her boyfriend, Chef Robert Newton, opened the Southern comfort food spot this past summer and I've been wanting to check it out.  Fashion Week is usually too crazy for a trek out to Brooklyn so this trip proved to be the perfect time.  Seersucker more than lived up to my expectations.  The boyfriend loves biscuits and sausage gravy and said it was one of the best he's had.  I just wish we would have been in town on Tuesday to experience the fried chicken I've read so much about.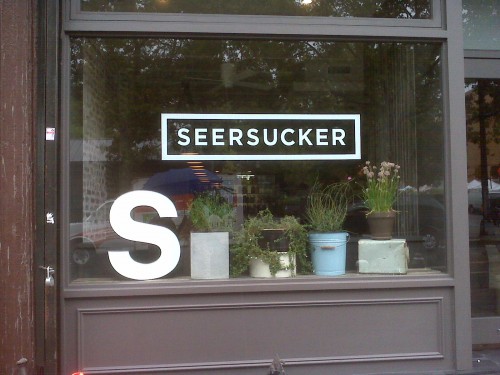 As if we needed more food, Sarah took us to her favorite cupcake shop, Billy's Bakery in Chelsea where I got to intro the boyfriend to Sarah's FW partner-in-crime, LesleyKat. After all that, a walk was definitely in order so we continued our NYC tour with a stroll through Central Park to see the Bethesda Fountain.  It was a brisk, sunny day, perfect to take in the fall foliage.  We finished the night with drinks in Union Square with Sarah and Heather Park and dinner at Dos Caminos.  Their homemade guacamole is SOOO good.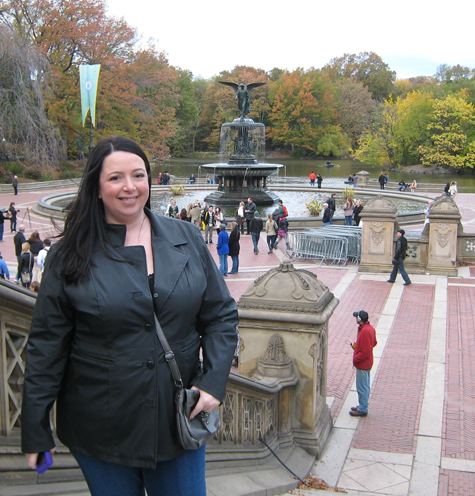 Monday was all about the boyfriend.  When we planned the trip he asked to see three things; The Statue of Liberty/Ellis Island, Ground Zero and a Ranger's hockey game at Madison Square Garden.
We started out bright and early to catch the ferry to Liberty Island and arrived to find out that Monday is school group day.  Kill me now!  Despite the throngs of noisy children, seeing the Statue of Liberty and Ellis Island was amazing.  Emotional even.  We climbed the 156 steps to the pedestal of Lady Liberty and the view was stunning, learning the history of the statue along the way.  You can climb a full 315 steps to the crown but neither of us were up for that.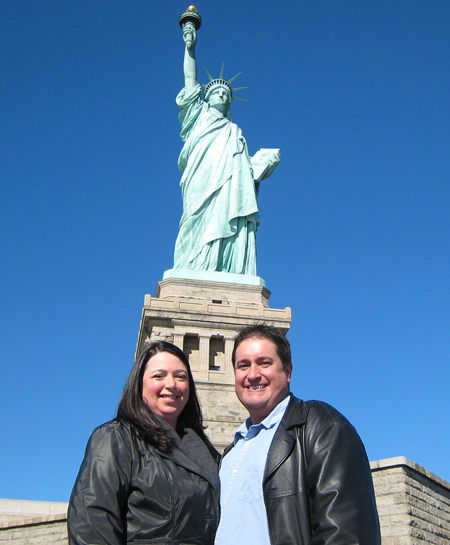 On our way to to the hotel to recoup before the hockey game we stopped to pay our respects at Ground Zero and visited the 9/11 Memorial Preview Site and that's where I lost it.  I fully admit that I'm a sap but I can't imagine anyone can visit the site and not get teary-eyed.
Later that night we met up with a friend of the boyfriend's for drinks at The Flying Puck, a hockey bar.  Yes, in a foodie town like NYC I went to a hockey bar but like I said, it was the boyfriend's day.  He was in his glory watching the Rangers take on the Chicago Blackhawks and I was excited to see the Garden.  It was a lot smaller than I expected and the color scheme threw me for a loop.  Barney purple and turquoise? Who was in charge of that??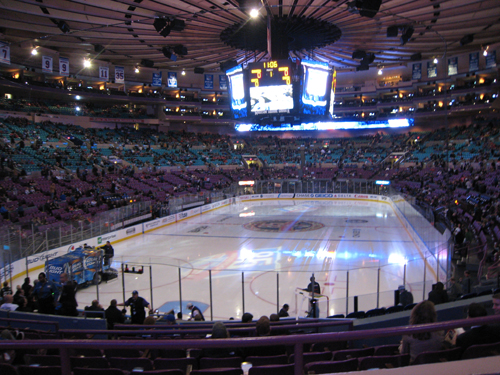 We capped off the night with a visit to the Empire State Building.  It was FREEZING but the view was incredible.  Someone on Twitter mentioned that there's a better view from Rockefeller Center but we had purchased our tickets in advance and it just seemed like "the" place to see the city.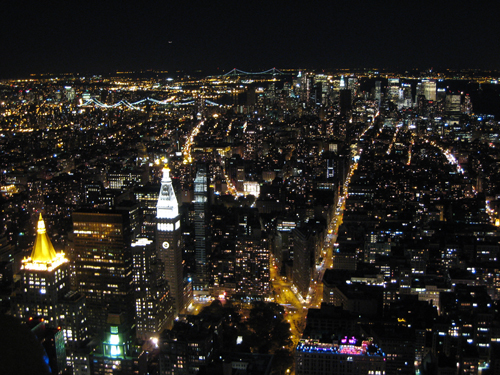 More than one person recommended we hit up Katz's Deli so we headed there on Tuesday for lunch. I'm sure you remember the scene from When Harry Met Sally that was filmed there. "I'll have what she's having."  The corned beef and matzo ball soup were delish!
We also went on the NBC Studio Tour that day but we weren't allowed to take pics inside 30 Rock.  Due to my Sex & The City obsession we stopped at Magnolia Bakery and holy overrated Batman!  Their red velvet is beyond terrible. Flavorless and covered in lard frosting.  GROSS!  Don't. Do. It!  At least we ended the trip on a high note, hanging with Keri Blair at a local organic eatery, FreeFoods.  I had a yummy green juice that energized me for the journey home.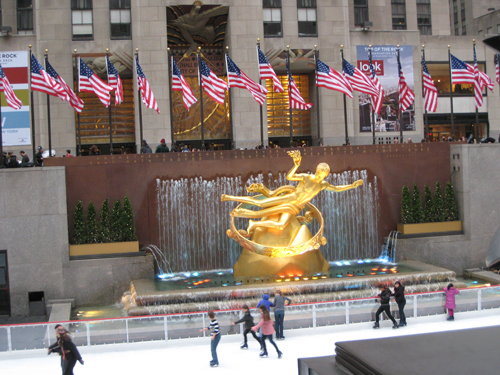 Lancôme Les Rouge L'Wren retails for $14.50/ea for a .21oz bottle and is available now on Lancome-USA.com and at Lancôme counters nationwide. Deborah Lippmann Boom Boom Pow retails for $20/ea for a .5oz bottle and is available now at DeborahLippmann.com, Nordstrom.com, Beauty.com and at Barneys NY.
I hope you enjoyed my little (or not so little) recap of my NYC trip.  What do you think of my Lancôme/Lippmann manicure?  Have you fallen for a color family recently that you normally shy away from?  What's the longest you've worn a manicure before it started showing serious signs of wear?  What was that magical product combo?
Disclosure: A product sample was provided by Deborah Lippmann and Dermelect, all other products and services mentioned were purchased by me. For more info view my Disclosure Policy.
image credit: Seersucker image from Becoming Brooklyn.