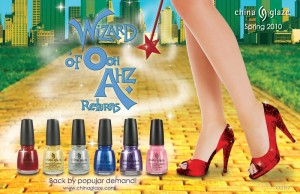 The highly anticipated Wizard of Ooh Ahz collection is finally here.  After a lot of nail board begging, petitions and pleas the people at China Glaze listened and brought back the famed 2001 collection including the much talked about but rarely seen Dorothy Who?, Good Witch? and C-C-Courage.I've been fortunate to have owned, or seen in person, all the original WOOA polishes but most have not been as lucky, even the people AT China Glaze.  Thanks to the help of original WOOA owners, like myself, the brand attempted to re-create the collection and they've come pretty close for what they had to work with.  Check out the 2009 version of these beauties and see how they stack up against the originals (that I still own), after the jump!
Back-story
The Wizard of Ooh Ahz polishes became part of the nail polish lexicon when a MUA nail boarder discovered them in a closeout store (a Christmas Tree Shop, I believe) about 4 or 5 years ago.  Lemmings were born and a fever to hunt them down began.  Thanks to the generosity of my fellow nail boarders I've had the pleasure of owning all except The Ten Man and an original bottle of Ruby Pumps.
In 2007 petitions began to form and China Glaze reached out to me for a swatch wheel of the originals.  Since that time, they've worked on perfecting clones.  Fanatics who are looking for dead-on dupes won't find them here though not for a lack of trying.  I've seen two previous incarnations prior to this launch and while they still haven't hit the nail directly on the head, they did a bang-up job nonetheless.  With formula changes (to 3-Free), no recipe to work with and only dry swatches of the originals, I have no doubt it was quite a task.
Formula
Unfortunately I do have an issue with the formula on these.  It's not the consistency, it's the opacity. I know when you do a glitter polish you have to have sheer to semi-sheer base but these are too sheer for my liking.  Like we're talking 4 coats on Cowardly Lyin.  The originals in all their toxic chemical glory were much more opaque. Other wise, the jelly based polishes apply like a dream and the frosts are just slightly brush stroke-y. They're saved by the micro-glitter from being a metallic finish nightmare.
Dorothy Who? is still a glittering, jelly blue fantasy only this version is a bit lighter due to the opacity issue and the slightly less electrifying base.  The base color of this version is more of a bright sky blue so the finished product doesn't have the same depth as my original.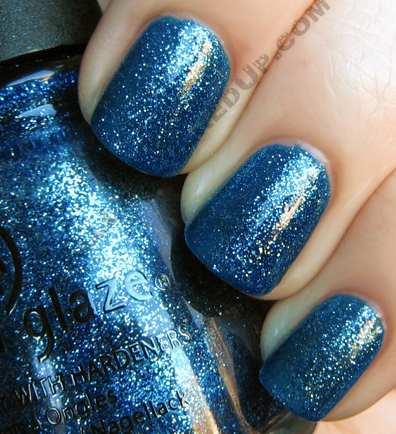 Sunlight

Comparison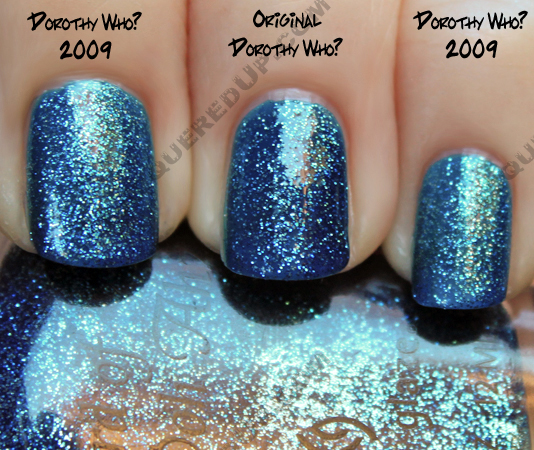 C-C-Courage is a graple frost peppered with purple and pink micro-glitter. I think this one shows the differences in the frosts the most and I believe it's due to the shape of the glitter. The glitter in the original polish appears more squared, dense and heavy whereas the 2009 version is lighter, rounder and more dispersed. That could also have something to do with the age of my bottle.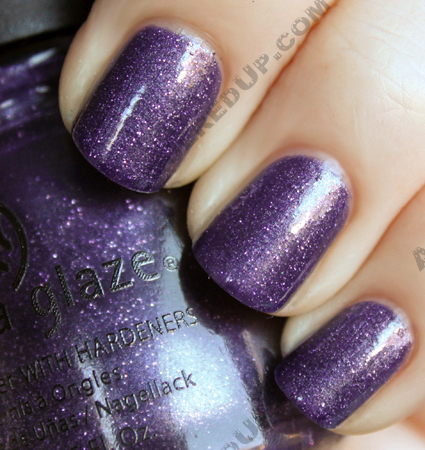 Sunlight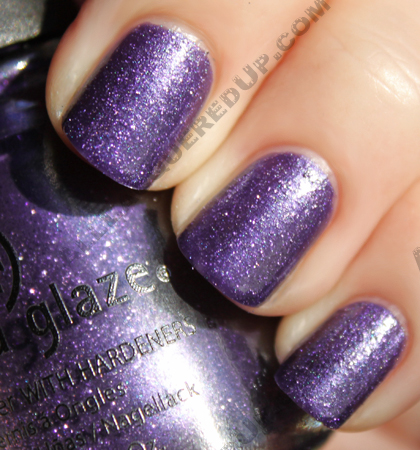 Comparison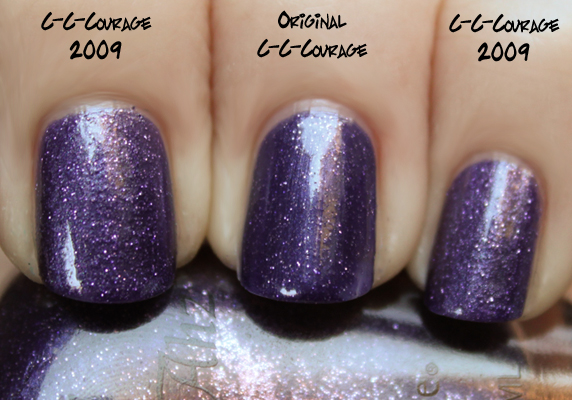 Cowardly Lyin' is a golden, yellow frost speckled with bright gold micro-glitter.  To me, this is the polish that comes closest to matching the original.  The 2009 version may be a tad darker but the finish looks the same on the nail.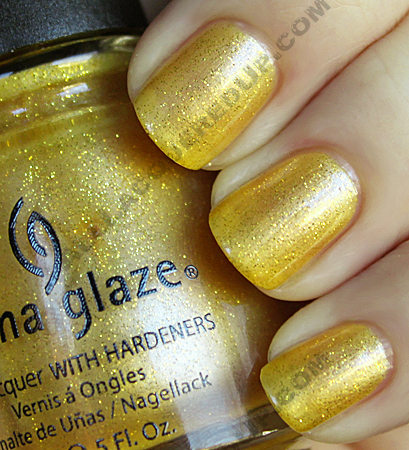 Sunlight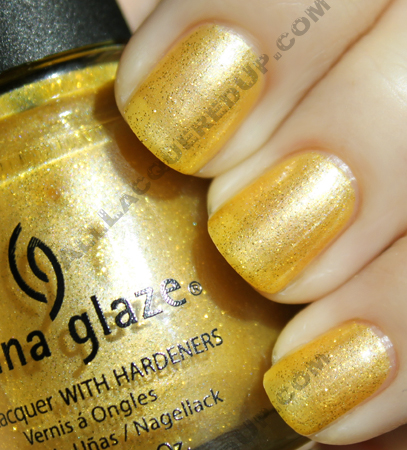 Comparison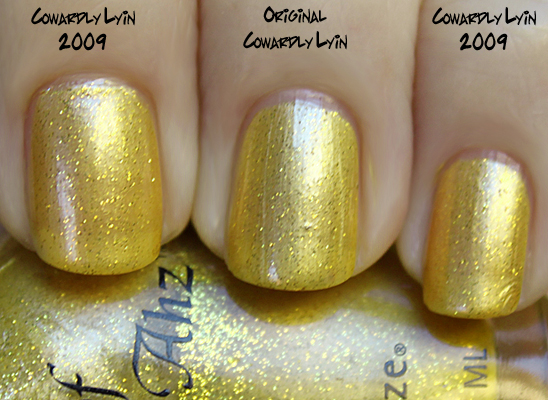 Good Witch? was always the most coveted and hard-to-find of the original WOOA polishes but it was never really my thing.  No offense to the Good Witch? lovers but I'm not as much a fan of the lighter shades' frosty finish.  The glitter is so textured that it looks bumpy.  I think if Good Witch?, Cowardly Lyin' and The Ten Man were in the same formula as Dorothy Who? and Ruby Pumps I would love them more.  It's for that reason that I sent my original bottle of Good Witch? to live with my pink loving friend who I knew would adore her.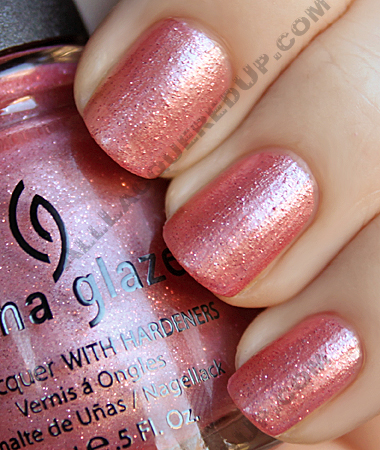 Sunlight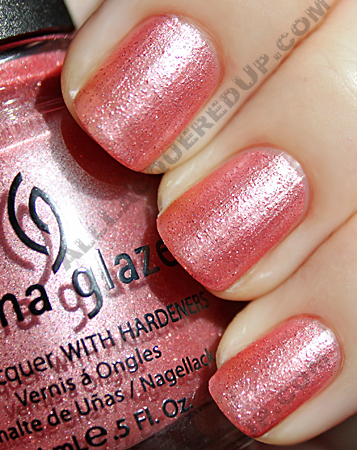 Comparison
The Ten Man's name was hotly debated until we saw and actual photograph.  "Tin Man?" well that makes sense but it's too literal.  "The Tan Man?" what would that even mean?  The Ten Man, as in ten fingers/toes, is a silver glitter frost that has a foil-like appearance.  This is my fave of the lighter frosts though the opacity could use some work.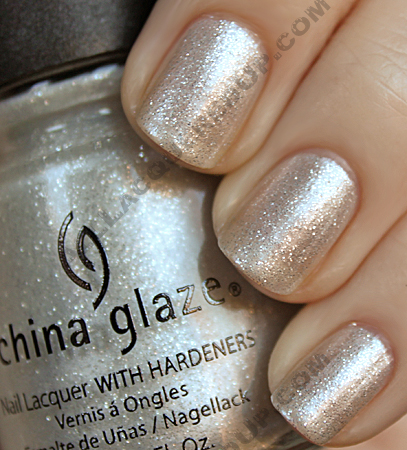 Sunlight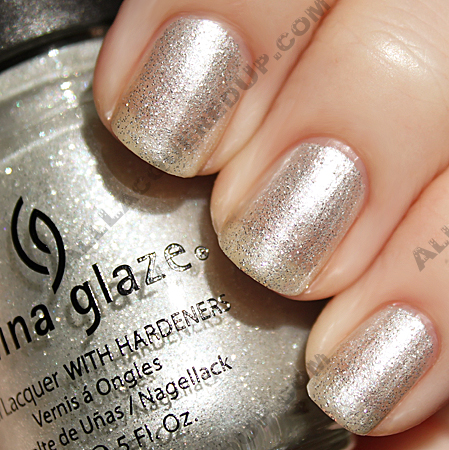 It's no wonder Ruby Pumps was the one color to make it from the original WOOA collection to the core lineup.  It truly is one of the most spectacular red glitters I've ever worn.  Next to Mismas and my 90s go-to OPI INRAW, Ruby Pumps is the pedi shade I've worn most. Holidays, special occasions, fun in the summer sun; this super sparkly red is always a winner.  Unfortunately the sun was running away from me so I only have a natural light swatch but you can check out my old Ruby Pumps sunlight pic in my Loves You Snow Much review.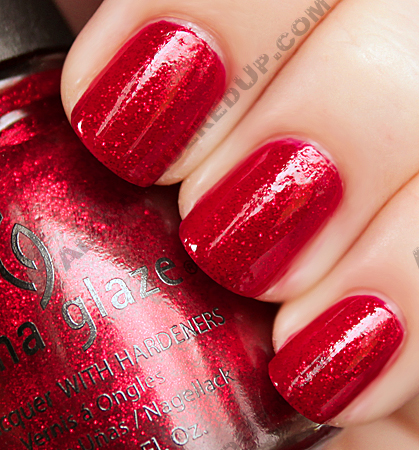 The China Glaze Wizard of Ooh Ahz collection has begun to ship and is available online NOW. 8ty8Beauty.com & TransDesign.com already have the polishes listed and they will be at Head2ToeBeauty.com soon. You can find China Glaze polishes on shelves at Sally Beauty Supply stores nationwide.
I know some people have commented about the missing "Emerald City" polish that this collection so rightly deserves.  China Glaze wanted to re-release the collection in its original form so they created Emerald Sparkle to satisfy that need.
OK so are you as excited about this collection now that you've seen the actual polishes?  Who's planning to snag up the whole thing?  Who owns some of the originals? Which ones?