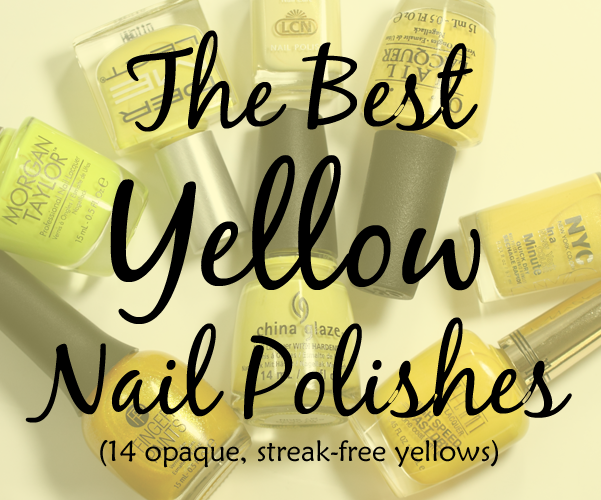 Yellow nail polish. Such a polarizing shade. Why? Because, regardless of whether you love or hate it on your nails, if you've ever applied a yellow, you know the issues that plague the color family.
Yellow gets the Nail Polish Problem Child of the World Award. They're either super sheer or opaque and streaky. And while one-coat reds, blues, etc exist, a one-coat yellow is our chupacabra. That being said, I'm often asked what the Best Yellow Nail Polish is, when I've just finished railing on one in a review. So I've got 14 streak-free, opaque yellow nail polishes for you.


The Challenge
There's something about yellow pigment that apparently doesn't play well with nail polish base. Which is why, when a good yellow is discovered, it's scooped up like the last Popsicle on a 100-degree day. So, I set out to find only the best yellows in my stash.
I literally applied, multiple times, every single yellow I own that is currently available.
To qualify, every shade on this list has to be…
Available. They are either core colors, still for sale, or released for Spring/Summer 2014.
Opaque in 2-3 coats with no streaks or bald spots after the last coat is applied.
Self-leveling. No thick, goop-y formulas here.
Requiring no special tricks to get it even and flawless.

The 14 Best Yellow Nail Polishes Currently Available
Cult Nails New Day ($12, CultNails.com)
LCN Soft Daisy ($7.50, LCNBoutique.com)
COVERGIRL Pina Colada ($3.04, Drugstore.com) Note: Some perm CG displays have the Glosstinis from last summer when Pina Colada was released. Others have the Capitol Colors Glosstinis. It will vary by store.
Maybelline Citrus Collide ($4.19, Drugstores)
China Glaze Sun Upon My Skin ($3.25, Amazon.com)
Dermelect Buzz-Worthy ($10.50, Beauty.com)
Morgan Taylor Watt Yel-Looking At? ($8.50, LoxaBeauty.com) Note: This one is a true neon so it doesn't accurately capture on camera. aka It's bright, you guys.
OPI I Just Can't Cope-acabana ($9.49, SallyBeauty.com) Note: Seriously, one of the best yellows I've ever used. Not to be partial but GET THIS!
Sally Hansen Sizzlin' Saffron ($4.09, Drugstores)
NYC Copacabana ($1.99, Drugstores) Note: This has a slight shimmer and was spotted at Rite Aid just last weekend.
Milani Yellow Whiz ($4.49, Drugstore.com) Note: All Milani nail polishes are being phased out for the new Color Statement line so get the old ones while you can.
FingerPaints Hula Aruba ($5.49, SallyBeauty.com)
COVERGIRL Sulfur Blaze ($3.04, Drugstore.com) As I mentioned above, some perm displays have the Capitol Colors Glosstinis. I know Rite Aid does in my area.
LVX Citrine ($16, ShopLVX.com)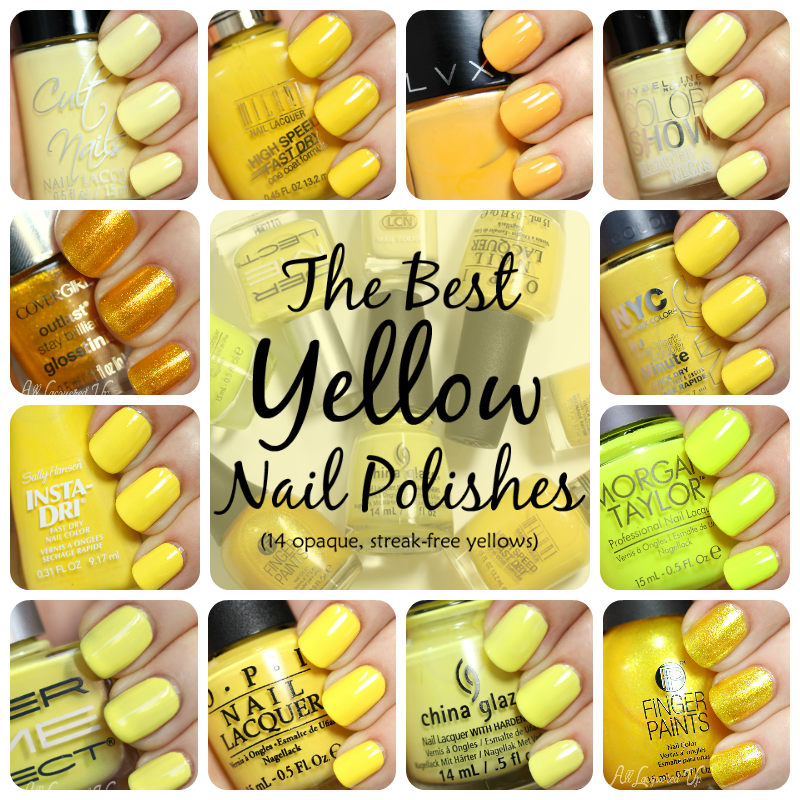 Which of these yellows do you own? Which ones do you plan to pick up? Did I miss an amazing yellow? Please share your favorites with us.
Disclosure: Product samples were provided by reps for . Affiliate links appear in this post. When you purchase through an affiliate link, you help support this site. For more info view my
Disclosure Policy
.