Summer 2011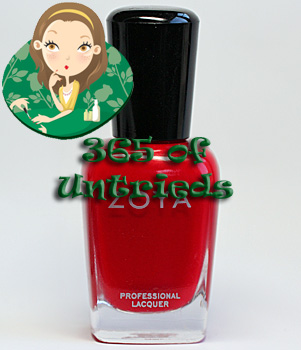 365 of Untrieds is my personal challenge to weed through the polishes in the ALU stash that I've been wanting to try but just haven't gotten around to.
Untried Day #118: This past Tuesday I was invited to the Cleveland Indians game for a special women's event. I had the opportunity to sit in the Social Suite on Wahoo Women night which benefits the American Heart Association's Go Red for Women campaign.
Even though I've always been more of a football fan, there's nothing quite like spending a beautiful summer night at a baseball game, sipping on a beer and snacking on peanuts (Cleveland's own Peterson's naturally). It's the picture of Americana.
And I have to give it up to the Tribe's marketing team. They have really created something special with their Social Suite. Anyone who is active in social media can apply to sit in the suite, like the fancy people, for a night. The view and the accommodations in the suite are pretty spectacular.
So what's a nail girl to do on a night that is dedicated to both women and the Indians? A red, Tribe-themed manicure of course!  I wanted the perfect Indians red so I looked to my untrieds and found Zoya Sooki and I paired it with CND Midnight Sapphire from the upcoming Fall 2011 "The Look" launch. It is a pretty good match to the team's blue color. Keep reading to see how it turned out.