The Painted Nail by Nubar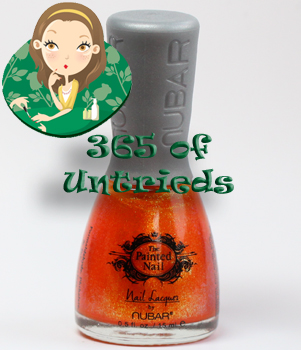 365 of Untrieds is my personal challenge to weed through the polishes in the ALU stash that I've been wanting to try but just haven't gotten around to.As I mentioned in a recent post, I'm in Vegas for Cosmoprof which is an annual trade show where beauty brands, typically professional salon & spa lines, sell their products to distributors & buyers all over the world. It's pretty amazing and after three years of attending it doesn't get any less overwhelming or tiring.

Today I met with some great brands including China Glaze, CND, Dashing Diva, Orly and Zoya and I finished out the day with a stop by the Nubar booth to meet Nail Files star Katie Cazorla, owner of The Painted Nail salon. I already adored Katie after speaking with her over the phone and, in person, she's even more adorable. Affable, hilarious, larger than life and yet totally down-to-earth. No matter what you think of her show or reality TV in general, you can't help but love Katie. She's a star and all you have to do is meet her and you can see why TV Guide Network would want to give her a show.

Now you know that I went all fangirl over Katie's gorgeous purple, Legendary Lavender. I'm actually rocking my second pedicure in a row with that color. This is no fling my friends. My love affair is strong. That left me curious to see how some of the other summer collection shades would fare so I decided to try The Painted Nail Citrus Sparkle next.