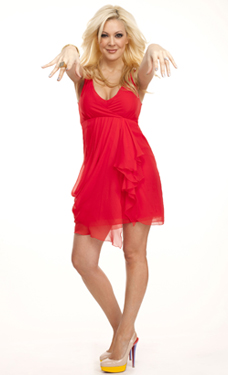 Katie Cazorla is small town girl who made dreams come true when she turned her passion for all things nails into owning her own salon, The Painted Nail. Not long after, reality tv came a knocking and now the nail world has its very own reality show, Nail Files, premiering Tuesday night at 10pm EST on the TV Guide Network.Katie and a colorful cast of characters are bringing their larger-than-life personalities to the party and what a party it is. Katie is opening the doors to her salon and her life, putting all the drama, fun and day-to-day business headaches on display. We get to see what it's like for someone, who started a nail salon from scratch, trying to keep it all together in a crazy town like Los Angeles.

Keep reading to learn more about Katie and what we can expect from Nail Files this season.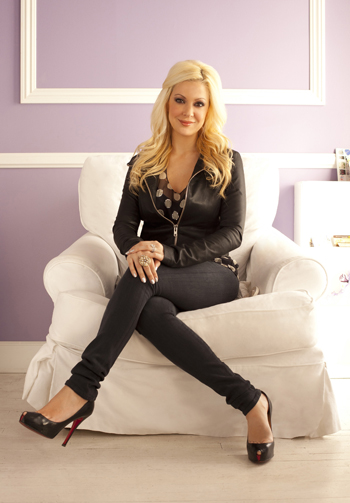 Tell us a little about yourself. Were you always into nails?
I'm from Elmira, NY. And actually, my mom is from Ohio, Dayton actually (ed note: Yay for Ohio connections!). I have the small town kind of nice upbringing. There were no spoiled or entitled girls. I have really good work ethics from when I was little. That's what sets my business apart from the others. Plus I went to nail school and read books and completely enraptured myself in nails.
I went to Sunday school as a little girl. We had to color in these pictures of Jesus and the Virgin Mary. And my mother wasn't a big coloring book person. She thought it didn't instill creativity because you are just coloring in someone else's artwork.  But I ended up putting red nails and toes on the Virgin Mary and putting glitter on Jesus' overcoat. My mom mom still has that picture. Virgin Mary had red nails because my mom always had red nails.
Katie also had Raggedy Ann and Andy dolls which had mitts for hands, no fingers or nails. She used her mom's old nail polish to give Raggedy Ann polished nails that dried all crusty on the fabric.
How did Nail Files come about? What is it about The Painted Nail that caught TV Guide Network's eye?
I opened my salon March 8, of 2009. I didn't do a grand opening right away because I wanted to work out the kinks. After about three months I thought, it hadn't burned down or anything, so I did a grand opening. I invited a lot of fun people and asked my boyfriend to invite some friends and there was a producer who came and was like, "I've never seen a salon like this. You have a stripper pole and a stage."
But I said this is my real business so we can't like eff it up with some crazy show. I want to show what it takes for somebody who doesn't come from a trust fund or loaded parents to open up a small business and make it work.
What is the biggest factor in the fast success and growth of your salon?
I honestly do eat and breathe nails. I don't take breaks, I don't take vacation. I maybe sleep an hour a night. I'm one of those people who really have a hard time turning it off. I feel like if you really have a passion for something. If you can really change the way people view something, I think you can do it. I thought nail salons in LA were really bad. Like what is the deal in Los Angeles? You go to get your nails done and it's $150 at a spa or $20 and you question the cleanliness.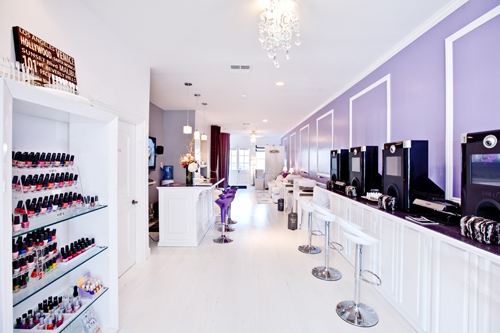 The nail polish fanatic in me needs to know, what do you have on your nails right now?
I'm wearing Miz Biz, a bright blue named by Paramore's Hayley Williams, with Stiletto, a black crème, on my ring finger as an accent. I topped them all with Moon Drops top coat which has polka dot-esque sequins and pen point holographic glitter.
So you have a thing for glitter?
I love glitter when it's done right. When it's on long crazy nails, unless you physically do nails, I don't think it looks good. It looks tacky. Glitter looks best on short, square nails with rounded corners.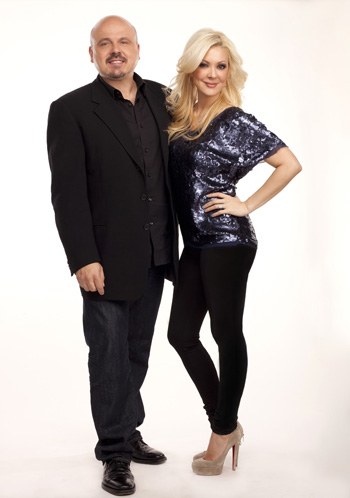 Does your boyfriend now know more about nails then he ever wanted?
Like you don't even know. He knows what 3 & 4 Free mean. He knows what all the chemicals are. He knows about color choice and layering. He knows about cuticle maintenance and pumice stones. I show him the blogs. He really gets excited to tell people about what he knows.
He's just a fun guy and he totally gets it. When he has a hanging cuticle he comes in and asks for nippers. He does know the French manicure is dated. He says women shouldn't do French toes unless they are in porn or are a stripper. Why do you need to have big thick lines on your toes? It looks like a bird claw.
I love that you read the nail blogs and have a love for nail polish as much as you do nails in general.
There's people who just love polish so much. And then there are people who are like "Hmm, I don't really care if my nails are done." I'm like, "I don't even understand you!" It's a small thing you can do and when your nails are polished and have a little bit of shine, it's like UH! Makes me feel so good about myself.
Nubar has a lot of nail fanatic fans. How did you choose the company to work with?
There's just something about the Nubar formula. It doesn't smell when you open the bottle. Some polishes, you open the bottle and feel like you are going to die, it's so intense. Plus I can't handle it when brands test on animals. It's the softie animal lover in me. And being at the Nubar factory is like a kid in a candy store moment. You just want to steal. I stole once when I was like six. I stole a Humpty Dumpty punching balloon from Hills and my mother made me take it back. (breaking in) Hills, my mother LOVED Hills! Mine too!
Anyway, getting back to Nubar, I convinced him that I wanted to do a whole line about layering and fun colors. To take what my customers love from the line but make it just a hair different. We didn't want to go too off the wall. We wanted to stay true to Nubar.
Are your colors are exclusive?
For the signature Painted Nail collection they are different. The brushes and caps are different. They apply a bit differently. It's more retail than professional. He uses a brush that is more for a nail tech. Our brush is amateur friendly. It's not a wide brush but it's a flat brush.
Also the formula is different. We use a lot more jelly base because anyone can do it. You can suck at polishing your nails but if you have a jelly base it's almost like gel. It hardens and it looks like you got a professional manicure.
The promos for Nail Files mention celebrity clients. I see you have polishes named by celebrities. How did that come about? Do they collaborate on the colors?
I have the colors done in the bottles. When a celebrity comes in. I feel them out when they come in and see if they are into talking about the salon. If they are being chatty and fun I'll bring over my colors and ask them to honor my line by naming a color. For fall, I have a gray with holographic glitter that Lisa Rinna named Belle after her store Belle Gray. I also have a white called Betty, after Betty White.
Who was your first big celebrity client?
Ashley Tisdale and Vanessa Hudgens. Ashley called the store and her name popped up on the caller ID. I wondered if it was the real Ashley Tisdale and then she said she wanted to make an appointment for her and her friend Vanessa to come in to get mani/pedis. Paula Abdul and Hilary and Haylie Duff were next. After Hillary got engaged she chose a white jelly base polish, with glitter that looks like sprinkles on a cupcake, that she named Secret Engagement.
You mentioned before that the French manicure is dated so how do you not hold an intervention when the Jersey Shore girls, who are known for their acrylics and thick French tips, come in for service?
When they first came in, I thought maybe this wouldn't be the best for me because it was all four of them; Snooki, J-Woww, Sammi, Deena and they were like, "Why don't you do acrylics?" I feel there's no need for acrylics anymore but they have their style so it's not my place to intervene. But there really is no need for acrylics. I don't like the smell, it's just terrible. There's soak-off gel, there's Virtual Nails if you have busted nails. Dashing Diva Vitural Nails is a miracle product. We have people who are diehard acrylic fans or chronic nail biters who have nubs and we put the Virtual Nails with a very thin white natural line and they look like a real nail. They're so thin, like a contact lens.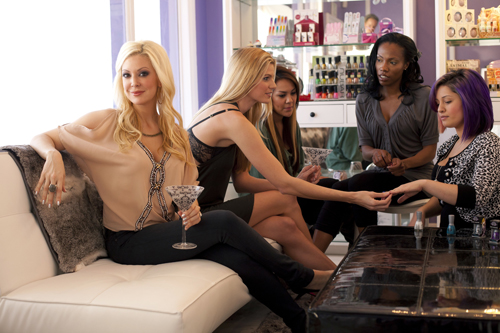 What do you want people to take away from the show?
I really want people to see what it takes to run a nail salon and all the crazy stuff that is in it. Because It's not easy to do but it's easy to start. If you have the passion for doing your own nails or doing other people's nails or just making people feel pretty you could do this. You could start a very glam nail place and make the world understand that nails is not just a junkie, chop shop. That we matter, it is glamourous. People in the nail world know and it's time for everyone to see it.
Remember to tune in to Nail Files on the TV Guide Network, Tuesday June 21st at 10pm EST to catch the premiere episode and stay tuned for a fun Nail Files giveaway.