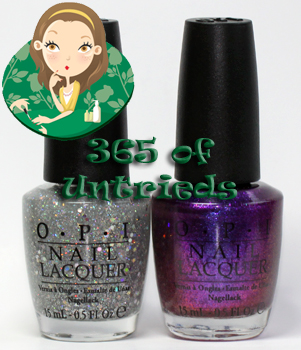 365 of Untrieds is my personal challenge to weed through the polishes in the ALU stash that I've been wanting to try but just haven't gotten around to.
The other day when I shared The Painted Nail's Legendary Lavender I received a few questions asking how it compares to the latest OPI Glam Slam! England release, OPI Grape…Set…Match. At the time I had played with the color a bit but hadn't taken it for a full test drive so I figured today was a great day for that.
Released to coincide with Serena Williams' next big Grand Slam tournament, Wimbledon, the newest OPI Glam Slam! releases take us to England and add a new top coat element to the party. Rather than a new Shatter, the Glam Slam! England duos come with Servin' Up Sparkle, a holographic glitter top coat.
According to OPI Executive VP & Artistic Director Suzi Weiss-Fischmann, "England's premier tennis tournament warrants colors with extra glitz and glamour. The next big trend in nails is making lacquer look 3-dimensional by adding different micas and glitters, turning fingertips into jewelry. With two bold metallics and a sparkling glitter, these colors are fit for royalty."

Formula & Application: OPI nail polishes are now 4-Free (including formaldehyde resin) and free of camphor, which can be an irritant. This is a new development as OPI's pre-Texas were only 3-Free. I just wish OPI had changed the color of the print on the labels so buyers can identify 4-Free polishes like they did when they made the switch to 3-Free.
The OPI Pro Wide Brush is flat, wide and medium in length. It's of average stiffness and easily spreads out on the nail when pressed. The only downside to the Pro Wide brush is that it can be too wide for slim fingers or little toes.
Each of the polishes in this set apply with a slightly different texture. Servin' Up Sparkle is a clear based glitter so it is squishy and very jelly-like to suspend the glitter. While the smaller particles are evenly dispersed you may find yourself having to intentionally place the hexagonal sequins to get them on the nail. Grape…Set…Match on the other hand has a texture that falls somewhere between a jelly and a creamy opaque. I would call it a semi-opaque polish since I needed three coats to get full coverage. People who are more heavy handed with their application can get away with two coats.

OPI Grape…Set…Match was well named not only for the tennis reference but because it has a red grape hue to it. It's a highly reflective sparkle polish with a reddish-purple base and tons of fuchsia and blue smooth micro-glitter though the blue is a bit more prominent on the nail.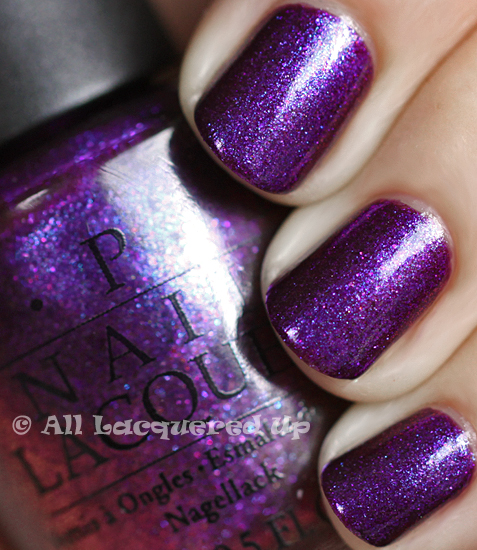 Adding a layer of OPI Servin' Up Silver turns it into one big holographic party. Just to be clear, the glitter doesn't create a prismatic effect but the individual particles light up in different colors like Lite-Brite pegs. The holographic sequins are kind of few and far between so you really have to work to get a lot of them on the nail. Now while I don't own China Glaze Shooting Stars, based on pics of it I have seen, the two seem awfully similar.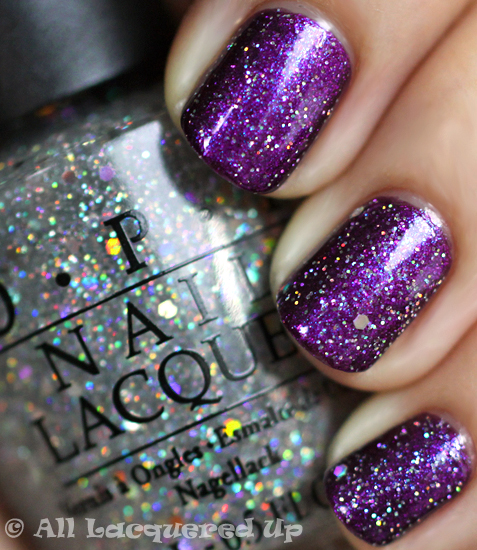 The second I saw Grape…Set…Match I thought of OPI Ink. They both have the same kind of glitter and finish. GSM is the redder version of OPI Ink and it lines up on the color wheel somewhere between it and The Painted Nail Legendary Lavender. OPI Ink. is so much darker and bluer than GSM that I didn't include it in my comparison swatch below.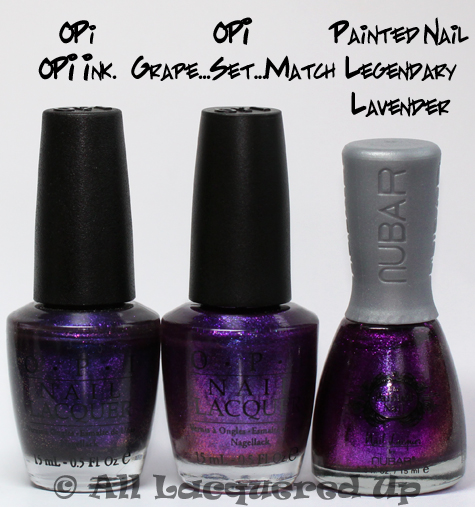 As you can see both colors have similar red grape bases but it's LL's brighter hue that makes it pop a bit more in comparison. And GSM's blue glitter definitely makes it a bit cooler toned.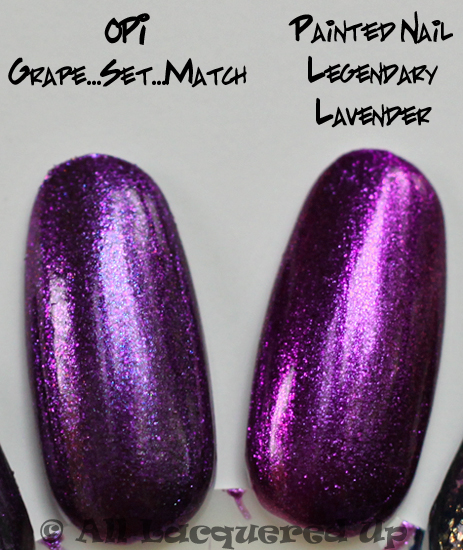 Bottom Line: Of all the Glam Slam duos we have seen thus far, this may be my favorite in that  both colors are keepers. Don't get me wrong, Spark De Triomphe is still my hands down winner for best individual performance but this set gets the best group/duo award from me.
365 of Untrieds Stash/Share Verdict: I'm STASHing both for now but I'm only hanging on to GSM for comparison purposes as I personally prefer Legendary Lavender and don't really need both.
The OPI Glam Slam! England duos are available now at salons and spas nationwide including Beauty Brands, Beauty First, Chatters, Dillard's, JCPenney, Pure Beauty, Regis, Trade Secret, and ULTA. OPI nail polishes retail for $8.50/ea and the Glam Slam! duos retail for $14.95/set for two .5oz bottles.
Thoughts on Grape…Set…Match and Servin' Up Silver? Will you be getting this set? What has been your favorite Glam Slam! duo so far? If you have China Glaze Shooting Stars, how do you think it compares to SUS top coat?
Disclosure: A product sample was provided by OPI. For more info view my Disclosure Policy.