Spring 2012
Hunger Games fans get excited! I was catching up on some Hunger Games blogs when I read that China Glaze is coming out with a nail polish collection to coincide with the March 2012 release of the movie. I'm seriously so giddy over this, I can barely type. I devoured the trilogy in less than two weeks and it helped me rediscover how fun reading can be. Lame but true.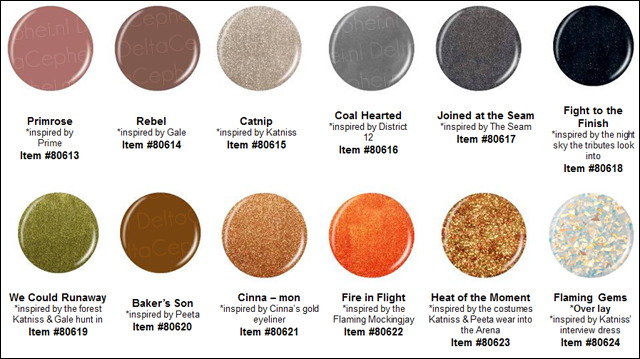 ***EDITED TO ADD – While the collection has been confirmed by China Glaze, I have been informed by reps for Lionsgate that the details may not be accurate. I will update you when the colors and names are finalized.***
Even though I bitched about the casting on Twitter, I'm still excited to see the movie and love that the nail polish inspiration is listed with the colors.
Primrose - inspired by Prim
Rebel - inspired by Gale
Catnip - inspired by Katniss
Coal Hearted – inspired by District 12
Joined at the Seam – inspired by The Seam
Fight to the Finish – inspired by the night sky the Tributes look into
We Could Runaway – inspired by forest Katniss & Gale hunt in
Baker's Son - inspired by Peeta
Cinna-mon – inspired by Cinna's gold eyeliner
Fire in Flight - inspired by the Flaming Mockingjay
Heat of the Moment –  inspired by the costumes Katniss & Peeta wear into the Arena
Flaming Gems – inspired by Katniss' interview dress
Where are my fellow Hunger Games fans? Are you excited about this collection? I have to say, I'm happy to see a brand besides OPI partnering with the movie industry and I have every faith that they will do the film justice.
May the odds be ever in your favor
***EDITED TO ADD***
The legal drama that left all of us wondering whether this collection would ever surface has ended. The original swatches posted above are being thrown out and a new collection is being created based on The Capital. This is the official word from Lionsgate:
SANTA MONICA, CA (December 9, 2011) – Lionsgate announces that it has partnered with worldwide beauty brand China Glaze on a collection of nail polish to debut in conjunction with the March 23, 2012 release of THE HUNGER GAMES.

In keeping with the powerful themes and messages of the story, the collection of nail polish will be inspired exclusively by one of the book's distinct settings- the Capitol of the nation of Panem. Awash in lavish fashion, food, and entertainment, Capitol citizens enjoy extreme cosmetics and body modifications, bold wigs, and outlandish costumes.

The collection of colors will be available at specialty beauty retailers beginning on March 1, 2012.
image: Delta Cephe