We're only seven weeks and two days away from the hotly anticipated opening of The Hunger Games (yes I'm counting) and the only thing more buzzed about than the actual movie is the nail polish collaboration between Lionsgate and China Glaze, The Capitol Colours Collection. Even people who haven't read the books are exploding with excitement over these polishes.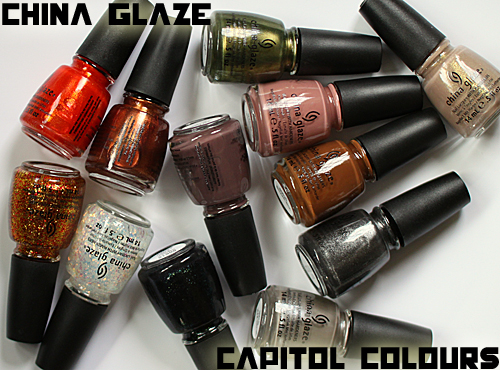 Between the drama over whether the collection would even come out, the name changes from a character driven theme to a "Capitol" driven theme, that still represents the Districts more than the Capitol, to the debate over whether a book about a dystopian society where children fight to the death for their District's survival should even be associated with nail polish, every nail lover has been talking about this collection.
All of that aside, it's the colors alone that drew the majority of us in. Wanting to own a piece of a favorite book series is definitely a part of it but we wouldn't be rabid to get our hands on the lacquers unless the colors made our pulses race. And that's exactly what mine did when the collection landed on my doorstep. Let's dive into the world of Panem, shall we?

Formula & Application: China Glaze is a 3-Free brand with a round brush that is both medium in length and firmness with enough give to allow for ease of control. The cap is slightly tapered and made of smooth plastic that is comfortable to hold.
The diversity of the finishes in this collection makes it hard to generalize the application as being just one thing. Overall the cremes are thin and workable. The metallics and matte are a bit on the goopy side and take some finesse to apply smoothly. The shimmer, foil and jelly polishes were all a dream to work with. I will comment on any application issues below but all polishes are shown with two coats with the exception of the glitter, Electrify.

China Glaze Agro (District 11 – Agriculture) Is a metallic olive green with flecks of gold. The base isn't overly warm which makes it very wearable though peeps with uber cool tones may have a hard time pulling it off. Due to the metallic finish, brush strokes are an issue and the formula is kind of clumpy so apply very thin layers. Application tip: Apply to the sides first (strokes 1 & 2) then finish in the middle to blend and smooth the surface.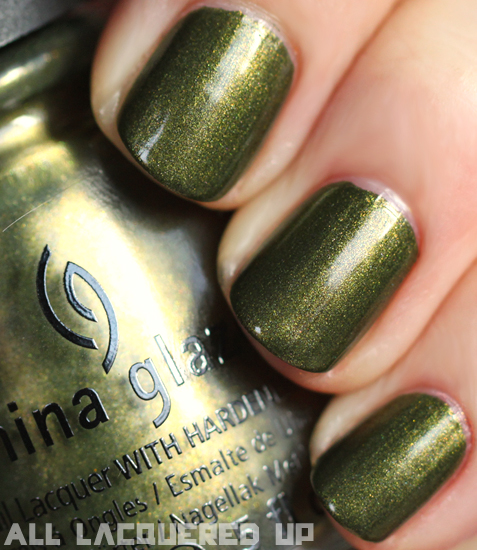 China Glaze Dress Me Up (District 8 – Textiles) is the color that was originally named for Primrose and given its dusty rose color, that would have been a great fit. It's creamy with a soft, delicate nature, just like Prim.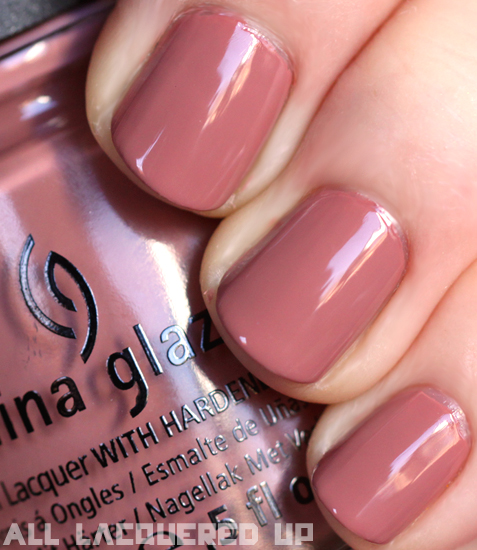 China Glaze Electrify (District 5 – Power) is a clear-based packed with yellow gold and red glitter. The gold is the more prevalent color though the photo doesn't show that. Unfortunately shooting in macro pulls apart the colors that your eye will naturally blend together. The overall effect looks like gold foil peppered with red sparkles.  Thanks to the density of the glitter, you can get decent coverage without a ton of coats. I am showing you one, two and three coats of color.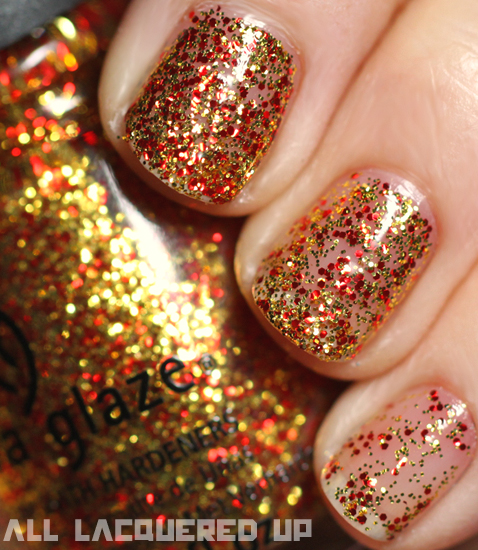 China Glaze Fast Track (District 6 – Transportation) is a cool beige packed with gold micro-flecks. It has a similar finish as Knotty from Anchors Away except the base is cooler and more opaque and the flecks are gold instead of silver. It's a great twist on your average neutral. I was honestly expecting this one to be pretty sheer so I was pleasantly surprised to find that it gives great coverage.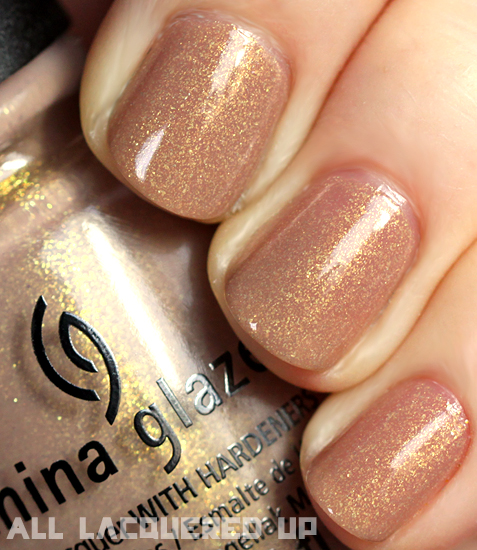 China Glaze Foie Gras (District 10 – Livestock) is a dark, moody mauve creme. I'm calling it Below Deck After Dark. It's a member of that whole taupe-y purple family that Chanel Particuliere and SOPI Metro Chic belong to.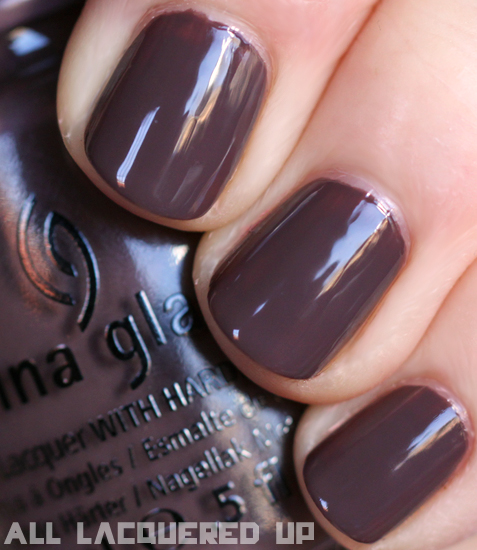 China Glaze Harvest Moon (District 9 – Grain) is a burnt copper foil metallic. It had the autumnal, fall feeling that represents the idea of a bountiful harvest really well. Unlike the other metallics in this collection, because it's a foil, it applies smooth as butter and it packed with pigment.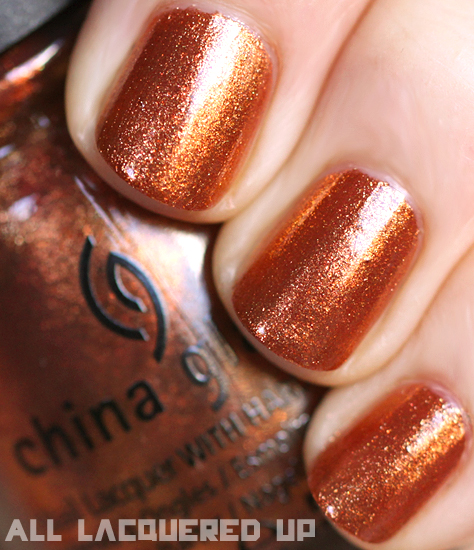 China Glaze Hook and Line (District 4 – Fishing) is a muddied, pewter metallic. There's a bit of taupe to its underbelly that makes me think of a fish hook that has a thin layer layer of dried dirt from years of use. It's definitely unusual. It had the same application issues so see above for my tip to getting a smooth finish.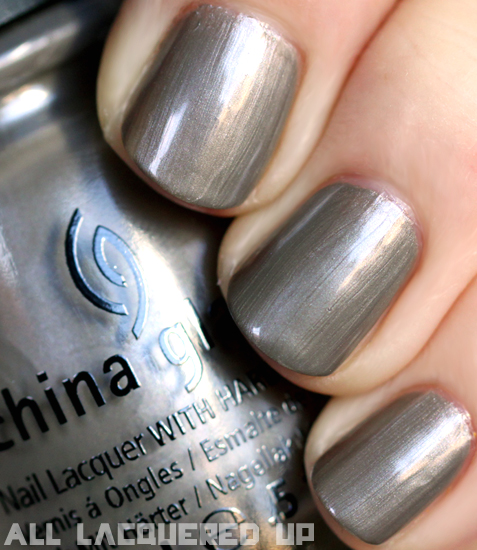 China Glaze Luxe & Lush (District 1 – Luxury) is the FLAKIE top coat. I know all you flakie fans have been freaking over this and since we're in the midst of a giant flakie movement I'm sure this color will sell fast. In the bottle you can see flecks of fiery orange, blue and a lilac leaning pink in a milky base. I thought it would pair well with Dress Me Up but I wanted to show you other options so I included a black (ChG Liquid Leather) and pale blue (ChG Sea Spray). I think I expected it to explode over black but it kind of fizzled out like an expired firecracker. I love it over the other two though.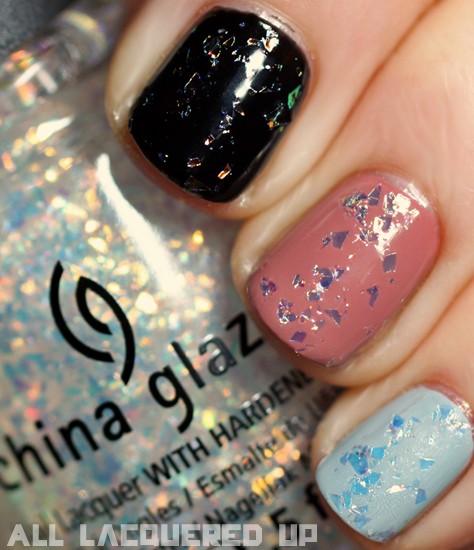 China Glaze Mahogany Magic (District 7 – Lumber) is a rich, yellow-based, brown creme. While it's meant to have a woody feel, I look at it and see a horse mane. Can't get that out of my mind. Undoubtedly this will rock on warmer/olive skin tones but on me, it feels wrong. Clearly I can't wear colors this yellow.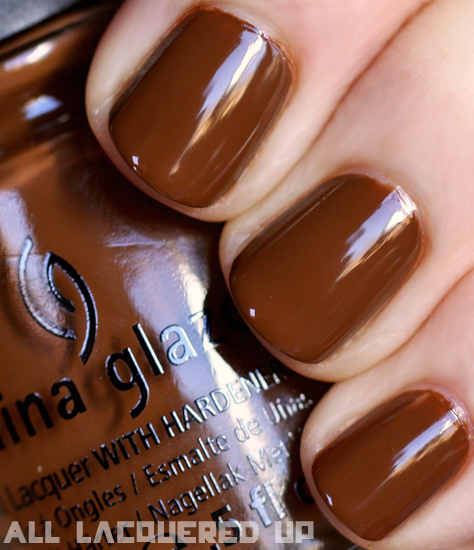 China Glaze Riveting (District 3 – Technology) is a jelly-fied gem. A sister to two classic China Glaze jellies, Orange Marmalade and Orange-Pacific this color has one thing going for it the others lack, pigment. It's magical. Two coats and it's on! LOVE!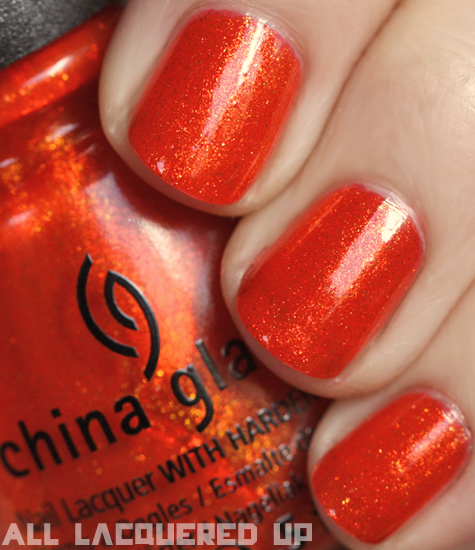 China Glaze Stone Cold (District 2 – Masonry) surprised me as I wasn't expecting to see a matte in this collection but it makes total sense to have this graphite glitter dry with a matte finish. It's so asphalt-esque I can't stand it. Though very similar to Nubar Matte Midnight. Like most mattes, the formula is a bit thick and goopy so use thin coats and workly quickly since mattes dry fast.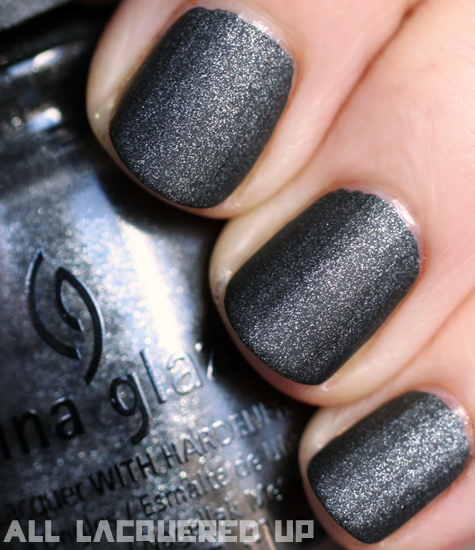 With a top coat the silver sparkles come alive and it resembles graphite. I prefer this look over the flat matte.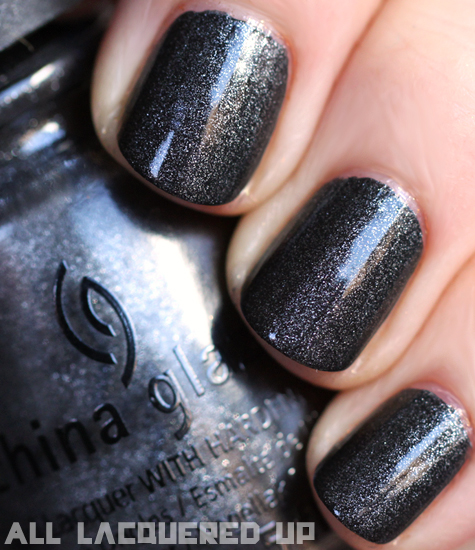 China Glaze Smoke & Ashes (District 12 – Mining) is the color I've been looking forward to most and it does not disappoint. The love child of Blk-Bila-Bong and Glittering Garland, it has the inky base and blue micro-flecks that made BBB a star. Mix in the emerald fleck from GG and we have a rising star on our hands. It's so much better in person, trust!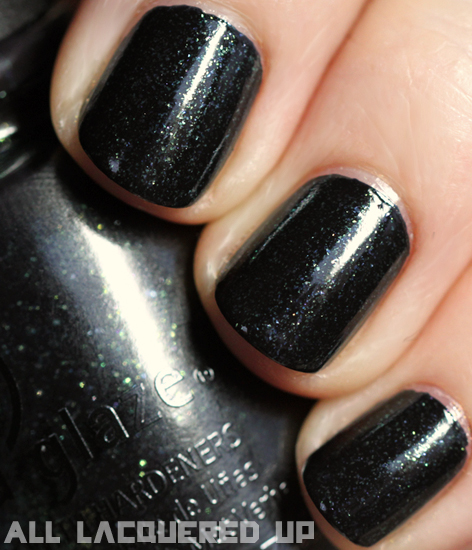 Bottom Line: Even though the association with the Districts is not something that is advertised in association with this collection overall I feel the colors do a great job of representing The Hunger Games. Are there some dupeable shades, no doubt. But are there some legen (wait for it)… DARY must-haves? Abso-frickin-lutely. Smoke & Ashes, Riveting, Luxe & Lush, Agro and Fast Track and Harvest Moon are all keepers. If your budget allows, consider Electrify and Dress Me Up. I know I'm known for my aversion to pinks but there's something about DMU that attracts me. Plus is looks fab under Luxe & Lush.
The China Glaze Capitol Colours collection releases mid-March 2012 at salons and beauty supply stores nationwide including Sally Beauty and ULTA. Online shoppers can head to Head2ToeBeauty.com, TransDesign.com and ULTA.com. China Glaze nail polishes retail for $3-6.50/ea, depending on the retailer, for a .5oz bottle.
Alright so spill… which colors will make your short list to buy? Which one will you wear to see The Hunger Games? Which colors exceeded your expectations based on previews? Which ones fell short?
Disclosure: Product samples were provided by reps for China Glaze. For more info view my Disclosure Policy.