Summer 2010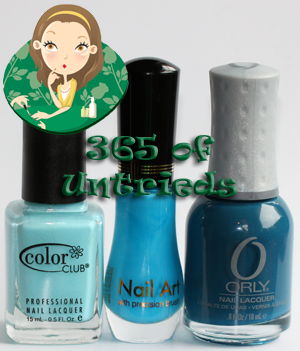 365 of Untrieds is my personal challenge to weed through the polishes in the ALU stash that I've been wanting to try but just haven't gotten around to.Step by step, ooh baby, Gonna get to you girl
Step by step, ooh baby, Really want you in my worldThat's right Fanatics, I went to the NKOTBSB concert and I'm not one bit ashamed because it was AH-Mazing! Those boys, well men, sing and dance their asses off for over two hours to throngs of screaming fans and I was so happy to be one of them. It totally makes up for the fact that I never got to see them perform when I was a kid.

For me, the best parts of the concert were seeing my darling Joey McIntyre, who rocked some multi-colored nails the last time they were on tour, sing "Please Don't Go Girl", Donnie Wahlberg revealing his rock hard abs and Nick Carter sporting a LeBron James "Choke" t-shirt. Though I couldn't help but notice that AJ McLean was wearing black crackle on his nails (see here). I went with two of my CLE blogger pals, Suzanne & Allison, and we had a blast dancing and singing the whole night. My ears are still ringing!

While I enjoyed Backstreet Boys, I was really there for New Kids On The Block so I had to do a NKOTB themed manicure which I dedicate to Joey and his stunning baby blues. I chose a pale blue, Color Club Factory Girl, to match his eyes and a darker, grittier hue, Orly Sapphire Silk, to represent his "Hangin Tough" Boston background. I also failed at my attempt at nail art using Milani Nail Art polish in Blue Print.