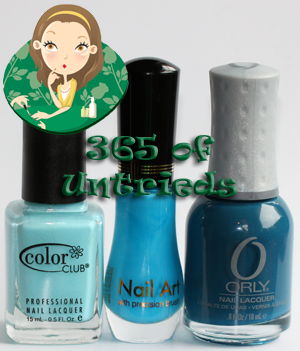 365 of Untrieds is my personal challenge to weed through the polishes in the ALU stash that I've been wanting to try but just haven't gotten around to.Step by step, ooh baby, Gonna get to you girl
Step by step, ooh baby, Really want you in my worldThat's right Fanatics, I went to the NKOTBSB concert and I'm not one bit ashamed because it was AH-Mazing! Those boys, well men, sing and dance their asses off for over two hours to throngs of screaming fans and I was so happy to be one of them. It totally makes up for the fact that I never got to see them perform when I was a kid.

For me, the best parts of the concert were seeing my darling Joey McIntyre, who rocked some multi-colored nails the last time they were on tour, sing "Please Don't Go Girl", Donnie Wahlberg revealing his rock hard abs and Nick Carter sporting a LeBron James "Choke" t-shirt. Though I couldn't help but notice that AJ McLean was wearing black crackle on his nails (see here). I went with two of my CLE blogger pals, Suzanne & Allison, and we had a blast dancing and singing the whole night. My ears are still ringing!

While I enjoyed Backstreet Boys, I was really there for New Kids On The Block so I had to do a NKOTB themed manicure which I dedicate to Joey and his stunning baby blues. I chose a pale blue, Color Club Factory Girl, to match his eyes and a darker, grittier hue, Orly Sapphire Silk, to represent his "Hangin Tough" Boston background. I also failed at my attempt at nail art using Milani Nail Art polish in Blue Print.

Formula & Application: Orly nail polish is 4-Free (including formaldehyde resin) and does not contain camphor, which can be an irritant. Orly polishes come with the fan fave rubberized cap. That signature easy-to-grip topper makes it easy to control the polish. The brush is long and thin with flexible bristles. I personally would like it if there were more bristles to get more coverage in each stroke.
The consistency of Sapphire Silk is nice and thin even though it's packed with pigment. I used two coats and each one leveled out, drying with a smooth, glossy finish.

Formula & Application: Color Club nail polishes are 4-Free (including formaldehyde resin). The weighty square bottles are topped with a smooth round cap that feels solid, like it's made out of metal, in the hand. The thin, round brush has long bristles that have a bit of tension to them but it doesn't interfere with application.
Unfortunately, I wish I would have tested Factory Girl before choosing it for my manicure. The formula is really thin and sheer. I had to use FOUR COATS and even then I ended up with streaking and pulling at the cuticle. Not exactly a fitting tribute to Edie Sedgwick.

Orly Sapphire Silk is a murky, denim blue creme. It has touches of teal in its undertone but not enough for me to put it in that category. It's more blue than say Color Club Gossip Column or American Apparel Peacock. Color Club Factory Girl is a sky blue creme, not too far off from Color Club Blue Light though I would say Blue Light is a bit brighter.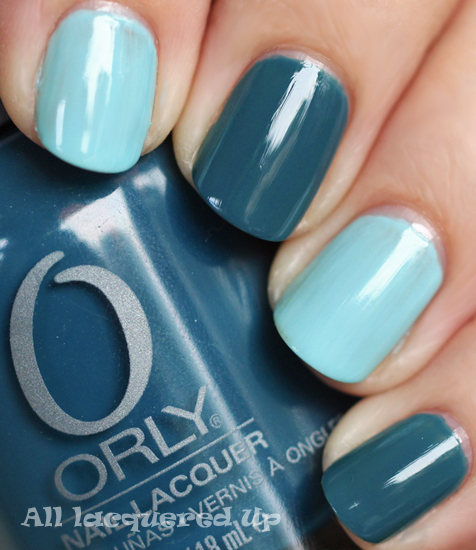 I almost didn't post this pic because my handiwork is so pathetic. Drawing straight lines is one thing but circles and curves are clearly not my strong suit. Regardless, it was fun to try. The brush on the Milani Nail Art Lacquer is just so long, it makes writing a challenge. I thought about using the tip of my dotting tool since you can hold it like a pen so I may try that in the future.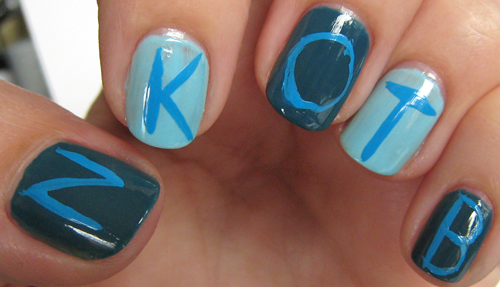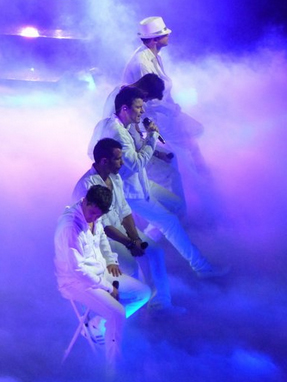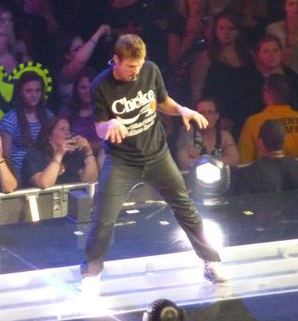 Bottom Line: I dig that Sapphire Silk is kind of muddled and mysterious and it doesn't fall completely into the teal category. Plus the formula is spot on. Factory Girl was not a winner in my book. The color is beautiful but the streaking and sheerness turned me off.
365 of Untrieds Stash/Share Verdict: I'm definitely STASHing Orly Sapphire Silk but Color Club Factory Girl is off to the SHARE bin.
Orly Sapphire Silk is available at Sally Beauty and ULTA stores and online at OrlyBeauty.com. Both Sapphire Silk and Color Club Factory Girl are available at Head2ToeBeauty.com and TransDesign.com. Orly nail polishes retail for $6-7.50/ea depending on the retailer and Color Club nail polish retails for $3/ea.
Thoughts on Sapphire Silk and Factory Girl? Do you have foolproof method for writing letters on nails? Or is it just practice, practice, practice? Where are my fellow NKOTBSB fans? Did anyone else go see them on tour?
Disclosure: Product samples were provided by Color Club, Milani and Orly. For more info view my Disclosure Policy.