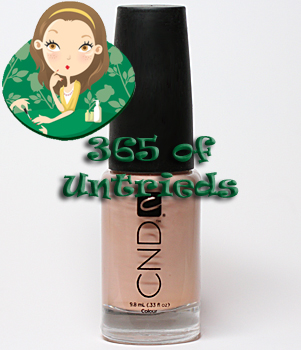 365 of Untrieds is my personal challenge to weed through the polishes in the ALU stash that I've been wanting to try but just haven't gotten around to.Before we talk polish, I want to let you know that the issues that have been plaguing the comment section and "read more" link have been fixed. Thanks to reader meme, who alerted to me the scope of the problem, I was able to have the issues resolved today. I suggest you do a hard reset of your browser if you still see the glitches.

Also, I encourage you to please email me or send a comment if you notice a site error. I won't see a problem in the comments from my end so I rely on all of you to let me know if there is something wrong. Thank you!

So with all that out of the way, I decided to go for a fresh, clean look today. In an interview I gave for USA Today about nail trends I recommended some great beige neutrals including CND Perfectly Bare, which you all know I love. The thing is, Perfectly Bare is a bit too peachy for some plus it's a limited edition color so I looked for a permanent shade that is cool complexion friendly and came up with CND Creamy Cameo.

Formula & Application: CND nail polish is 4-Free (including formaldehyde resin). The bottle is shaped to fit comfortably between fingers, like the Shu Uemura bottle. The brush is a thin, narrow and flat with flexible triangular bristles that soak up polish like a squeegee mop. Allow the brush to hang out in the polish for a couple seconds between strokes to properly absorb the lacquer.
I have continually raved about the new CND formula and in terms of consistency, Creamy Cameo holds up to the standard. The bottle lists the color as "opaque" so I expected a simple two coat coverage. Unfortunately, the opacity just wasn't there. I used three coats and still ended up with some VNL (visible nail line). Unlike the old CND formula, the Colours all dry very fast with none of the denting issues of the past.

CND Creamy Cameo is a light, muted beige with peachy undertones though it's not nearly as warm as Perfectly Bare. It's an ideal work-safe neutral creme. It's not quite my "mannequin hands" shade but I find it very flattering on my skin tone.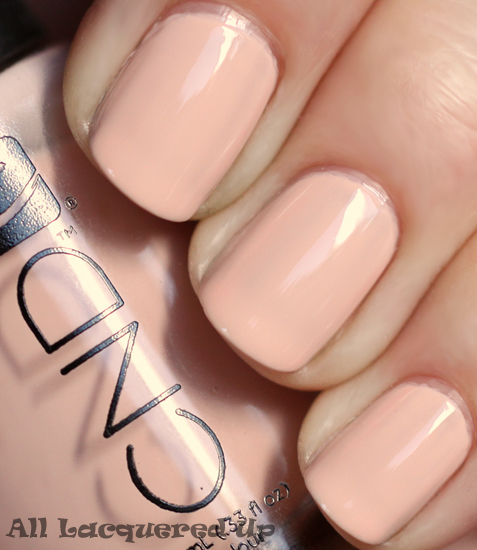 Bottom Line: I'm having such a conflict over this color. The opacity issues and the fact that neutrals aren't really my thing have my head saying this color isn't for me but for some reason I can't stop staring at my nails. I thought I was over my neutrals love affair but apparently my slave-to-trends heart is turning this into a full-blown summer romance. Who would have guessed?
365 of Untrieds Stash/Share Verdict: I'm STASHing it for now but I may revisit this when Fall comes around.
CND Creamy Cameo is available as part of the permanent CND Colour & Effects line at salons and spas nationwide including chains like Beauty Brands, Beauty First and Trade Secret. For more info visit CND.com. Online shoppers head to GoInduge.com or TransDesign.com. CND Colour nail polish retails for $9/ea for a .33oz bottle.
Thoughts on Creamy Cameo? How many of my fellow bright color queens have turned to the neutral side this summer? Would you STASH or SHARE Creamy Cameo? What is your favorite CND Colour?
Disclosure: A product sample was provided by CND. For more info view my Disclosure Policy.