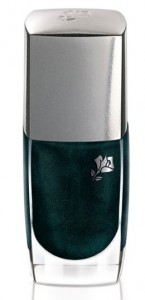 Fanatics, take a second and glare at the bottle of green Lancôme gorgeousness on the left.  That's right, I said glare! Why?  Because for some inexplicable reason Lancôme has decided to NOT release Pop Petrol from the Spring Ô My Rose collection in the US.

You see, I got all sorts of giddy when I saw promo pics of this collection popping up on beauty blogs left and right.  I raced to get more details from the reps at Lancôme only to find out that Pop Petrol would not grace us with its presence.  Oh the humanity!  So, you lucky, lucky European Fanatics, this time you win!

However, thanks to my friends at Lancôme I not only have the chance to tease share this baby's beauty with you, I am able to send a bottle of Pop Petrol to live with one lucky Fanatic.  Find out more after the jump!

Pop Petrol (aka Deep Water Green) is a mysterious lass.  A murky, shimmery shade of blue-green, this deep, luscious lacquer has a chameleon-like appearance.  When I first pulled it from the box I was a tad disappointed.  Where was the vivid green from the teaser pics?  It looked like a steely teal blue.  It's not until applied that you really appreciate the color.  In warmer indirect lighting (a sunny day) you really see the forest green come alive.  Like a greener Lippmann Don't Tell Mama.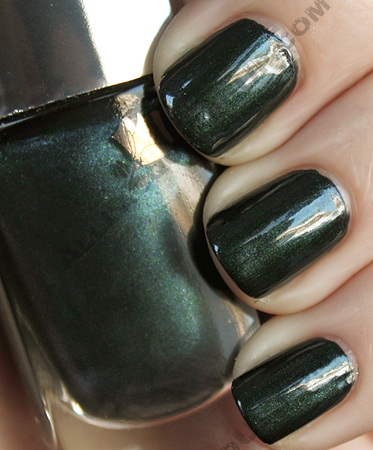 But in cool (shade) lighting the teal takes the stage with a bit of charcoal undertones.  In this light I actually thought it might be a dupe for the discontinued CoverGirl NailSlicks Mystic Peacock but no dice. btw, CoverGirl BRING THAT BACK!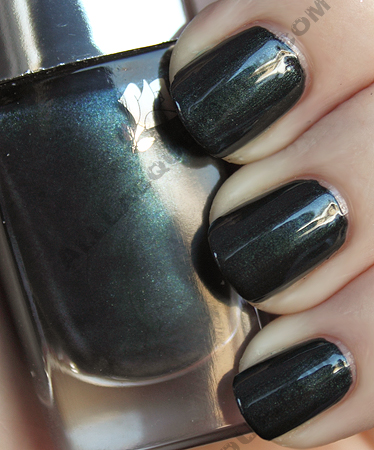 Under artificial light, you see that deep jewel-toned emerald the promo pics promised.
The application of Pop Petrol is perfection. The wide flat brush is a little too rigid for my taste but the formula glides on with ease, covering the nail in two thin coats.
Like I said above, Pop Petrol is only available overseas. So swappers, it's time to start working your European connections.
Or just enter my giveaway. One lucky winner will receive a bottle of Pop Petrol to call your own. You have from now until Sunday January 17th at 11:55pm EST to enter. One entry per person.
US RESIDENTS ONLY!
Tell me what you think of Pop Petrol in the comments!
Disclosure: A product sample was furnished to me by Lancôme. For further information view my Disclosure Policy.