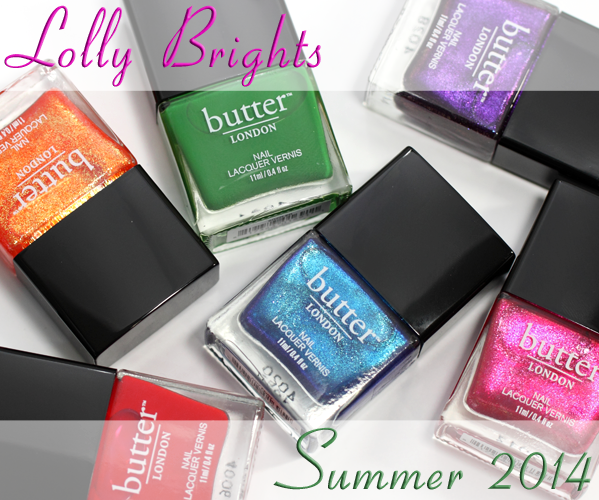 Lolly, lolly, lolly get your adverbs here! As a someone who grew up on Schoolhouse Rock, I've had that song stuck in my head ever since the butter LONDON Lolly Brights arrived on my doorstep. You're welcome for the earworm.
The Lolly Brights are six joyful summer nail polishes that include new versions of cult bL Jelly collection favorites, Chuffed and Stroppy.


Formula & Application
butter LONDON nail polish is 5-Free (Formaldehyde, Toluene, DBP, Formaldehyde Resin, Camphor). The square glass bottles are topped with a chunky, square plastic outer cap that easily slides off to reveal a ribbed, round inner cap used for polishing. The brush is thin and round with flexible bristles that easily fan out to cover the nail.
Regardless of finish, the polishes in this collection all have a smooth, even consistency that is thin and easy to manipulate. In terms of pigmentation, all the shades (except Sozzled) required three coats. And even then, Chuffed was a bit sheer. Sozzled, on the other hand, is amazingly pigmented and became opaque in an easy two coats.

butter LONDON Airy Fairy is a bright blue foil metallic with a subtle hot pink flash that can make the color look deeper and more purple and certain angles but, again, it's very subtle. In the bottle it reminds me a lot of China Glaze Blue Iguana but Airy Fairy is much more saturated.
butter LONDON Chuffed 2.0 is a semi-sheer tangerine packed with gold metallic flecks. This is the most sheer of the shades and if it wasn't so packed with gold flecks, the VNL (visible nail line) would be much worse. If you have Color Club Sparkle and Soar, this is a close cousin.
butter LONDON Ladybird is a tomato red creme. Even though it's well pigmented, the watery texture means you need three coats to avoid VNL. In my stash, COVERGIRL Ever Reddy is a close approximation though Ladybird is warmer.
butter LONDON Lolly is a berry foil metallic. It's not quite pink, not quite red. In fact, I thought for sure Zoya would have a dupe in their numerous foil metallics but none came close.
butter LONDON Sozzled is a kelly green creme. This would have been fantastic for St. Patrick's Day. I have to say, that as a green connoisseur, I was pleasantly surprised to find that I own nothing quite like this.
butter LONDON Stroppy 2.0 is a grape foil metallic with red, pink and blue flecks. I was immediately smitten with the shade and now I know why. It's practically a dead-on dupe for my beloved The Painted Nail by Nubar Legendary Lavender. So if you missed out on this amazing color, here's a chance to own it.
Honestly, I'm not quite sure why butter LONDON is recycling the names Chuffed and Stroppy but I wanted to give you an idea of how different the new versions are from the Jelly collection polishes. As you can see, Chuffed 2.0 is nothing like its predecessor while Stroppy 2.0 is at least in the same shade family.
I guess this rules out any chance of the Jelly polishes returning. Which is a shame because they are fab for gradient syrup manicures like this one I created with Stroppy.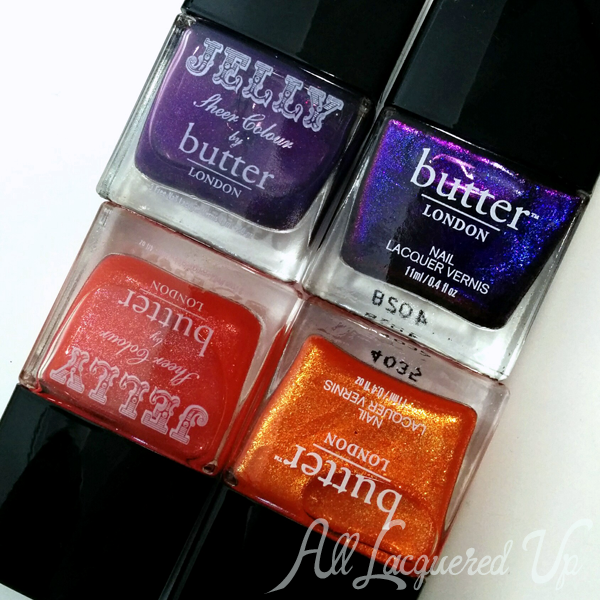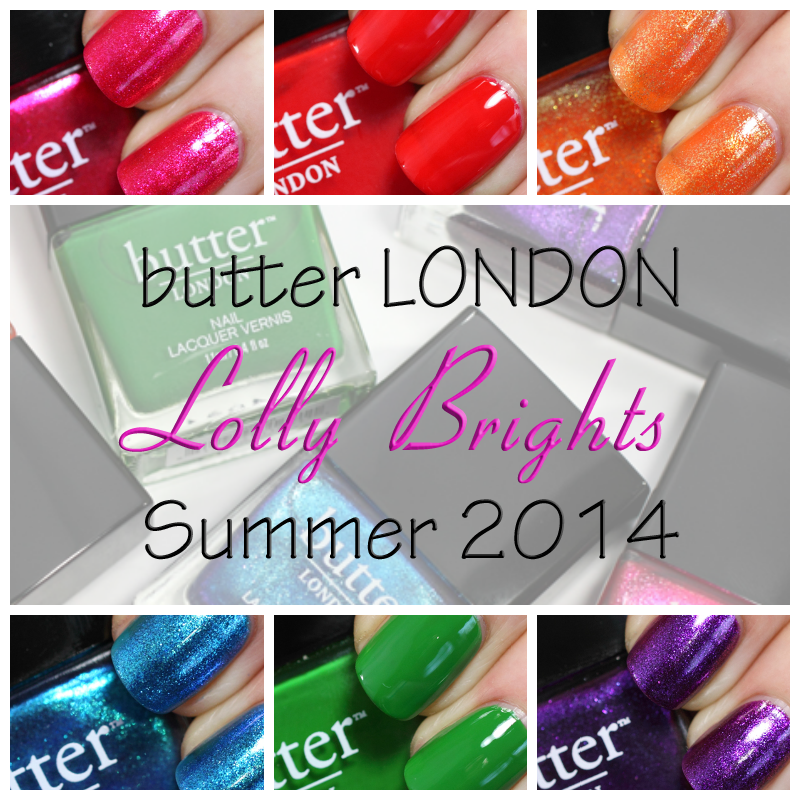 Bottom Line: I love a foil metallic for summer, especially on my toes, so it's no surprise that I'm smitten with this collection. The formula is spot on and any pigmentation issues are trumped by a fun color range. And that green, I mean… I honestly can't say that I would pass on any of these, except maybe Chuffed, just because it's so sheer.
butter LONDON Lolly Brights are available now at Nordstrom and ULTA stores nationwide and online at butterLONDON.com, Nordstrom.com and ULTA.com. butter LONDON nail polish retails for $15/ea for a .4oz bottle.
Are you as jazzed about the Lolly Brights as I am? Which shades are calling you? Thoughts on the new versions of Chuffed and Stroppy? Do you think they should have given them new names?
  Disclosure: Product samples were provided by reps for butter LONDON. Affiliate links appear in this post. When you purchase through an affiliate link, you help support this site. For more info view my
Disclosure Policy
.