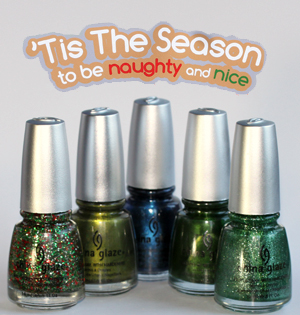 China Glaze has definitely been Naughty AND Nice this year.  Nice for releasing so many cute holiday gift sets and a fun range of colors but Naughty for overwhelming us with so many options.

Unlike the past few years where they've released just a few holiday shades, for Holiday 2010 the 'Tis The Season to be naugty and nice collection consists of 16 nail polishes.  That's right, SIXTEEN!

To make it easier to take in, I've broken down the collection into its three main color families; Blue & Green, White, Silver & Gold and Red & Vampy.  We'll start with my obvious favorite the lone blue (Little Drummer Boy), three greens (Jolly Holly, Mistletoe Kisses, Peace On Earth) and the multi-colored glitter bomb (Party Hearty).

Formula & Application: China Glaze is a 3-Free brand with a round brush that is both medium in length and firmness with enough give to allow for ease of control. The cap is slightly tapered and made of smooth plastic that is comfortable to hold.  For the Holiday collection China Glaze brought back the brushed silver caps that were used on the Platinum/Urban Chic & Kaleidoscope collection bottles.  It adds a little something special to look.
In this first portion of the collection the polishes are well pigmented for the most part but they apply a bit goopy.  Even though the brush went where I guided it, the polish didn't want to listen.  Between that and the metallic shimmer in a few of the polishes, the finish was less than perfect.  The first three colors all applied in two thin coats but the last two require more to become opaque.

Peace On Earth is a golden green with metallic shimmer.  I wouldn't categorize it as a metallic, more like a pearl.  The color has an ivy feel to it though with the golden shimmer it looks like a leaf in the midst of changing colors.  It reminds me a bit of the discontinued China Glaze Cat's Eye though it's nowhere near as yellow.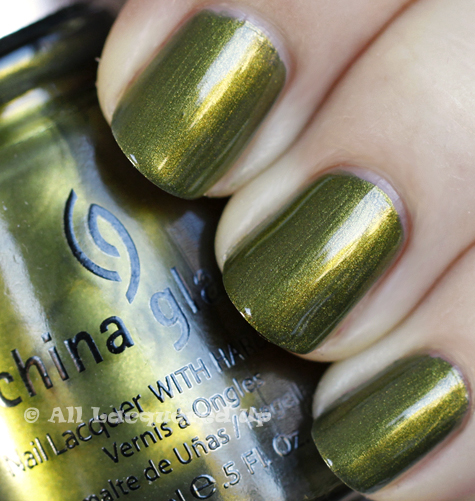 I know a lot of people were hoping Peace On Earth would be a Moonpool dupe but I knew, when I laid eyes on it at Cosmoprof, that wouldn't be the case. I mean, why wouldn't they just re-release Moonpool? I doubt they'd recycle it as another color given its cult status. Anyway, in doing comparisons I pulled few golden greens like Zoya Irene and Barielle Polished Princess but wound up finding no twins. Quirius Cresskill Eve was the closest I could come though it has way too much blue in it to be a match.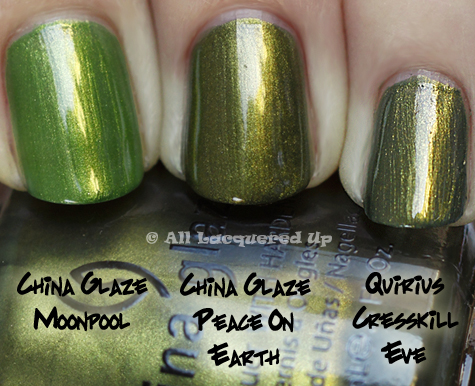 Jolly Holly is ideally named as I think it would be perfect for a little holly berry nail art.  It's kind of amazing in that it's vivid without being too light or bright yet it's not so dark you can't tell it's green.  It's like an electrified evergreen tree.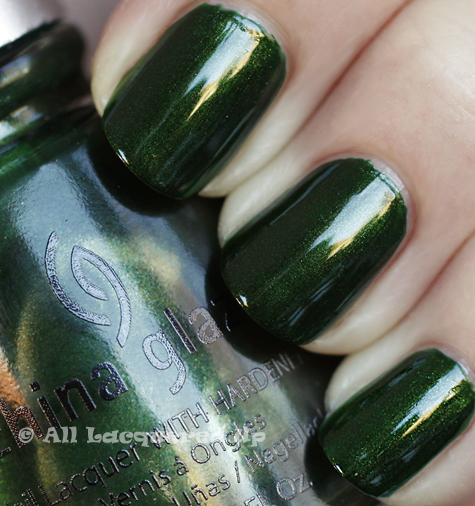 In looking for twinsies I came across an old favorite, Barielle Date Night, and my Christmas mani choice from last year, Fingerpaints Evergreen Dream.  I would say that Date Night doesn't look as lush as Jolly Holly and ED is more blue but if you own Date Night I wouldn't rush out to get Jolly Holly.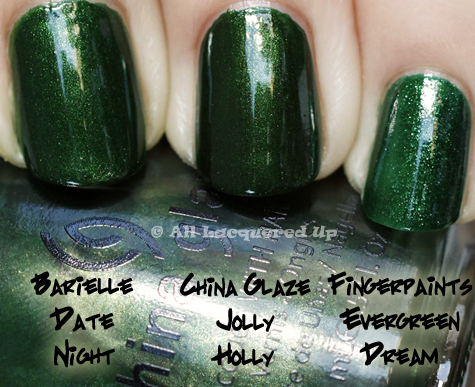 Little Drummer Boy is a rich, shimmery midnight blue.  It has the same finish as Peace On Earth and Jolly Holly only the shimmer seems to be a bit lighter than the base color so it really pops in the light.  The color itself is hard to describe as it's not quite a true navy, it's more of a dark wash denim.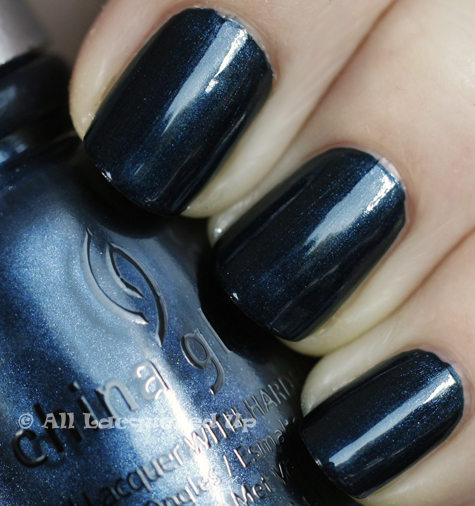 While I own nothing that dupes Little Drummer Boy, I thought NYC Glossies in Midnight might be a good comparison partner.  Turns out I should have showed it next to CND Blue Blood.  The discontinued cult fave is actually a pretty decent color match minus the glitter.  The base colors are very close so if you missed out on Blue Blood, LDB is a good, if not perfect, substitute.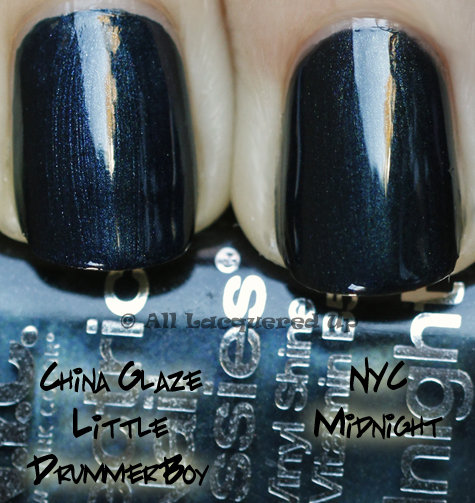 Party Hearty is clear, sparkly top coat packed with silver, green and red glitter.  There is silver micro-glitter and chunkier rounds, green medium size rounds and big, red hexagonal sequins like the ones we've been seeing in Deborah Lippmann's glitters of late.  I'm showing Party Hearty layered over Snow (also in the collection) with one coat on my pinkie, two coats on my ring finger and three coats on my middle finger.  It would take a LOT of coats to go opaque so if you buy it, intend to wear it over another color or be prepared to have bare nail showing through.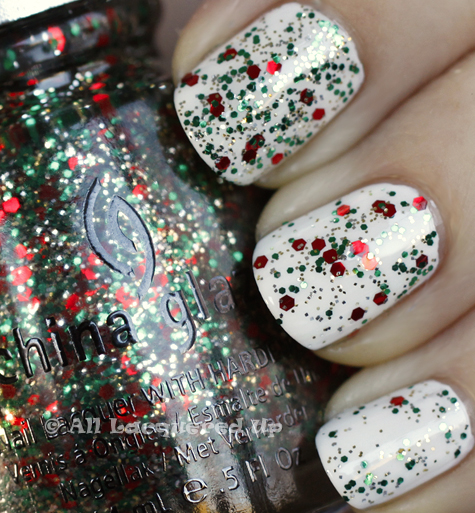 Mistletoe Kisses is definitely my favorite color in this part of the collection.  It's fresh like a piece of wintergreen gum.  The finish is China Glaze's famous glass-fleck formula though that means it's not overly pigmented. What surprised me was how dark it becomes with three coats on a bare nail.  The swatch I showed you on the white nail art wheel made it appear so much lighter so I put two coats over Snow on my middle finger to replicate that look.  I love it both ways but prefer it over white.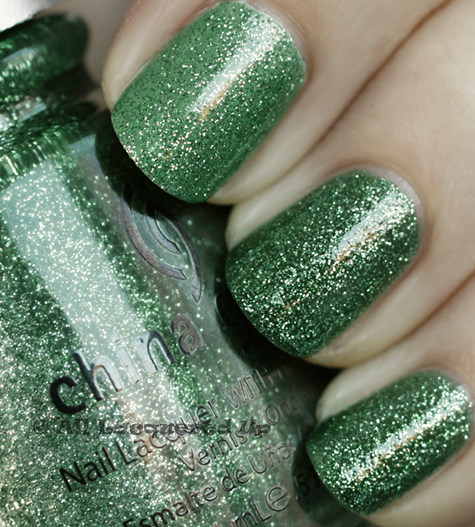 Bottom Line: Mistletoe Kisses is my hands down winner of the blue & greens and a "must-have" for any green lover.  If you love to layer or just want to add some holiday-themed bling to your nails, Party Hearty gets the thumbs up from me.  Also, with its clear base, it would be great for frankening.  The shimmers are nice but not overly special so I would only recommend them if they fill holes in your collection.
The China Glaze Holiday 2010 collection is available now and a limited release so scoop it up while you can.  Retail prices vary by store but online pricing is around $3/ea and store pricing is around $6/ea for a .5oz bottle.  You can find China Glaze polish online at Head2ToeBeauty.com and TransDesign.com and on shelves at Sally Beauty and ULTA.
You can also find Little Drummer Boy and Peace On Earth in the Celebrate With Style gift set and Mistletoe Kisses appears in the Rejoice! set and Dreaming of a Green Christmas set alongside Jolly Holly.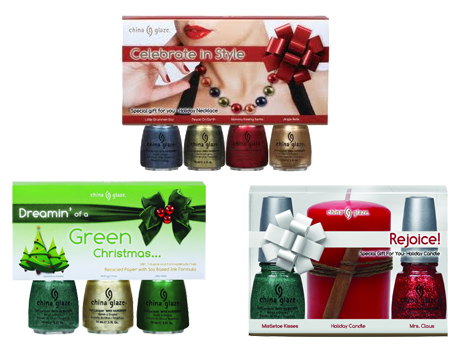 Thoughts on this part of the Holiday collection?  If you've already snagged some of these up, which ones are your favorites?  What would you layer Party Hearty over?
Disclosure: Product samples were provided by China Glaze.  For more info view my Disclosure Policy.