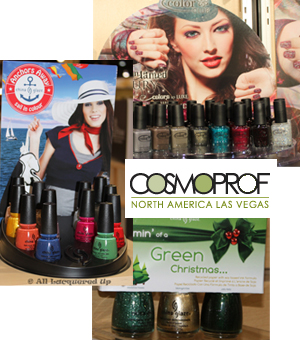 The first day of Cosmoprof is over and I'm beat! The day just flew by and there's still so much more to see. In case you're not familiar, Cosmoprof is a beauty trade show that takes place in Las Vegas. Brands from the salon and spa industry come together to sell their wares and it's not just products. There are packaging companies, product manufacturers and salon equipment suppliers here as well.  Plus there are sections for emerging brands and international brands. So cool! It's a bit overwhelming but really interesting to explore.
From now through Tuesday I'll be at the show checking out our favorite salon brands to see what they have in store for us nail fanatics and showing you any great finds I discover. Also, I have a new contributor to the site, Christine, who will be sharing her thoughts on the show with you as well. Christine is a friend I met via Specktra ages ago and she's as big a nail fanatic as I am. Seriously, not long after we met, she purchased a full size OPI display rack to hold her polishes and it's more than full. Anyway, check out what caught our eye on Day One of Cosmoprof!

Our first stop of the day was at the Color Club/Art Club booth.  You're already seen the Glam nail decals but the Fall Untamed Luxury collection was also on display.  The fourteen piece collection comes in two sets; one with cremes and subtle shimmers, the other with glitters and more funky colors.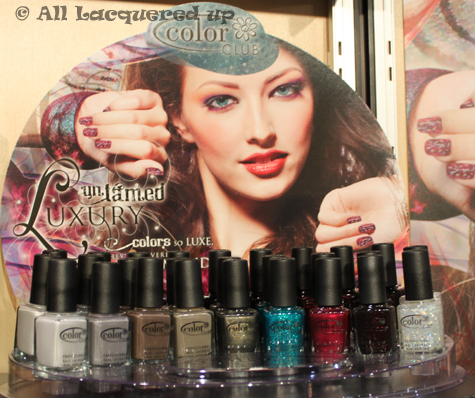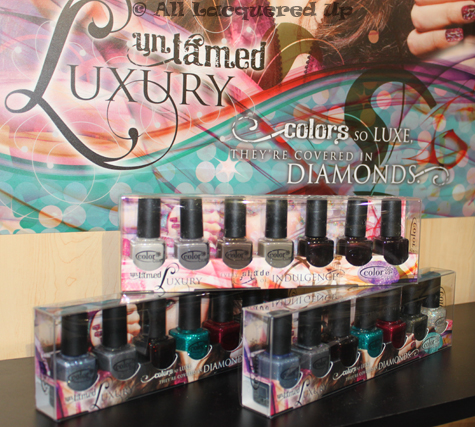 We were also able to check out the Halloween promotion, Bewitching, a mini set consisting of a black, neon orange, purple and glitter topper with decals.  They're also putting out a set of coordinating nail gems.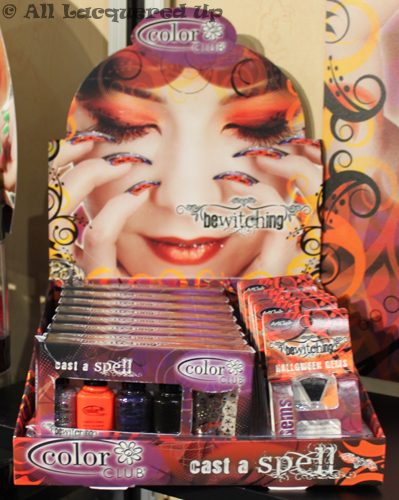 Holiday 2010 brings us another mini set, Enchanted Holiday, which is similar to the Halloween set in that there are coordinating nail decals and gems.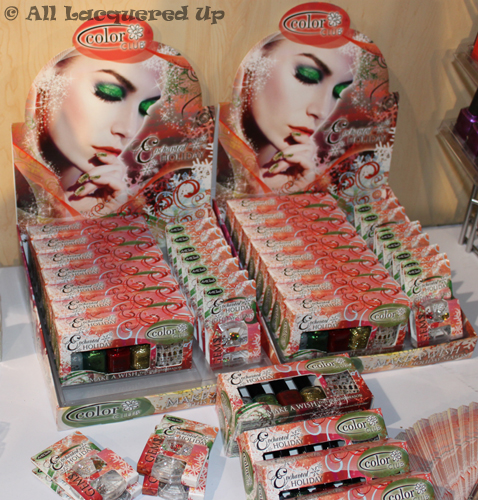 Next up, Nubar where I had the pleasure of meeting founder Noubar Abrahamian to discuss his unique line of colors.  Little did I know that Mr. Abrahamian creates all the collections himself.  You gotta love a guy that appreciates color and nails.  We also chatted about some upcoming launches that you'll be hearing more about soon.  Trust me, they are fun.
Of course we drooled over the Venetian Glass polishes that have real glass flecks.  Christine got a treat when nail tech and Nubar consultant, Vicki Peters, offered to give her a manicure using Vaso.  She even added a little nail art using the Nubar Nail Art Pens.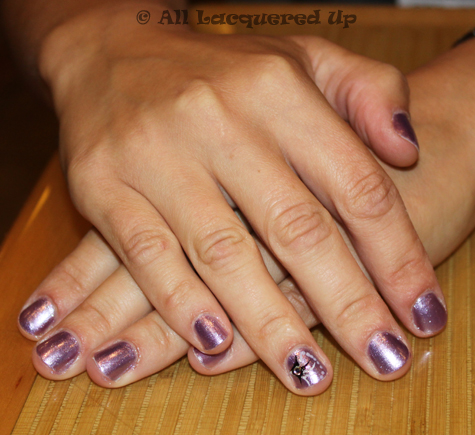 Also, I mentioned to Mr. Abrahamian your complaints about the shipping charges on the Nubar site. Unfortunately, in that respect his hands are tied. Rather than risk a major fine from the USPS, he utilizes the proper ground shipping and that costs a lot. There really isn't much to be done about that but he's working to get national distribution through one of the many beauty chains we all know and love. So fingers crossed that Nubar will soon be much more accessible.
Finally, we made a visit to the China Glaze booth to find out all about the holiday and spring collections. Unlike the past couple years where China Glaze released a small holiday set they went full out this year creating collection of twelve brand new colors AND an additional four piece set of new shades.  There's a big glitter party happening here and of course tons of green.  Bonus!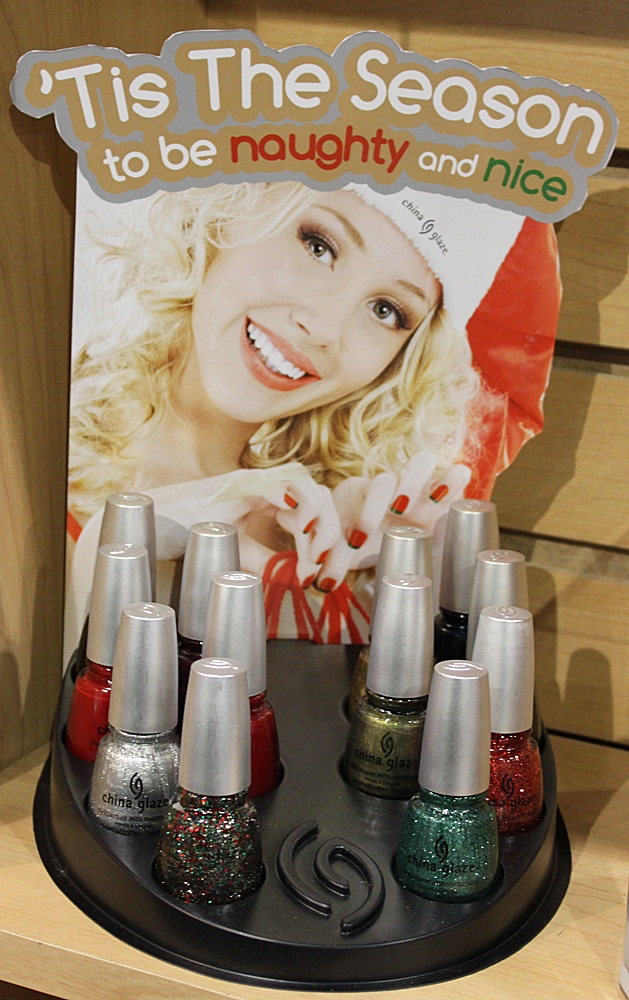 In addition to the full collection, China Glaze put together a ton of gift sets with various pieces paired with giftable items like candles and a stuffed Reindeer (so cute!).  A few of our favorite sets are below.
Dreamin' Of A Green Christmas.  This is a no brainer.  The light green on the right dries to a glass fleck-esque finish.  Truly unique.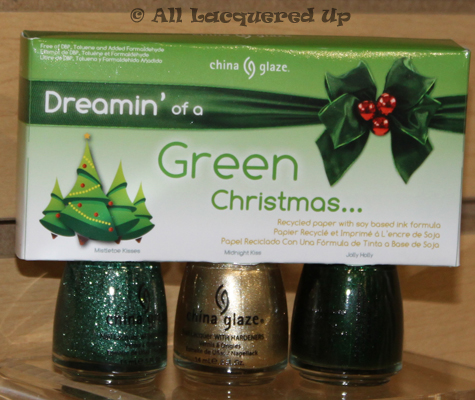 Celebrate In Style contains the four additional colors for Holiday and comes with necklace pictured on the box.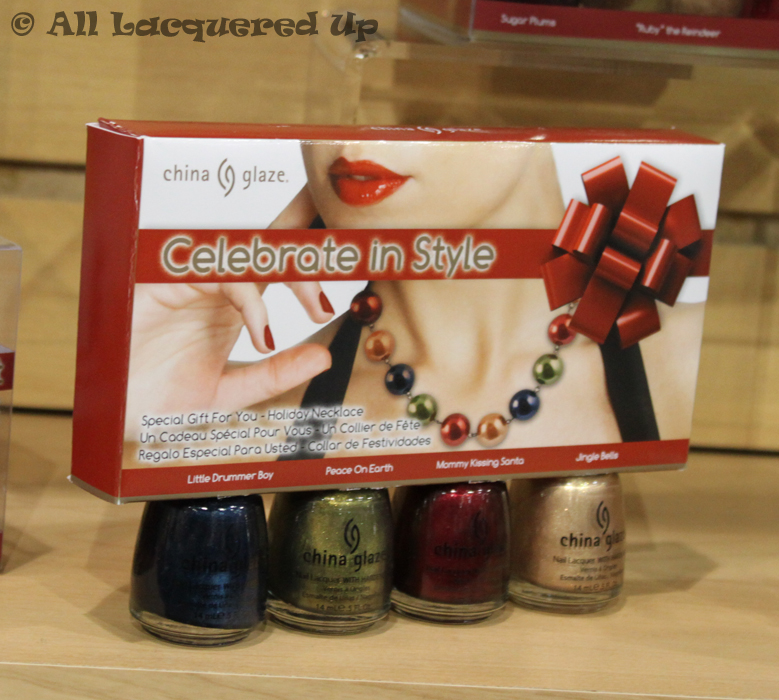 Perfect for New Year's Eve, the Cheers To You set comes with a China Glaze branded shot glass and hot foil metallic polishes.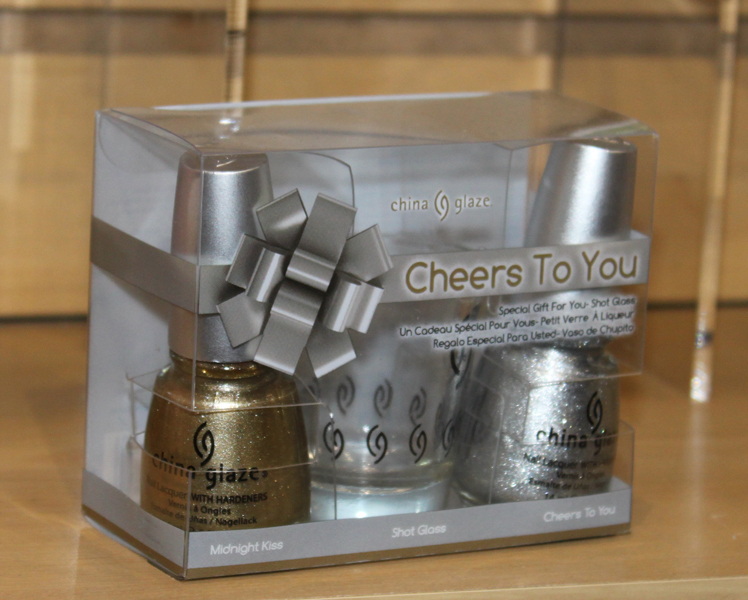 Seriously, how adorable are these Peppermint Kisses with Holiday Wishes candy canes?  I'm not 100% sure but there's a white glitter included that could satisfy your White Kwik Silvr cravings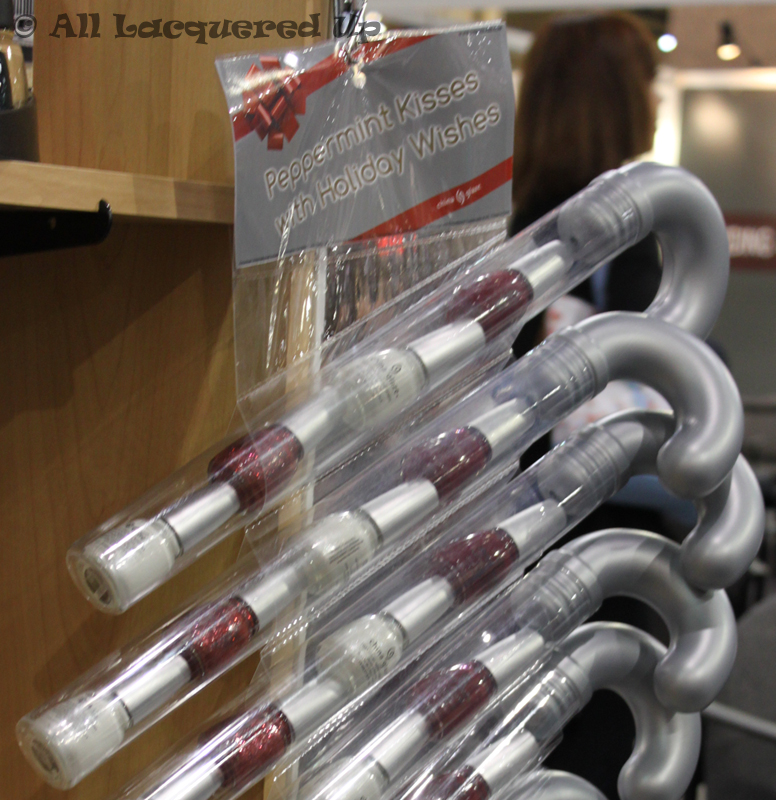 Fanatics, get ready for the Anchors Away collection coming to stores in January 2011.  This blew us away.  I grew up spending every weekend of my summer on my parents boat so anything nautical appeals to me.  Though regardless of the theme, the colors are fantastic.  The slightly burnt orange and indigo blue are stunning cremes.  We saw them as a mani/pedi combo and they looked gorgeous paired together.  Oh and that blue-grey creme on the bottom right (Sea Spray) is my big winner of the set.  Yes there is a beautiful green creme, I'm not overlooking it but that blue grey is out of this world!

On our way out of the show we ran into my pal, Celebrity Manicurist Elle, who shared some pics of her upcoming Barielle collections.  Can't wait to see them in person.  Post show we stopped for a drink with Elle and gel nail art extraordinaire, Gina Silvestro when Celebrity Manicurist Tom Bachik stopped by.  Tom is now the nail expert for Chanel and a completely brilliant nail artist. Remember when he put Chanel Nouvelle Vague on his client, Beyonce's nails for her "Why Don't You Love Me?" video?  By the by, if you want to see some sick ass nail art, check out Gina's work with Akzentz gels on the Gel Essentialz website.  She recently worked with J.Lo and Lady Gaga.  Amazing, right?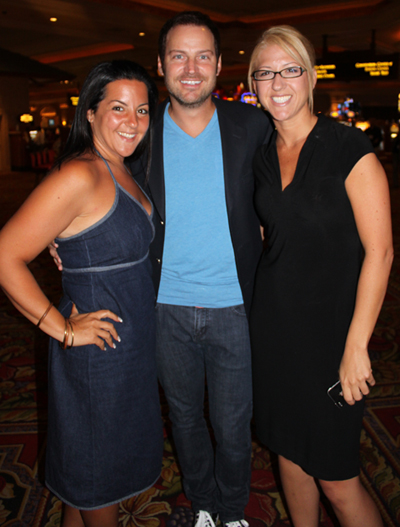 Elle, Tom Bachik, Gina Silvestro
On a non-Cosmoprof related note, Christine and I are in Vegas with two of my best girlfriends from childhood and they went to a taping of the Wheel Of Fortune. Fun, right? I know my mom would be jealous. She's a Wheel Watcher. Anywho, we were discussing Vanna White and trying to guess her age at dinner (she's 53) and on our way out of the restaurant she walked right past us! Seriously, the woman looks amazing. Even prettier in person. I swear, if I didn't know her I would guess her at 35. What is that woman using on her skin?
That's Day One people and we're just getting started.  Stay tuned for updates throughout the day and follow me on Twitter to keep up with our adventures.