Metallic
The Gwen Stefani for OPI collection is finally here and all I can say is, IT'S ABOUT TIME. Seriously, how it's taken this long for the music and fashion icon to come out with a line of nail polish, baffles me. She's as known for her red lips and tips as she is her unique vocals. Not that she doesn't stray into the world of nail art, mind you, but when I think of Gwen, I think of bold, fierce red.
So it should come as no surprise that this collection is highlighted by a signature red shade, Over & Over A-Gwen, that comes in its own Gwen-ified packaging. In addition to that, we have six new shades in a range of finishes including OPI's attempt at a true chrome. Check it out!
Continue Reading »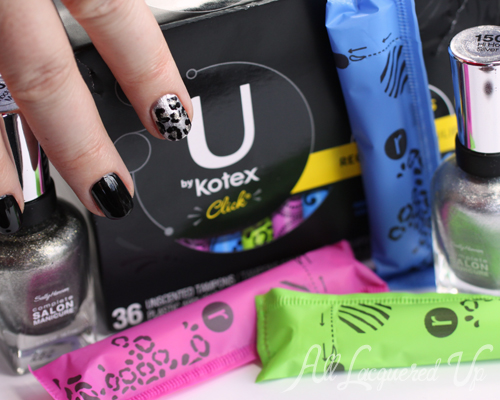 New Year's Eve is one of my favorite holidays of the year. It's a night of hope, reflection and excitement over what the coming year will bring. And whether I'm out on the town or hanging at home with friends, I always love to bring the bling when it comes my NYE nail situation.
This year, as part of a collaboration between U by Kotex, Sally Hansen and Target, I have a Metallic Leopard Nail Art Tutorial for you, inspired by the U by Kotex packaging.
Continue Reading »
As I shared with you after my Fall & Holiday Nail Trend presentation at Nordstrom's Pretty Party, one of the big trends for holiday is metallics along with classic creamy reds. MAC has certainly embraced this trend with their Holiday 2013 nail polish offerings.
The MAC Divine Night collection includes two metallics (one being matte) and the RiRi Hearts MAC Holiday collection has one rich red in Rhianna's signature color, RiRi Woo. I included one of the MAC Indulge shades as well since it's still available and works so well for holiday.
Continue Reading »
Due to her hit song, "All I Want For Christmas Is You", Mariah Carey is as much a staple of the Holiday Season as Bing Crosby. And thanks to my mom's office, where holiday music plays non-stop from Thanksgiving until the new year, it is ingrained in my brain.
For that reason, it makes perfect sense that OPI would continue its collaboration with Mariah in their holiday collection, OPI Mariah Carey Holiday 2013. Only this year, not only do we get the usual twelve shades, six being red, we get six new Liquid Sand shades as well. Today, I'm focusing on the non-red portion of the twelve.
Continue Reading »
As I've come to tell you, multiple times, over the years, red nail polish and I just aren't friends. I guess we're more like frenemies in that I'll wear it but it's not like my BFF who I want to hang out with all the time. However, the boyfriend LOVES red and hey, it's not all about me (just mainly about me). And there are some red shades that suck me in.
Case in point, the second half of the OPI San Francisco collection. While I was naturally drawn to the first half of the OPI San Francisco collection due to my love of blue, I found a few keepers  in the land of red.
Continue Reading »