The Arsenal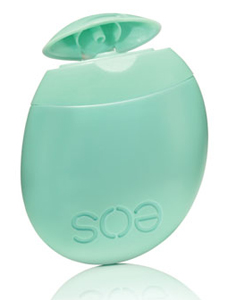 I get a lot of questions and comments regarding the tools and treatment products I use to keep my nails healthy and in tip top shape. Since my routine changes as I test new products, I've launched, The Arsenal, to share with you the items that are "must haves" in my nail kit.
A couple years ago I was introduced to the EOS, or Evolution of Smooth, brand when its Shave Cream launched. I received a bottle in a gift bag at an event and since you can never have enough shave cream or body wash in your life, I gave it a try. Two years later, my cabinet is stocked with EOS Shave Cream. I even have the boyfriend hooked on it. The Vanilla Bliss is my jam!
Then there was a frenzy when the EOS Lip Balm Spheres came out and I stalked my Walgreens to get a three piece set. I love those little buggers.
Well now I have a new EOS favorite in the Everyday Hand Lotion. This flat, pocket-sized tube of lotion comes in two scents (floral & cucumber), is paraben, phthalate & lanolin free and does a fantastic job of moisturizing my parched hands without leaving them greasy. I keep a tube next to my laptop and never have to think twice about grabbing my mouse or tapping on my keyboard. You won't be leaving marks or residue behind.
What's even better is the size. The TSA friendly 1.5oz size means I have finally found a hand lotion I love that I can carry in my purse without worry of it being confiscated. Don't tell but, I've been smuggling a big tube of my beloved Aruba Aloe lotion in my purse for years and, thankfully, haven't been caught. Considering its cost and lack of availability I shouldn't have been taking a chance. And now I don't have to. Now if only the Shave Cream came in a travel size.
EOS Everyday Hand Lotion is available online at EvolutionofSmooth.com and at mass retailers nationwide including Rite Aid, Walgreens and Walmart. The 1.5oz tube retails for $2.49/ea.
Disclosure: A hand lotion product sample was sent by reps for EOS. I purchased the lip balm spheres and continue to purchase the shave cream myself. For more info view my Disclosure Policy.