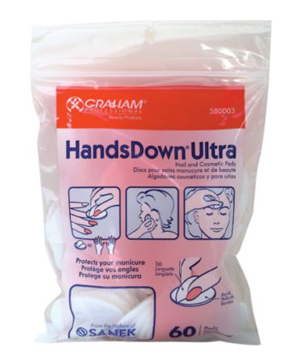 I get a lot of questions and comments regarding the tools and treatment products I use to keep my nails healthy and in tip top shape. Since my routine changes as I test new products, I've launched, The Arsenal, to share with you the items that are "must haves" in my nail kit.
A cotton pad is a cotton pad, right?  Not in my world.  For years I went the cheapo route buying whatever bulk cotton pads or balls where the least expensive even though I continued to be frustrated by the little pieces of lint left behind, the polish stains on my fingers and how easily they disintegrated.  Enter Graham HandsDown Ultra Nail and Cosmetic Pads.  To my nails, they're like the air I breathe, ESSENTIAL!
What's so fab about them?  For one, the plastic barrier and easy grip tab on the back of each pad.  I can easily remove polish from just one nail without messing up the rest of my manicure.  I can easily swatch polish without messing up a brand I'm testing on my non-swatching hand.
What else?  Well they are lint-free which is a HUGE plus and they hold remover well so you use less product.  With cotton pads, my fingers would end up wet which is bad for your skin and a waste.  Thanks to the plastic backing, they are also very sturdy so you can remove polish from multiple nails without them falling apart.
Grahams HandsDown Ultra Pads can be purchased in a 60 ct package at Sally Beauty for $4.99 ($4.49 with Sally Card) or do what I do and order the big 240 ct bag from Head2ToeBeauty.com for $12.95.
Compared to drugstore brand cotton balls they are a bit pricey but considering you only need 1 or 2 per manicure, it's worth the cost.
How many of you are HandsDown Ultra converts?  Do you agree that they're worth the extra coin?  What's your favorite nail polish remover pad?