Mauve
Manicure maven, jazz singer and entrepreneur, Deborah Lippmann may be a chic Manhattanite, but this summer, she's taking us on a southwest adventure to her home state of Arizona with the Painted Desert collection. At a time when brands are bombarding us with brights, Deborah Lippmann dances to the beat of her own drummer with an earthy palette that pays homage to her roots.
Continue Reading »
Growing up, all I knew of Hawaii was what I saw in the surfing movie North Shore (not the FOX TV show, though I watched that too) and that my mother wanted to go but felt it was one of those places that you visit and never want to leave. If I had a dollar for every time she said, "If I go to Hawaii, I'm not coming home," well, I wouldn't have to work.
This spring, OPI is celebrating the island state with a nail polish collection as colorful as the tropical paradise it represents. The twelve nail polish colors of OPI Hawaii include a variety of finishes and a rainbow of hues.
Continue Reading »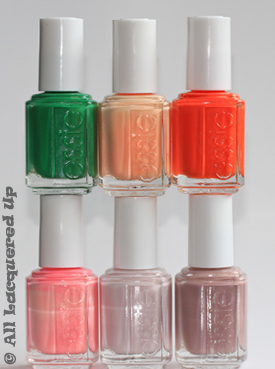 What's that?  It's still summer. You'd never know that based on the number of fall collections that we're being inundated with.  Is it just me or do the fall colors seem to be coming out earlier?  Maybe it's because I'm really enjoying my summer and while I'm all about some of the Fall collections, I'm not ready for it to start just yet.  The longer I can keep the Cleveland winter at bay, the better.

It seems like forever and a day since I previewed the Essie Summer 2010 collection.  Oh that's right, it has been forever and a day. Based on the pastels and florals spotted on the Spring/Summer runways, Essie has mixed soft hues with punchy brights.