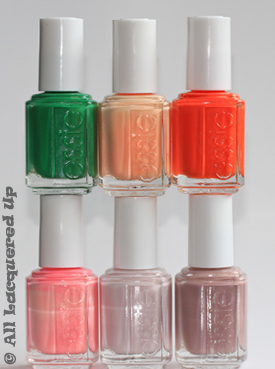 What's that?  It's still summer. You'd never know that based on the number of fall collections that we're being inundated with.  Is it just me or do the fall colors seem to be coming out earlier?  Maybe it's because I'm really enjoying my summer and while I'm all about some of the Fall collections, I'm not ready for it to start just yet.  The longer I can keep the Cleveland winter at bay, the better.

It seems like forever and a day since I previewed the Essie Summer 2010 collection.  Oh that's right, it has been forever and a day. Based on the pastels and florals spotted on the Spring/Summer runways, Essie has mixed soft hues with punchy brights.

Formula & Application: Essie is a 3-Free brand.  The brushes are thin, round and shorter than most.  The bristles are very flexible, allowing you to easily fan out the brush to cover your nail width.
The polishes in this collection all have that squishy, jelly-like feel to them.  Normally the word jelly causes my eyes to light up but in this case it's a negative.  The polishes seem pigmented enough but the texture keeps them from leveling properly and promotes streaking.  I needed three coats with each polish and with some that still left patchiness.  Also for some unknown reason Haute As Hello and Knockout Pout both dried with a satin finish so I photographed them with top coat.
Pretty Edgy is a vivid AstroTurf green. It's so bright and in your face, it doesn't look real.  I love everything about this color even in spite of the fact that I needed three coats.  The way the jelly texture gives it a slightly rubberized finish makes it a hit plus it's a step outside the box for Essie so I say, "BRAVO!!"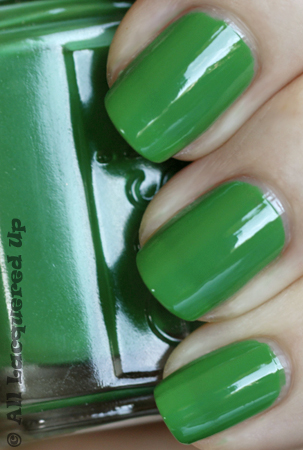 I couldn't help but do a comparison of this one.  I had a feeling it might be close to CND Green Scene and I was right.  The CND dries a bit deeper and has a creamier texture to it but they are close enough that you wouldn't need both unless you're a green girl like me.  I knew OPI Jade Is The New Black wouldn't be close but since so many of you own it, I thought you'd appreciate seeing them side by side.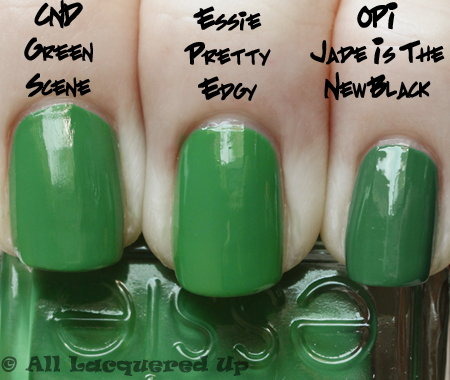 Haute As Hello is a bright melon, coral.  Like I mentioned above, it dries with a satin finish which makes me think there is some neon pigment in the base.  If you look at the bottle you can see how it looks marbled.  That's because all the bright pigment separated leaving the polish looking dusty and pastel.  I had to roll the heck out of it to get it mixed.  The same thing happened with Knockout Pout.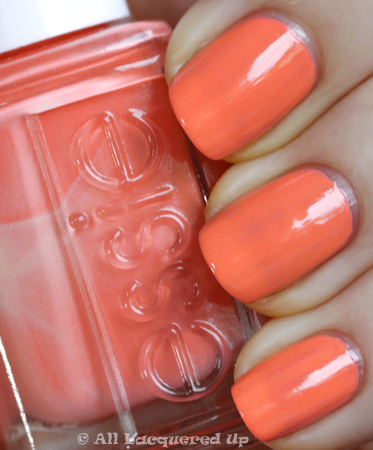 Vermillionaire is a cross between tomato red and tangerine.  It definitely looks orange but has a lot of red in it.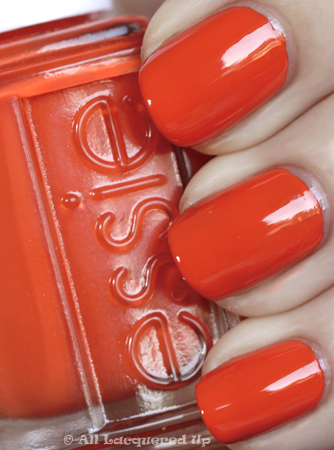 My bottle of butter London Chuffed was staring at me when I had this one so I slapped a couple coats on top for funsies.  It doesn't really change the color much, it just adds sparkle, like a CND Effect.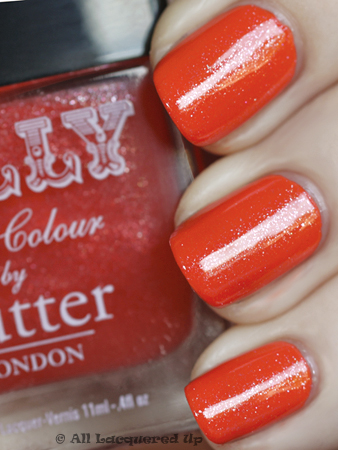 Knockout Pout is a deceptive hot pink.  Like Haute As Hello, the pigment separated so I was expecting this pale pastel and was shocked to see it dry so bold.  It actually reminds me a lot of CND Sweet.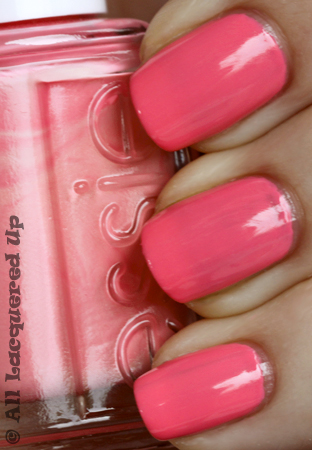 Miss Matched is supposed to be worn sheer but since I don't roll that way, I tried to see if it would become opaque with three coats.  Um, no.  It was a giant steak-fest so even worn sheer, it wouldn't look good.  My nails are in no shape to be rocking sheers so I didn't even try to show it to you that way.  This nude pink crossover is just a giant fail for me.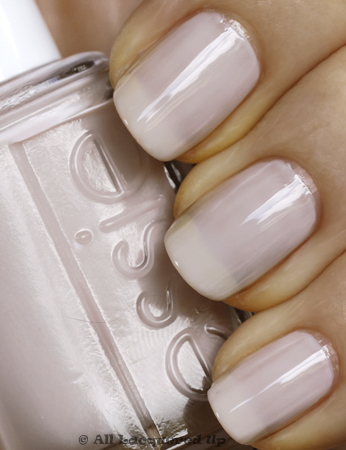 I had high hopes for Demure Vixen but it didn't quite live up to my expectations.  The shimmer in this beige mauve mix adds a pale lavender flash but it's not enough to keep me interested.  It's fine but not great.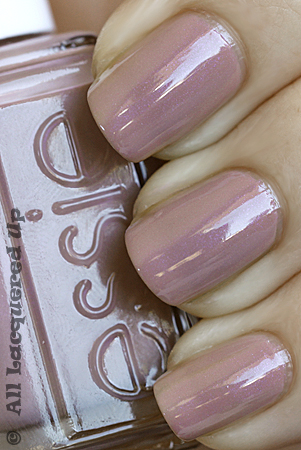 Bottom Line: Pretty Edgy gets a definite thumbs up from me but the rest of the collection gets a pass.  I just can't get excited by these based on the formula issues.  Vermillionaire certainly surprised me and gets the runner up prize but, the rest just don't thrill me.  Considering how impressed I was with the Resort collection, I guess I just expected more from Summer.
The Essie Summer 2010 collection is on sale now.  Essie polishes retail for $8/ea for a .5oz bottle.  Shop online at EssieShop.com or buy in person at salons and spas nationwide including chains like Beauty Express, Regis, Trade Secret and ULTA.
What colors in this collection are calling your name?  If you already picked some of these up, which ones?  Am I alone in feeling underwhelmed?
I won't be doing comparisons for this collection but if you have specific comparison questions, I'm happy to answer them.
Disclosure: Product samples were furnished by Essie.  For more info view my Disclosure Policy.