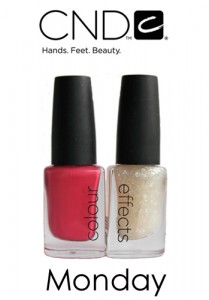 Welcome to CND Monday, a regular series here on ALU. Each week I'll be sharing a new layering combination from CND Colour & Effects to show you the versatility and creativity of the line.

Fanatics, today I have a special edition of CND Monday for you featuring Sweet and Sugar Sparkle; "The Look" for Spring 2010.   A few months ago I talked about CND's new concept for releasing seasonal colors (check out CND Colour & Effects… What's Next? for a refresher) and how each Spring/Summer and Fall/Winter they'll release a new LE Colour and Effect to reflect the trends.  This season CND is taking us to the "Candy Shop" with two sugary confections.  Check them out!

If you missed my detailed review of the new CND Formula, Bottle and Brush check out CND Colour, Effects and Henna? for a recap.
Sweet is a hot pink creme that dries a shade darker than my picture shows.  It's not eye-searing enough to be neon yet it makes a statement, like a bright Barbie car.  Compared to the existing CND pinks, Sweet is lighter and less berry than Raspberry Plunge and warmer than the purple-toned Taffy Pink.
The pigmentation is outstanding as usual though for the first time the application wasn't entirely spot on.  I had a bit of streaking on my middle finger requiring a third coat.  Though my bottle is a sample and the formula was a bit stringy so I'm hoping mine is the exception to the rule.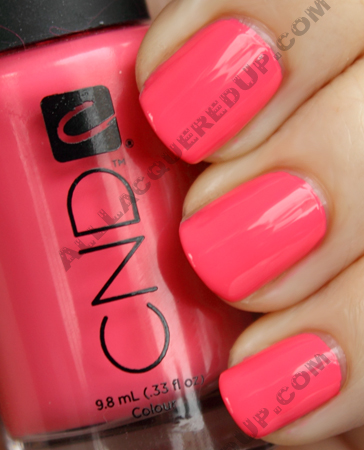 Sugar Sparkle looks like crushed rock candy on the nail.  With multi-shaped, multi-sized white glitter suspended in a clear base, it adds a bit of frosting (to steal a term from How To Lose A Guy In 10 Days) to your nails.  Yes, I get sucked into cheesy rom-coms, especially when Kate Hudson is involved.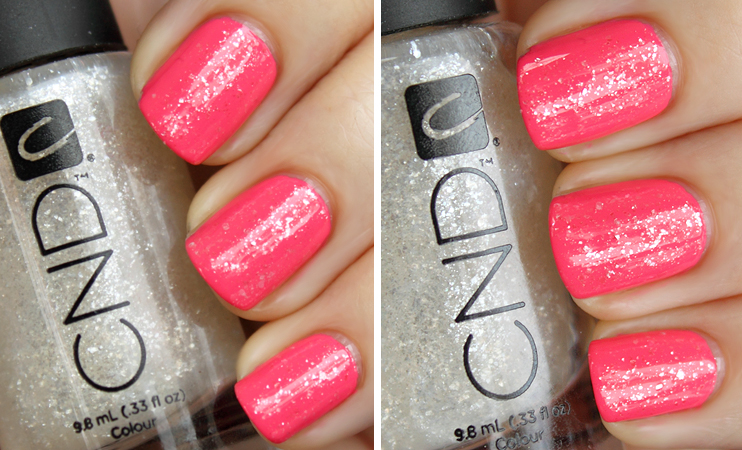 As you can see, Sugar Sparkle doesn't necessarily change the base color underneath, it just adds interest, texture and glitz.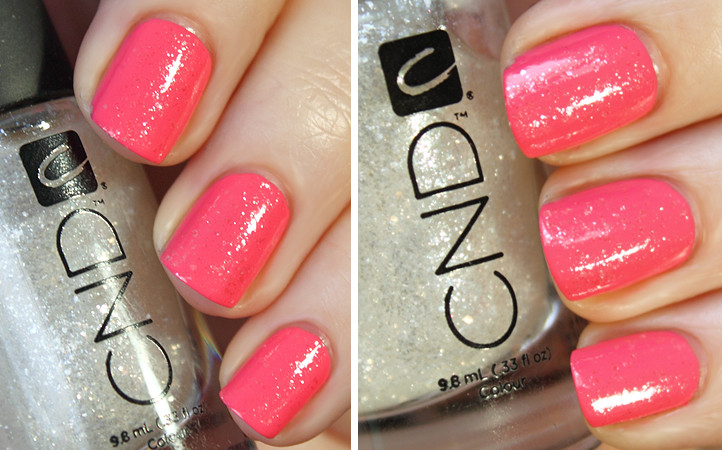 Sweet and Sugar Sparkle will launch this spring.  I don't have an exact date yet but I will update you when I do.  You can find CND Colour & Effects at salons nationwide and online at our fave e-tailers (see sidebar). Colours retail for $9/ea and Effects retail for $11/ea.
What do you think of Sweet and Sugar Sparkle?  I know I'm looking forward to trying Sugar Sparkle over some other Colours and I'll be posting those soon.  Are you feeling the candy coated vibe of CND's spring palette?
Disclosure: A product sample was furnished to me by CND. For further information view my Disclosure Policy.