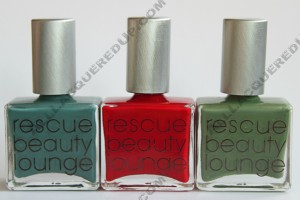 For Spring '10 Nail Colors, Rescue Beauty Hangs Ten With Proenza Schouler's cool surfer girls.
"Let's go surfing now, Everybody's learning how, Come on and safari with me!" – The Beach Boys.
Being a Midwest girl that never saw the California coast until a few years ago, the Cali surf culture brings up flashes of Gidget, Frankie & Annette flicks, The Beach Boys and Dick Dale's "Misirlou" which any Pulp Fiction fan would recognize.
I'm sure that's not at ALL what Proenza Schouler had in mind when they created their Spring '10 collection.  They envisioned a much hipper surf girl.  One that can ride the big waves with the best of them, then slip on a chic, colorful dress and party all night.  It's the modern surfer girl that inspired Ji Baek's Spring collection for Rescue Beauty Lounge.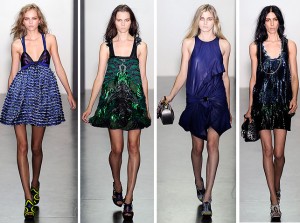 Now while I love the fun, playful color palette of the line, some of the silhouettes didn't jibe with me.  Didn't we all learn during the gunge-era 90s that wrapping shirts around our waists does NOTHING for our figures?  Building them into a dress certainly isn't going to help, unless you're a beanpole model.  I give them an A for innovation.

According to Ji, "What I loved about the show was the cool, breezy attitude of the models and the clothes. There was a sense that they'd just put down their surfboards and slipped on their runway dresses, with minimal makeup and salt-styled beach hair."
Note: The polishes I received are lab samples and not in the RBL formula so I can't really comment on application or coverage.  Every shade was a flawless two-coater but results may vary.  Though if you've ever tried a Rescue creme, you know the drill.  They're perfectly smooth and well pigmented.
Ji describes Diddy Mow as, "the color of sand through sea water, the moment before you eat it!"  Of course when it comes to green my feelings mirror Violet Beauregarde's affinity for gum.  "So long as it's [green], then that's for me!"  Only Diddy Mow is not just another green. I don't own a single color even remotely like this.  A grayed mossy hue, the only time I've come across anything similar was when I mixed my Ombre Manicure.  Diddy Mow would be the perfect middle color, no?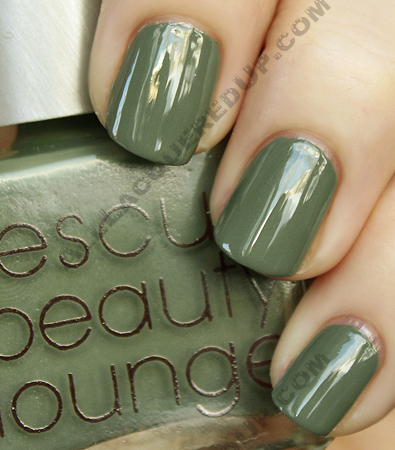 360 has a dusty, muted quality yet it dries dark and colorful.  This isn't your everyday sandwashed blue.  It has a vibrancy in its weathered feel.  It's the color I imagine would be born if the bright blue sky met the salty sea water on the horizon.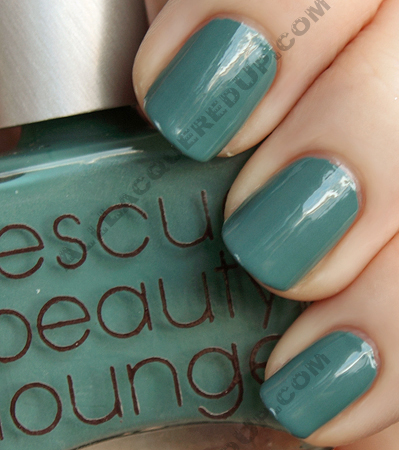 Again, I have no real comparisons for 360 though showing it next to Misa Dirty Sexy Money drives home how blue this polish is.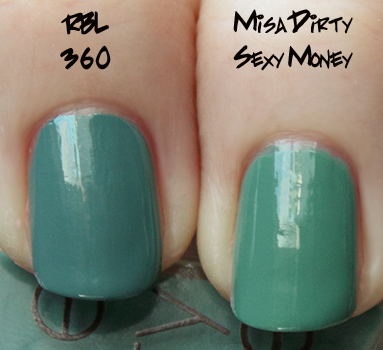 Bangin is a bold, coral-tinged red.  It isn't overly orange-y so you cool-toned girls should be able to pull it off.  It's a beautiful color though not my style.  Of course my red-polish-loving boyfriend immediately sung its praises so you red hoarders, and I know you're out there, will definitely appreciate this one.  Ji does reds extremely well.  They apply so pigmented that all you see is the bottle color, no semi-sheer layers of berry, pink or orange.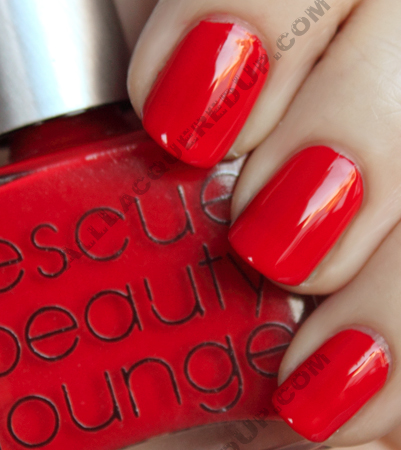 The Rescue Beauty Lounge Spring 2010 collection will launch in March/April. RBL polishes retail for $18/ea and can be purchased online from RescueBeauty.com.
What do we think Fanatics?  Are you ready to catch the RBL wave this Spring?
Disclosure: A product sample was furnished to me by Rescue Beauty Lounge. For further information view my Disclosure Policy.