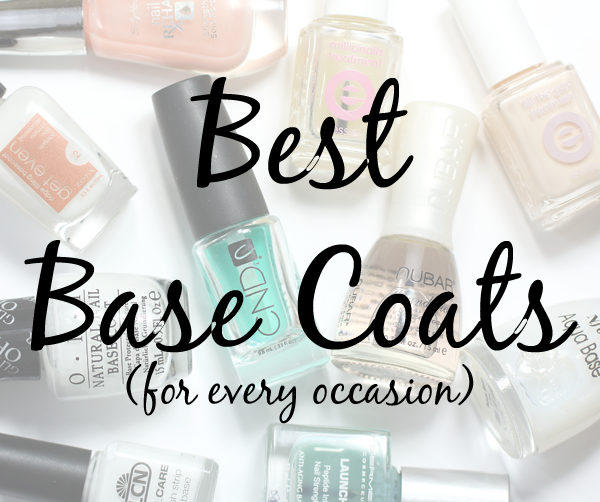 Affiliate Link|I Bought This|Press Sample
When I put together my list of current Favorite Top Coats, many of you requested to hear about the Best Base Coats in my arsenal. I actually have more top coats than base coats and that's because I tend to stick with my tried and true faves. I test new things, of course, but, for the most part, these have become my staples.
To make sure I have all your bases covered (pun totally intended), I am sharing my favorites for long-lasting wear, ridge filling, treatment and specialty polishes.


Long-Lasting Base Coats
Go into any nail salon in the country and you will more than likely find CND Stickey ($8.50, ULTA.com) being used and there's a reason. When it comes to base coats, it is the queen. As the name implies, Stickey dries with a tacky feel that adheres to both the nail and your polish.
While Nubar Foundation Base Coat ($9, ByNubar.com) is not a tacky base coat, there's something magical in its potion that makes my manicures last and last. Everyone I've recommended it to ends up loving it as well. The only downside is its lack of availability and the high cost of shipping on Nubar's website but, believe me, IT'S SO WORTH IT!
Orly Rubberized Bonder ($7.99, SallyBeauty.com) is another great base coat, that I highly recommend but, I'm currently out of it and trying to use up products so I don't have one to photograph.
Ridge Filling Base Coats
Between my years of swatching polish and poor nail genetics (I call it my Danny Devito Syndrome), I have ridges and nail imperfections beyond belief. So, I rely on ridge fillers when I need a flawless finish.
Essie Ridge Filler (which I just ran out of) and Fill The Gap ($10, Nordstrom.com) are both excellent for this purpose as is Zoya Get Even ($10, Zoya.com). They are all creamy with a bit of opacity that really help camouflage those unsightly blemishes on my nails.
The main difference between Ridge Filler and Fill The Gap is, FTG contains additional treatment ingredients, nutra-kertain and bamboo extract.
Everyday Treatment Base Coats
If your nails need a little extra love, these are the treatments I would turn to. Essie Millionails ($10, Nordstrom.com) actually contains kevlar fibers that you can see on the nail when dry.
And China Glaze Calcium Gel Fortifier ($6.40, Amazon.com) is what I use when I want to give myself an overnight nail-cial (nail facial). I rarely use it under polish as I find it doesn't wear as well.
Finally, Sally Hansen Nail Rehab ($9.99, Drugstore.com) is a newer product that I'm utterly smitten with. I've been using it regularly for a month or so, when swatching, and I can see an improvement in the dryness of my nails. The bonus, it acts as a minor ridge filler and treatment product. I love a 2-in-1.
Intense Treatment Base Coats
When all else fails, it's time to bring out the big guns. If you have severely dry, damaged or brittle nails, you have to try NailTek Citra ($15, ULTA.com) or Dermelect Launchpad ($16, ULTA.com).
While the original NailTek has quite a legion of fans, I love the Citra line because it's Formaldehyde Free (not all nail treatments are).
As I've mentioned before, Launchpad is a power player when it comes to nail treatment, with the first peptide-infused formula. It also wears beautifully under polish, which can be a challenge for treatment bases.
Specialty Base Coats
If you hate removing glitter, try a peel-off glitter base coat. While OPI Glitter Off ($8.57, Amazon.com) didn't work for me on the first try (see video), I have found that if I use two coats it's a bit easier to get off. I actually use it mostly for glitter swatching as it slides down the nail when not fully dried.
LCN Polish Strip Off Base ($11.90, LCNBoutique.com) is another peel-off option though you can always mix your own with some Elmer's glue and a bit of water to thin it out.
Finally, if you're a holographic polish fan, an aqua base is your best friend. I know other brands (like GOSH) make them but Nfu Oh Aqua Base ($12.50, Fabuloustreet.com) is the first and only one I need. As an alternative, you can apply a top coat, like Seche Vite, as a base coat and apply your holo on top.

Alright, now it's your turn. What if your favorite base coat? Do you plan to try any of mine? What's your miracle strengthening product?
Disclosure: Product samples were provided by reps for Dermelect, Essie, LCN, OPI, Sally Hansen and Zoya. Others may have sent samples in the past but I have repurchased on my own.  Affiliate links appear in this post. When you purchase through an affiliate link, you help support this site. For more info view my
Disclosure Policy
.