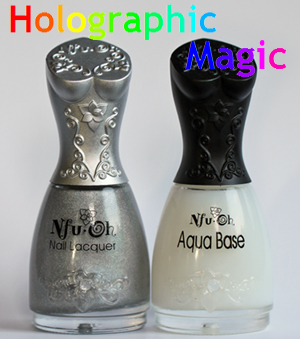 You guys, I've reached holographic nail nirvana thanks to Nfu Oh!

As you may remember I received my first Nfu Oh haul a few weeks back and I've been dying to wear the holo, #61, but had to wait until the Aqua Base came back in stock.  Well my second order arrived on Thursday so naturally my weekend manicure choice was Nuf Oh 61!

I wasn't sure what to expect based on the polish's bland appearance in the bottle but on the nail, this baby can give Hologram Minx a run for its money.   Ever since Beyonce rocked golden holographic Minx at the Grammy Awards fanatics have been trying to replicate the look.  Well, consider #61 the silver version of those nails at a fraction of the cost.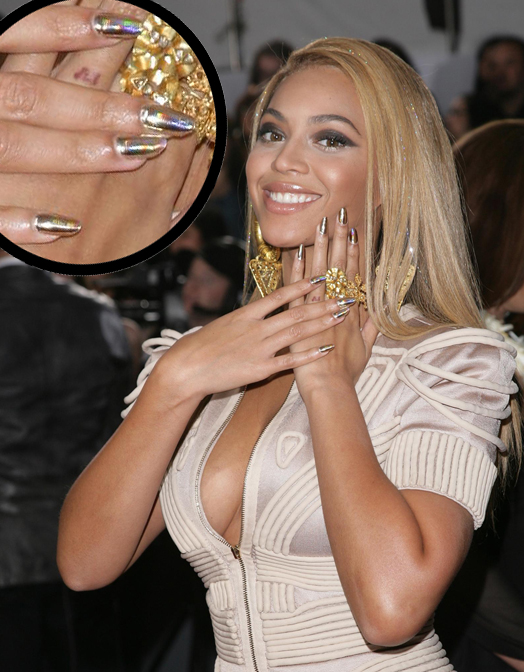 I've seen quite a few YouTubers attempt to replicate Beyonce's look and of them all, Miss80Million did it best with her "Counterfeit Nails."

However, if you don't want to try mixing, layering and blending colors, just snap up a bottle of this Nfu Oh instead.
Pictures can't really do Nfu Oh 61 justice but I took a stab at trying capture its prismatic goodness for you.  What truly wowed me about this polish, outside of it being the most holographic shade I've worn, is the base color.  The silvery base is so reflective you would almost think I'm wearing Minx.  And in the sunlight, well all I can say is, "Shut it down!"  This takes bling to a whole new level.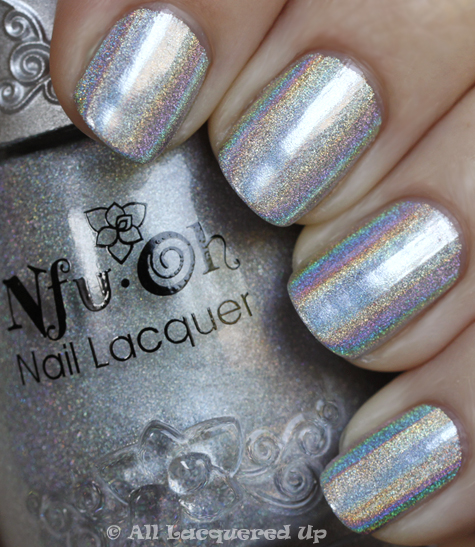 Sunlight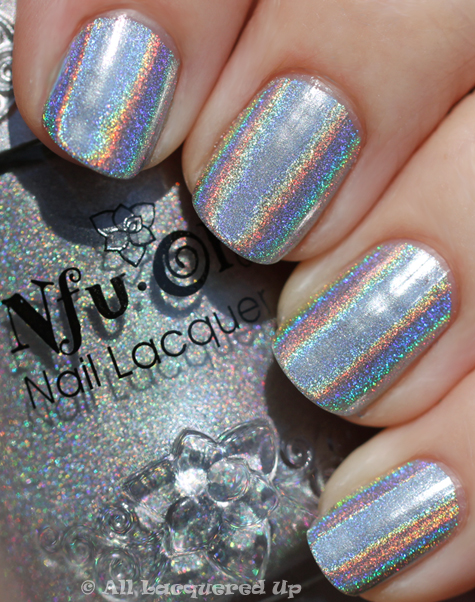 The only drawback to the Nfu Oh holographic series is that you MUST use the Aqua Base with them. I tried applying #61 over a few different base coats and it was a streaky patchy nightmare with all of them. The Aqua Base makes all the difference people. INVEST!
Application tips: The Aqua Base and holographic polishes are a bit thick and tricky to apply. Use thin, even coats to avoid a lumpy finish. Believe me, the extra effort is well worth it.  Also, don't panic if the finish looks cloudy when you apply top coat.  It will return to its holo state once the top coat dries.
Nuf Oh polishes and Aqua Base can be purchased online at FabulouStreet.com. Nfu Oh polishes and treatments retail for $12.50/ea for a .6oz bottle. Shipping is FREE to US residents on FabulouStreet.
Who's itching to place a Nfu Oh order? Where are my fellow #61 fans?  Have you found a base coat other than the Aqua Base that works as well?  While there is no gold, that I know of, would the peachy #62 make a good stand in?
Disclosure: I purchased both products myself from FabulouStreet. For more info view my Disclosure Policy.