The Rescue Beauty Lounge Fall 2010 Collection pre-order is just hours away, are your trigger fingers ready? Remember you must be on the RBL email list to receive the link to the pre-order that starts at 1pm EST and ends tomorrow.  Otherwise you will have to wait until the collection goes on sale sometime in September and hope there is enough stock.

The pre-order is just that, a pre-order.  It's your chance to reserve the colors you want from the Fall collection when the September shipment comes in.  RBL limited edition shades sell out fast so if there's a color you know you want, you better jump on it now.

I want to thank you all for participating in my new method of doing comparisons.  Your suggestions shaped this post and reminded me of some colors I never would have thought of.  I hope this is useful in your purchase decisions not only to discover the existence of dupes but to get a better understanding of how the colors look by showing them next to shades in the same color family.

If you missed my initial swatches and review of this collection check out the RBL "Real Housewives of the Tudor Dynasty" post.
The majority of your requests for Anne comparisons involved either Zoya Edyta, Nubar Verde or both.  Both of those colors are much darker than Anne.  While Edyta has a similar mossy base, the glitter is much chunkier with a lot of golden undertones.  Anne's unique pink shimmer really sets it apart.  Verde has a lot of blue in its base.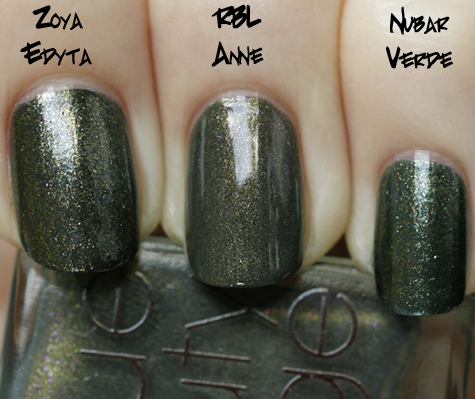 A lot of you wanted to see Diamond Cosmetics Never So Ever-Green compared to Anne but I don't own it. However, I've been told that Priti's Powder Puff Cactus is a dupe and since I do have that one, I'm showing it instead.  Of all the RBL Fall polishes, Anne is the only one with a kissing cousin.  The base colors in these are close though not identical and the shimmer in Anne still makes it look different when dry.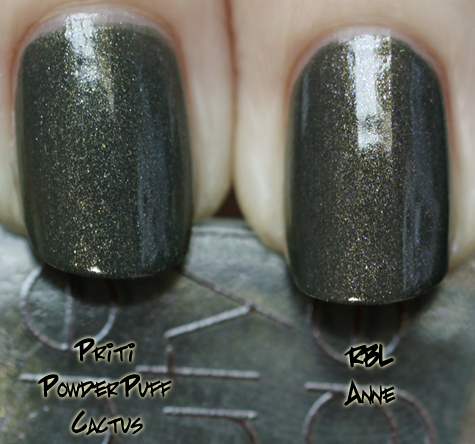 Catherine has no twins, relatives or even close friends in my collection.  Its smokey purple base is unmatched.  It really brings out the purple shimmer in Chanel Paradoxal when they are side by side and butter London Marrow looks like a vibrant royal purple.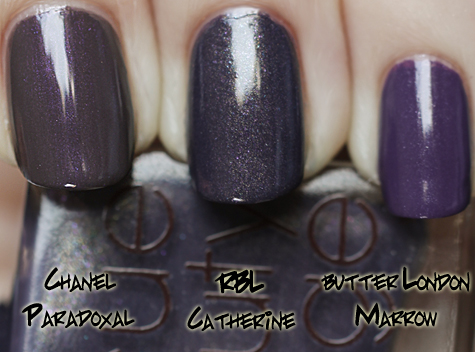 The only color I could think of that might be similar is Dior Silver Purple but the finish is so different and the silver pearl in the Dior makes it lighter with a more winter-y feel.  As you can see, China Glaze Bogie's red plum hue is no match.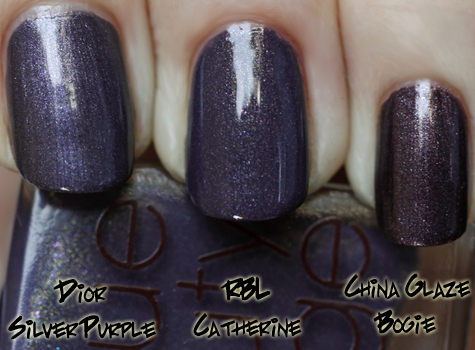 All I can say is that Catherine H really stumped you guys as I saw no requests that I could fulfill.  So I went digging and came up with two shades that have that same grey blue base though they're still not a match.  Icing My Blue Heaven was a random impulse buy and I had never opened it before.  The brush was so splayed and wonky I could barely polish my nail.  Barielle Slate of Affairs from the All Lacquered Up collection is much lighter and more washed out.  It has a hint of shimmer but the finish is nowhere near as sparkly as Catherine H.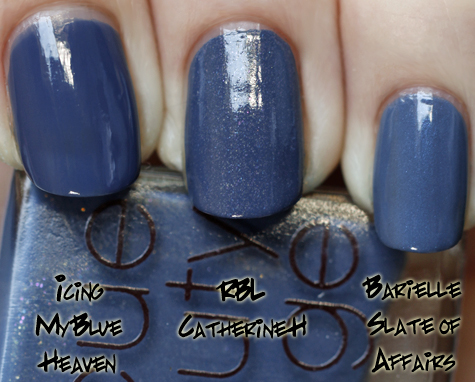 I saw Jane referred to on the RBL Facebook Page as Opaque Nude 2.0.  You may or may not know that Opaque Nude was discontinued and Jane is Ji Baek's new twist on that shade.  In all honesty, I love Jane much more than ON because it's not as peachy.  It's more neutral making it more universally flattering.  I also saw some requests for Grunge comparisons so I did an all RBL comp for you.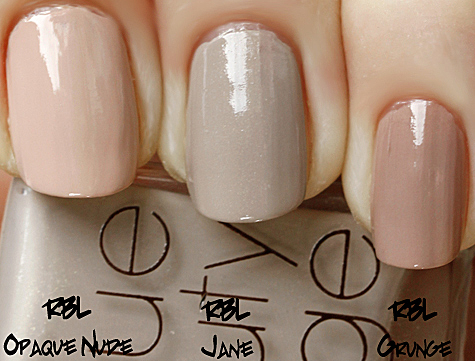 In an attempt to find a similar shimmery neutral to compare to Jane the best I could do, based on your requests, is Barielle Belly Dance from the summer collection and Sephora By OPI Under My Trench Coat.  Both of them are way off from Jane.  The only polish I found that could be in Jane's color family is Essie Body Language though it's lighter and nowhere near as opaque.  I saw some shout outs for Essie Playa Del Platinum but that one is really yellow in comparison.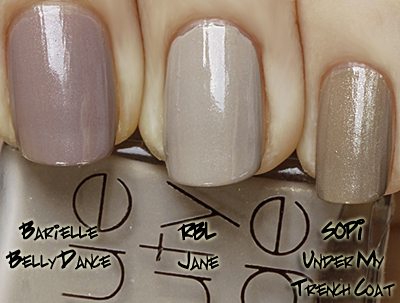 ***EDITED TO ADD*** When I originally posted this review I wasn't able to post a comparison of Anne with Sephora by OPI Run With It because I had gifted my bottle away. However Styrch from Pretty In Dayton was kind enough to allow me to use her comparison.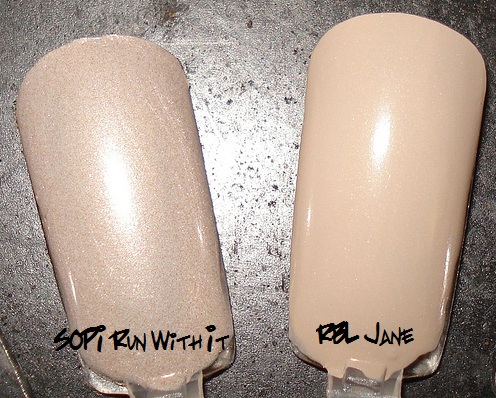 Rescue Beauty Lounge polishes can be purchased from RescueBeauty.com.  They retail for $18/ea for a .4oz bottle.
Now that you've seen the RBL's compared to other polishes has your shopping list changed at all?  Which colors do you plan to pre-order?  Do you like my new way of doing comparisons?  Do you have a suggestions for improvements?
FYI, these will go up in my Comparisons Gallery as soon as I get the damn thing fixed.  I currently can't upload new photos and my WordPress ignorant self can't seem to fix it.
Disclosure: Product samples were furnished to me by Barielle, butter London, Chanel, China Glaze, Dior, Nubar, Priti, RBL and Zoya.  The polishes from SOPI & Icing and RBL Opaque Nude & Grunge were purchased by me.  For more info view my Disclosure Policy.