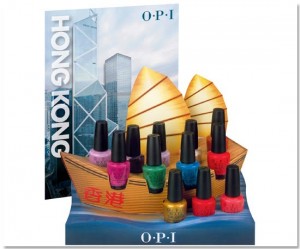 One of the most anticipated collections of the season, OPI Hong Kong takes us to the far east and I don't want to come back.  Following what I consider a pretty boring year for OPI (I just didn't LOVE Spain & South Beach) they're already off to a great start with Alice in Wonderland and Hong Kong.  I hope the momentum keeps going throughout the year.

Of course I've been geeked over the idea of a new OPI green so Jade Is The New Black has been on my mind for months and it did NOT disappoint.  I dare say it may take down Rainforest as my all-time fave OPI.  That's a huge statement people!

I've got the first half of the collection for you today so check out Jade Is The New Black, Suzi Says Feng Shui, Meet Me On The Star Ferry, Bling Dynasty and Pearl of Wisdom after the jump!

OPI's formula continues to please me.  The cremes just apply so perfectly smooth and my wide nail beds love the brush.  Though it's like I forget how good the polish is because when I put these on I was like, "DAMN, why can't all brand be this good?"  You all know how much I love me some China Glaze but their formula just hasn't been as great as of late whereas OPI just seems to be getting better.  All the polishes shown below applied flawlessly in two coats.
Jade Is The New Black is an understatement.  Jade is the new JADE and I'm talking about Chanel Jade.  I still love the mint polishes but this is the hotness!  Like a lot of gemstones, Jade comes in a range of hues and Jade Is The New Black is on the opposite side of the spectrum from Chanel Jade.  Slightly muted yet vibrant with a blue undertone, it's one stellar color and a total MUST HAVE!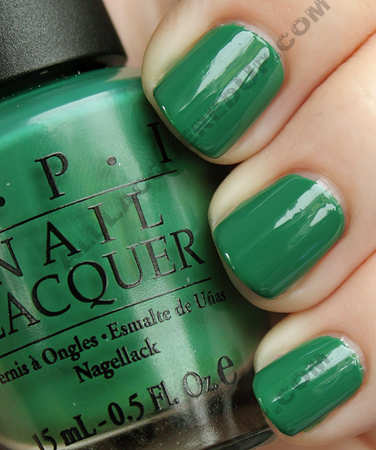 I know the color comparison requests will come piling in but I truly do NOT have a polish that dupes JITB so I thought I'd show it next to a bunch of other mid-tone greens so you can see how it stands out.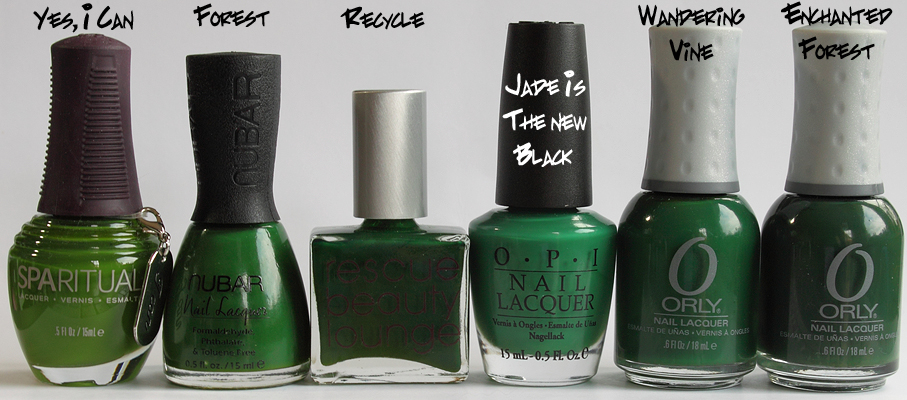 Suzi Says Feng Shui is bright cobalt creme.  Barry M's Cobalt looks similar in the bottle but on the nail they couldn't be more different.  This color is lighter and brighter.  FYI, Cleveland's weather has caused me to rely on my indoor lighting equipment so the rest of these shots (with one exception) are in artificial light.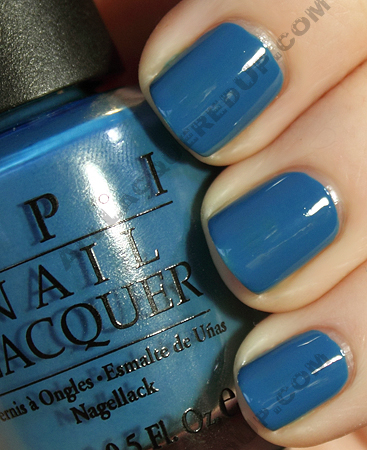 Again, I thought a bottle lineup would be useful as I have no exact dupe in my stash.  I pitted SSFS up against, OPI No Room For The Blues, Orly Calypso Breeze, Color Club Gossip Color, Barielle A Bouquet for Ava and Illamasqua Muse.  As you can see, it doesn't have the teal undertones of the shades on the right and it falls somewhere between the two on the left.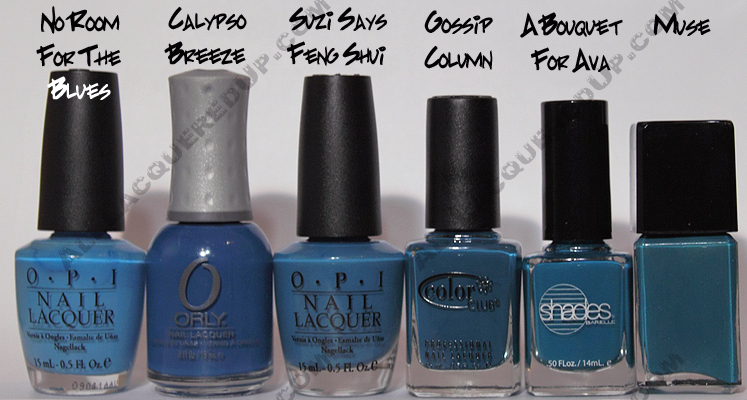 When I saw Meet Me On The Star Ferry, I thought, "what is this color doing here?"  It seemed out of place and not that exciting.  On the nail it wowed!   Packed with golden micro-glitter this rosey mauve is extremely eye-catching.  I really have nothing to compare it to.  I thought perhaps Zoya Flowie (too gold) or Rhea ( too purple/cool) and I pulled my bottle of  OPI My Big Break that doesn't have this type of sparkle.  It's a winner!  Oh and I had a few seconds of light so I could show it to you in natural and artificial light.
Bling Dynasty is a burnished old gold with metallic shimmer and micro-glitter.  It's definitely got an aged feel to it like if you dug up some ancient queen that wore real gold nails, this is how they'd look now.  Morbid but that's where my mind went.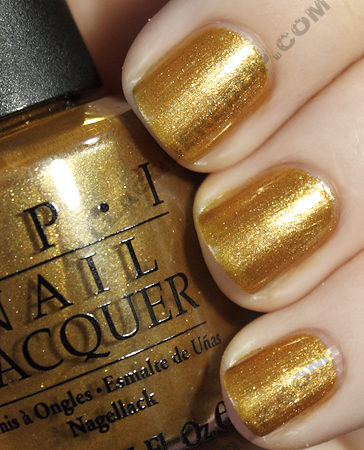 Bling Dynasty is deeper than the other golds in my collection.  As you can see compared to Duri Golden Nugget, Sally Hansen Salon Tassel, OPI Curry Up Don't Be Late and Orly Gold Rush, BD is darker and richer.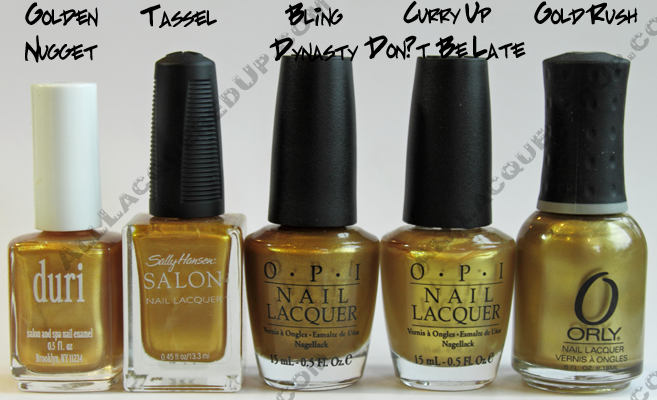 Pearl of Wisdom is a sheer iridescent white with pink-ish pearlized micro-glitter.  This is not a buildable sheer so I've shown it with two coats.  I'm not a sheer girl, for obvious reasons (hello short nail beds!) so this one is a pass for me.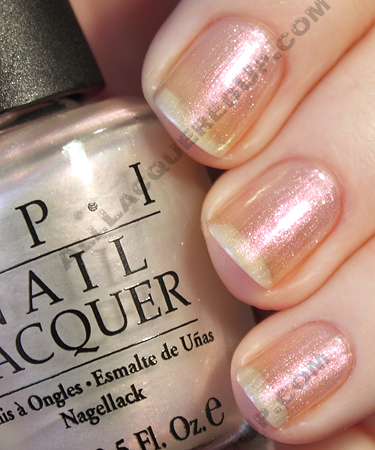 The OPI Hong Kong Collection officially launches in February though I've seen it for sale online already. OPI is available in salons nationwide including chains like JCPenney, ULTA, Trade Secret, Beauty Express and Regis.
Disclosure: A product sample was furnished to me by OPI. For further information view my Disclosure Policy.