Happy Friday Fanatics! I know things have been a bit quite here on ALU but it's been a crazeballs week for me. Thanks for your emails to check in on me! You are all so sweet!  Since I'm getting ready for my trip to NYC for New York Fashion Week I've been running errands and doing a lot of behind the scenes type work this week.  Plus, my nails were looking pretty beat so a little nail R&R was in order.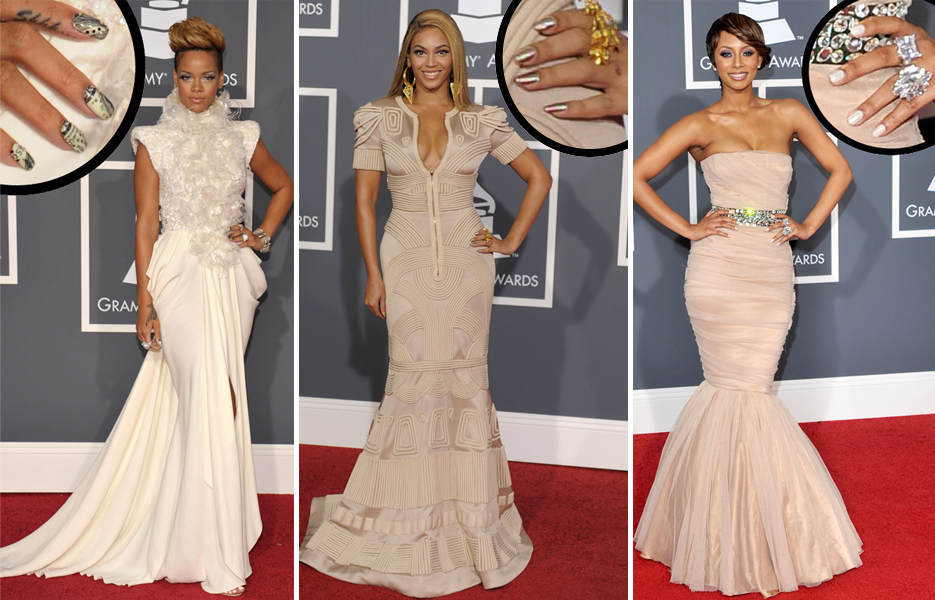 However, I've received quite a few emails and tweets about Rihanna's nails at the Grammys.  Someone wondered if she was wearing some crazy CalGel design, traditional nail art or Minx.  Those of you who guessed Minx were dead on the money (no pun intended) and  thanks to the people at Minx and Celebrity Manicurists like Kimmie Kyees, I've got the scoop! Rihanna, Beyonce and Keri Hilson all rocked Minx on the Grammy red carpet, check out the detailed pics after the jump!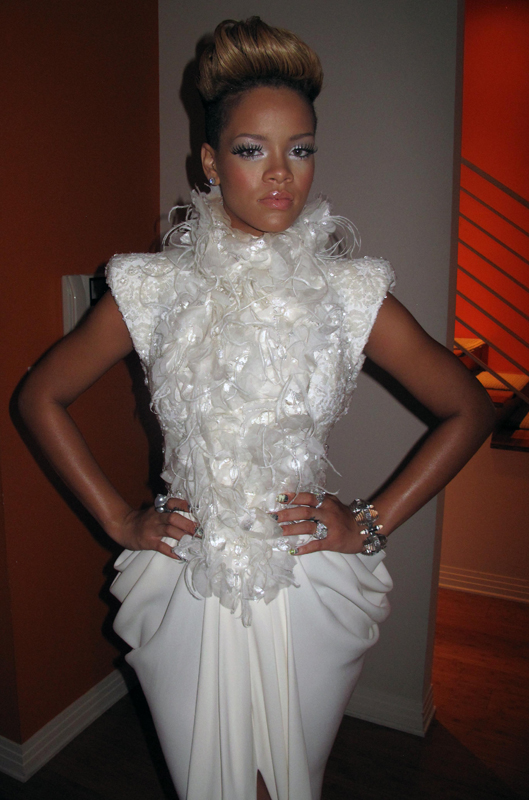 Celebrity Manicurist, and friend of ALU, Kimmie Kyees Minx'd Rihanna on Saturday for Clive Davis' Grammy Party using a custom Money Minx.  It looks like a $100 bill has been stretched across her nails.  Very unique!

Then for the big show, Kimmie added some extra bling attaching colored crystals along the detail lines of the bill.  For an event like the Grammys you have to go all out and Rihanna certainly did that.

Did any of you catch Fashion Police on E! Monday night?  There was quite a debate about Rihanna's dress.  What do you think?  Thumbs up or down on this look?
New York-based Celebrity Manicurist Lisa Logan flew to California to add some holographic style to Beyonce's Grammy look. The multiple Grammy Award Winner word Golden Hologram Minx that gave off a rainbow effect in the light.  At first I thought she was wearing the same Golden Lightening Minx I tried last year and I was just seeing the reflection of the lights.  But knowing they have holo Minx now… so cool!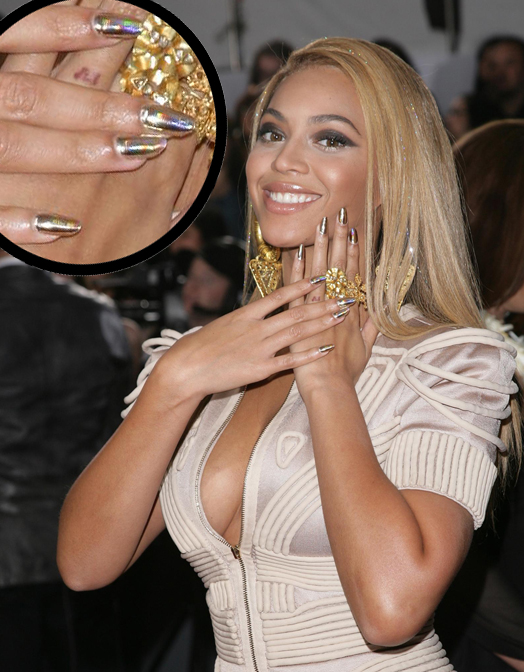 New to the Minx lineup of patterns and designs is the Tease Me line.  Tease Me Minx are like duo-chrome polishes in that they flash different colors (red & gold, blue & silver, green & gold).  To complete her Grammy ensemble Keri Hilson wore Tease Me White Minx that flash both white & silver. Houston-based manicurist Athena Elliott applied Keri's Minx for the night.
Did you watch the Grammys this year? Personally, I was disappointed in the MJ Tribute. I didn't know about the 3-D aspect so it just looked fuzzy. And where was Diana Ross? I did love the performances by Pink, Lady Gaga & Elton John and Beyonce but the rest left me saying "meh" I mean Stevie Nicks and Taylor Swift? Are you kidding me with that? How she won Album of the Year is beyond me. She's adorable and all and I don't hate her music but let's get a tiny bit real people. Was the teenage population voting? Anywhoodle, I'd love to hear your thoughts on the show, the fashion, the nails. Anyone stand out to you?
To get Minx'd in your hometown, check the Minx website for salon locations near you!
image credit: Kimmie Kyees, Celebutopia and Adam Orchon.
ps. I'll post the rest of the OPI Hong Kong polishes in the next couple days!