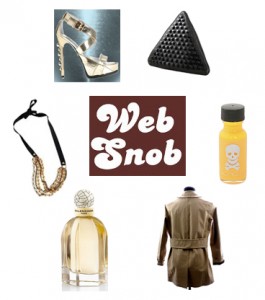 55 Secret Street hates to break it to you but… Lady Gaga did NOT invent "avant garde" !
Allie is Wired takes a look at Snooki's tasteful makeover courtesy of Inside Edition.
Bag Bliss is fascinated with Alexander Wang's Darla Pyramid Clutch!
Bag Snob's new obsession – ring lizard!
Every facet of one's daily beauty regimen is included in this M.A.C assortment at Beauty Snob.
Coquette is still crazy for stripes, especially these nautical stripes with a twist from Anthropologie.
eye4style reviews the new Balenciaga Paris fragrance.
Tell Fashion Pulse Daily about what you're wearing for National Wear Red Day, and you'll have the chance to win a $25 Macy's gift card!
I'm Not Obsessed shows you how to get Fergie's Grammy dess and the look for less.
Are you looking for some new tunes? Designer Tarina Taranino tells The Jet Set Girls what's on her Jet Set playlist.
Kristopher Dukes got a coat to match her pinkie ring: Louis Vuitton Mackintosh.
Second City Style is addicted to Twitter and if you are too we are giving away a personalized Twittabling nameplate necklace.
SheFinds curated 9 awesome dresses to hide your tummy–plus, how to wear one dress four ways, like Michelle Obama.
Shopping and Info loves the Frye boots Elin Nordegren wears around town.
Stiletto Jungle explores Olympics fashion with Ralph Lauren.
StyleBakery is loving Lindsay Price's ribbon necklace and found 4 affordable ways to steal her style
Stylehive is obsessed with these not-so-typical nail colors for spring… and can't choose just one!
The Beauty Stop has a few things to say about Beyonce's Grammys makeup.
The Shoe Goddess loved Beyonce's choice of these sexy Ruthie Davis Platform Sandals for her Grammys look!
ps Twitter peeps.  Check out the TwittaBling post on Second City Style and tell me what you think.  I first read about them on StyleItOnline.com and for some odd reason, I'm tempted.  Should I?  Keep me from making an impulse buy!