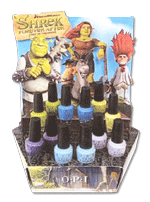 OPI is really getting into the whole Hollywood collaboration game.  90210, then Alice In Wonderland and now Shrek?  Granted it's not the first time they've gone down this path (Legally Blonde 2) and they've certainly embraced Broadway (All Shook Up, Holiday On Broadway) but so many film & television themed collections in such a short span.  Makes me wonder if they're running out of ideas or really wanting to up their marketing game.  Not that OPI needs it.  I mean, even people that NEVER polish their nails know OPI.

Regardless, a collection based on a big, GREEN ogre is so up my alley.  It's guaranteed to have some fun and funky shades.  None of those boring reds like the 90210 polishes and Off With Her Red!.  As first reported by Chic Profile the collection includes: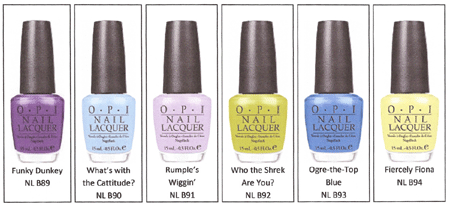 Funky Donkey, What's With the Cattitude?, Rumple's Wiggin, Who the Shrek Are You?, Ogre-the-Top Blue, Fiercely Fiona
Please, please, please let Fiercely Fiona be a soft yellow that is pigmented AND applies well!!!
There is no release information at the moment and I'm not sure if this will be their Brights entry for the summer or just a special edition release.  If you have details to add, please share with the group.  In the meantime, are you in love with the idea of this collection or what????