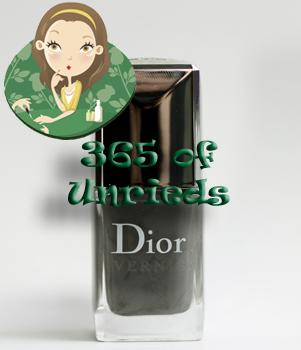 365 of Untrieds is my personal challenge to weed through the polishes in the ALU stash that I've been wanting to try but just haven't gotten around to.
TGIF Fanatics! I hope you have fun plans for the weekend. I'm just hoping for some decent weather. I'm itching to grab drinks on a patio somewhere in town. Heck, I'd be happy to just sit on my deck and have a beer with the boyfriend. Do you hear me Mother Nature?
Anyway, when I posted my review of Dior Bond Street, ALU reader Serena asked if I could swatch Dior Gris Montaigne for her. Being that the polish was sitting in my untrieds bin I decided to test it a little earlier than I anticipated.  You see, I'm trying to alternate between different brands as much as possible but I'm happy to accommodate requests when I can.

Formula & Application: Dior nail polish is 4-Free (including formaldehyde resin) and free of camphor, which can be an irritant. The rectangular glass bottles are topped with a mirror-like chrome finish cap that comes off to reveal an inner ribbed cap (similar to Chanel polishes).
Dior recently overhauled their formula and brush which is now a flat paddle style with firm, curved bristles, similar to Sally Hansen Insta-Dri & Complete Salon Manicure brushes. This style of brush has it's pros and cons; it gives great coverage but if it isn't cut perfectly it can be hard to create clean edges near the cuticle.
As I mentioned in my Bond Street review, the firmness of the brush can cause dragging unless you use a light touch. However, Gris Montaigne was just as beautifully pigmented as Bond Street so I achieved full, opaque coverage in two coats.

Dior Gris Montaigne is a dark grey creme. To me, it looks like wet cement. Whereas a lot of greys have either a blue or green base that tends to separate out over time, Gris Montaigne has a hint of muddy brown to it. To give you an idea of how dark Gris Montaigne is, RBL Stormy is quite a bit lighter and China Glaze Recycle falls somewhere between the two. It's closest living relative in my collection is Barry M Grey though the Barry M has a bluish undertone.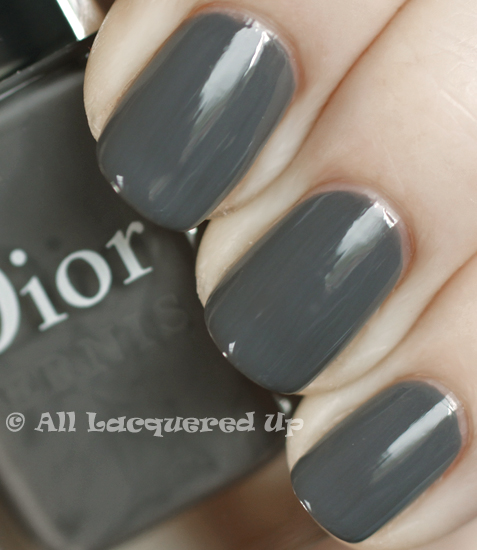 Bottom Line: Finding a well pigmented grey this dark that is discernibly grey and not charcoal isn't easy.  With the exception of the Barry M I mentioned above, I don't have any polishes quite like this.  If you are looking to fill a dark grey hole in your collection, this will hit the mark.  The formula is outstanding and the color is gorgeous.  However, if Gris Montaigne is out of your budget, Barry M Grey is a suitable, if not identical, substitute.
365 of Untrieds Stash/Share Verdict: Like its City Gris Collection sibling, this one is getting STASHed.
Dior Gris Montaigne is available at Dior counters nationwide as part of the Gris Montaigne Spring 2011 Collection and online at Dior.com and Nordstrom.com. Dior nail polishes retail for $21/ea for a .33oz bottle.
Thoughts on Gris Montaigne?  Are you wearing grey polishes this season?  What is your favorite grey nail color?  Do you plan to scoop up Gris Montaigne?  If you already own it, was it worth it?
Disclosure: For more info view my Disclosure Policy.