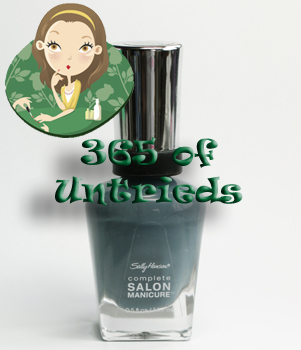 365 of Untrieds is my personal challenge to weed through the polishes in the ALU stash that I've been wanting to try but just haven't gotten around to.
I'm blaming the rainstorms and overcast, cloudy skies on my apparent grey polish streak. I think this is the 3rd or 4th grey in the Untrieds and we're only a month in. Hopefully sunny weather and fun brights are in my future because I am OVER this blech, fall-esque weather.
When the Sally Hansen Complete Salon Manicure line debuted, I raved about the formula and its durability. It is, without question, my favorite drugstore brand. At first I questioned the marketing claims about ten day wear without base or top coat but my skepticism was easily shot down. If you missed my original test, check it out here. Today I'm wearing a shade from the line that I can't believe I haven't tried before now, Sally Hansen Gray by Gray.

Formula & Application: Sally Hansen Complete Salon Manicure nail polishes are 4-Free (including formaldehyde resin) and free of camphor, which can be an irritant. The hefty glass bottles are topped with a smooth chrome cap that has a rubberized grip around the base. The grip makes opening the bottle easier and keeps the brush from slipping while polishing.
The brush is the same flat, paddle style as the Insta-Dri line with curved bristles. The bristles are firm so use a light touch to avoid streaking or dragging the polish.
The Complete Salon Manicure formula feels thin when you apply it but Gray by Gray is so pigmented that you barely need two coats. Since this line is meant to be worn sans base and top coat, it dries with a high gloss shine.

Sally Hansen Gray by Gray is in no way grey to my eye.  If anything it's a slate blue creme.  Considering that I file my polishes according to color , this one has been living in my blue drawer, not grey, for months.  I've talked in the past how most greys have either a blue or green base but this one goes beyond that limit.  It's much more of a murky greyed blue than a blue grey.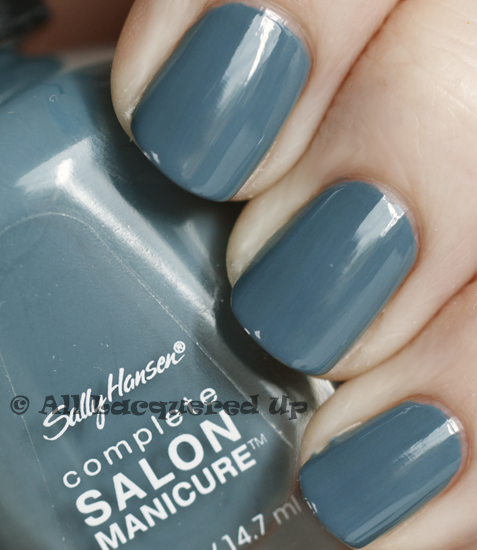 What I discovered when I pulled this polish out is that it's a close relative of the famed MAC Blue India. The now discontinued fan fave is one of the colors I'm most asked about in terms of dupes. Sadly I have yet to find an exact match but I believe that Gray by Gray is an excellent substitute as they come from the same base smoky blue-grey base color.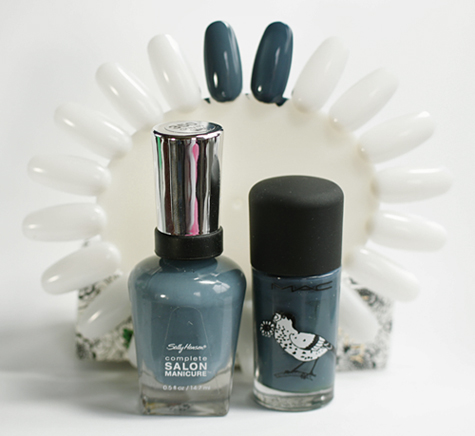 As you can see, Gray by Gray is a bit lighter than Blue India but unless someone really knows their polish, I doubt they'd know the difference.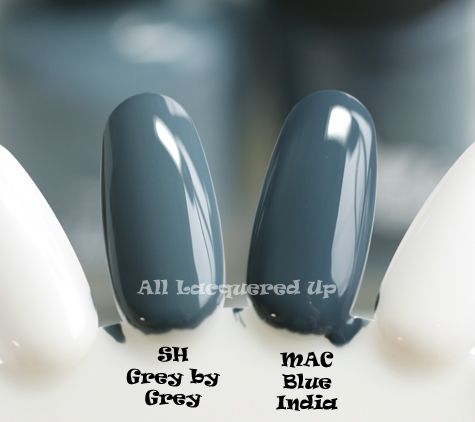 Bottom Line: Gray by Gray has an amazing formula, excellent lasting power and is a gorgeous unique shade. I'm a huge fan of the Complete Salon Manicure line so the color would have be truly hideous for me not to give it a thumbs up.
365 of Untrieds Stash/Share Verdict: It's staying where I found it… in my STASH.
Sally Hansen Gray by Gray is part of the Complete Salon Manicure core line which can be found at drugstores and mass retailers nationwide. Sally Hansen CSM nail polishes retail for $7.99/ea for a .5oz bottle.
How many of you own Gray by Gray?  Thoughts on the color?  If you've been looking for a MAC Blue India substitute would this quell your desires?  What has your experience been with the Complete Salon Manicure line?
Disclosure: I purchased this nail polish. For more info view my Disclosure Policy.