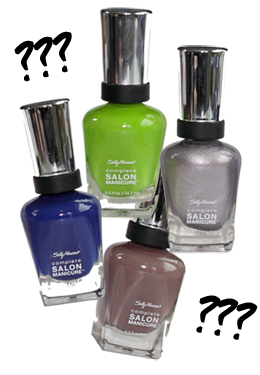 Last Monday was a big day for me at NYFW. Not only did I run myself ragged covering like 6 or 7 shows in a day but I was invited to sit front row at the Tracy Reese runway show at the tents.  Can you even?  I nearly died inside when I found out.I've been to shows in past seasons and once I was even pulled to the front row as a seat filler at an off-site show.  But this was totally different.  I love Tracy Reese's designs and her show is always one of my faves.  Plus she draws some great celebs each season and being a total Entertainment Weekly/E! type of girl, my inner celeb stalker was thrilled.

Of course, I had to plan out not only what I would wear but my nail color.  Since Sally Hansen partners with Tracy Reese each season, a color from their new Complete Salon Manicure line was a natural choice.  But with so many colors in the line, which one do I bring?  Color of the moment and Chanel Particuliere doppelganger Commander In Chic?  A fun metallic like Pedal To The Metal?  A very "me" blue or green?  See what color I chose after the jump along with some pics from my front row vantage point and my web celeb encounter.

In the end I opted for the chic black cherry creme, Plum Luck, to pair with my ruffly black dress.  Plum Luck borders on the almost-black but it's just a touch lighter to make it look plum in most lighting situations.  We're not talking OPI LPAD darkness.  It applies a bit thin so I needed three coats but with the wide flat brush, like the ones in the Insta-Dri bottles, covering my wide nails in two strokes was a breeze.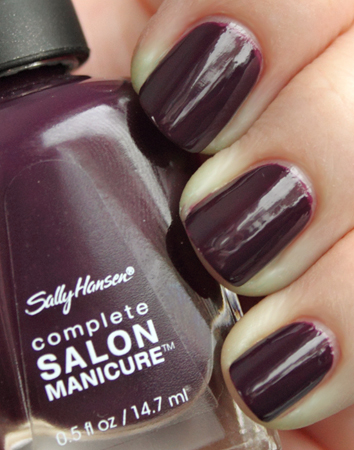 I ran into Julia Allison after the show and she noticed that we were both wearing similar nail colors except hers was the new OPI Axxium gel polish. She wasn't sure of the color but I'd guess it was Louvre Me, Louvre Me Not. FYI, my camera settings were way off so please excuse the craptastic quality of this pic.  It was a pleasure meeting Julia and she even invited me to do an on camera interview about nail color trends for NBC New York Nonstop.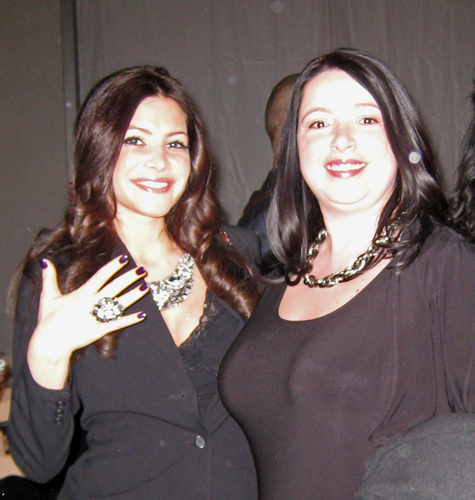 ps I know I'm a total dork for taking this pic but it was just too cool to see my site name on the seat back in the front row alongside editors from Seventeen and O Magazine.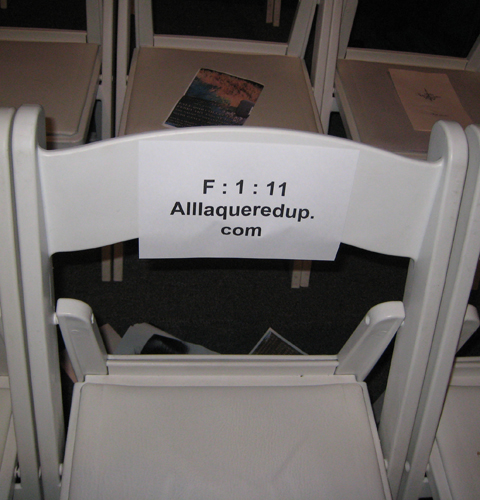 I've gushed about my eternal love for Lauren Ezersky in the past.  I loyally watched her now defunct Behind The Velvet Ropes during its Style Channel run and still miss seeing it pop up on my Tivo. Watching her sit down across from me caused me to have a total fangirl moment. The woman is New York Cool personified. Love her!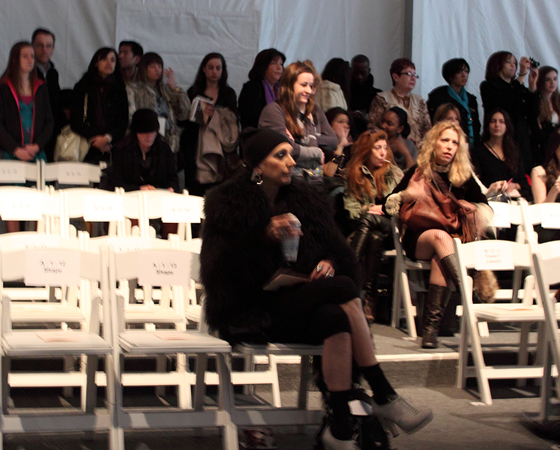 The rest of the front row. You can spot Mary Rambin's gorgeous gams next Julia Allison, just right of center.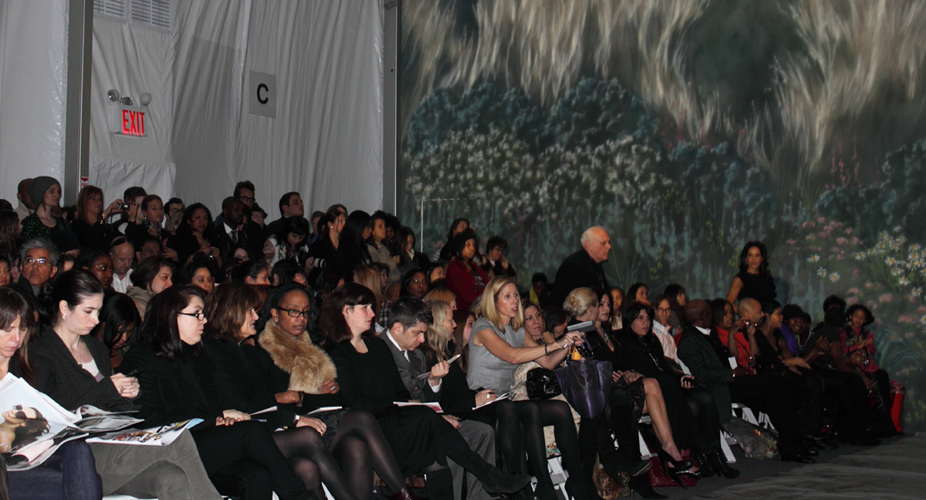 Tracy receiving flowers from her family after the finale.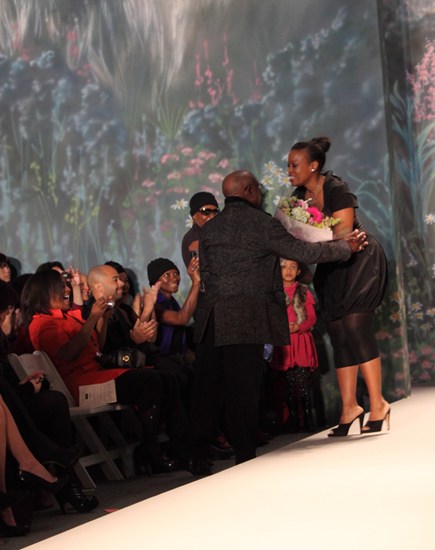 Of course the celeb factor caused a ruckus with the photogs. Michelle Williams, formerly of Destiny's Child, was backstage before I took my seat and I had no idea how tall she is. What a beautiful presence. Also in attendance were Kristen Bell, Julia Stiles, Erin Lucas (The City) and Adrienne Balion (pictured below).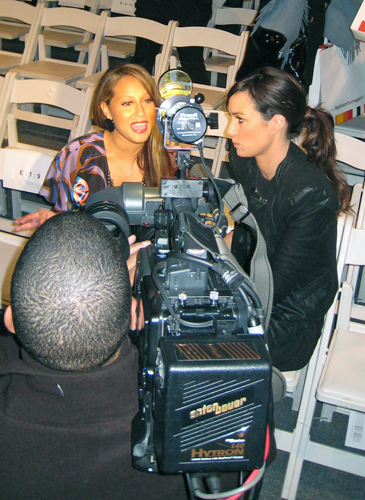 Getting back on the polish track, I've been meaning to rave about this new Sally Hansen formula but FW prep got in the way.  Sweet pickles you guys, the wear is insane.  I jokingly said to the Sr. VP of Marketing for Coty (SH parent company) Bill Boraczek that there must be glue in the polish because it wears like iron.  For the record, there is NO GLUE in the polish.
The big claim with the Complete Salon Manicure line is that you don't need to use top or base coat.  For a fanatic like me, that's crazy talk.  The cardinal rule to great polish wear is base & top coat so I decided to take this formula to task.  I was honestly not expecting much because we've heard this song and dance before but I'm here to eat my words.  I applied Commander In Chic and on two nails I left out my current base/top combo of Nubar Foundation Basecoat and Olan Labs Quick & Slick.
After my usual 5 day wear test time I couldn't believe how good my manicure looked.  Seriously, I couldn't tell the difference between the nails with base/top from the ones without and there was very little tip wear.  I was SHOCKED!  To push it even further I wore the polish an additional 5 days and just look at the results!!  Color me impressed Sally Hansen!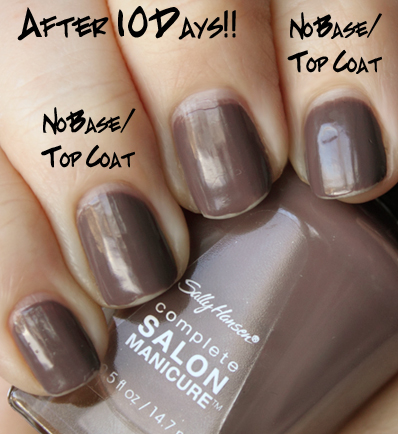 Sally Hansen Complete Salon Manicure polishes are available now at drugstores nationwide. Of course, I'll have a full recap of the beauty look from the Tracy Reese show so be on the lookout for that.
Have any of you tried the new Sally Hansen formula? Did you have similar wear results? What are your fave colors from the new line?
Disclosure: A product sample was furnished to me by Sally Hansen. For more information view my Disclosure Policy.