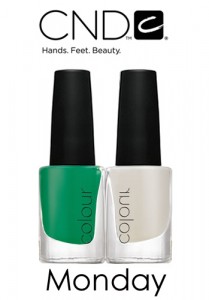 Welcome to CND Monday, a regular series here on ALU. Each week I'll be sharing a new layering combination from CND Colour & Effects to show you the versatility and creativity of the line.

With the exception of my unworn bottle of MAC Studded, the new matte polish from the Riveting collection, I actually completed my NYFW NOTD Challenge this season.  I ended up getting something top secret and very special applied to my nails on Day 6 so that nixed my planned MAC mani.  I'll tell you about soon but in the meantime let's talk about Day 5.

As I mentioned at the beginning of the challenge I planned out my color according to the brand I'd be seeing that day.  Since CND worked on 20+ shows throughout the week, every day could have been CND day but I chose Tuesday since they were working with The Blonds that night.  The Blonds are known for their outlandish designs and over-the-top nail looks so if there was a day that green polish was in order, it was Tuesday.

I could have just thrown on a couple of coats of Green Scene and called it a day but I wanted something a bit different.  I chose to create my own version of a Jade gemstone using Cream Washed.  Check out my look after the jump!

If you missed my detailed review of the new CND Formula, Bottle and Brush check out CND Colour, Effects and Henna? for a recap.
To refresh your memory, Green Scene is a vivid straight up AstroTurf green.  It really packs a punch in terms of vibrancy and pigmentation.  If you're looking for that ideal mid-tone green creme, look no further.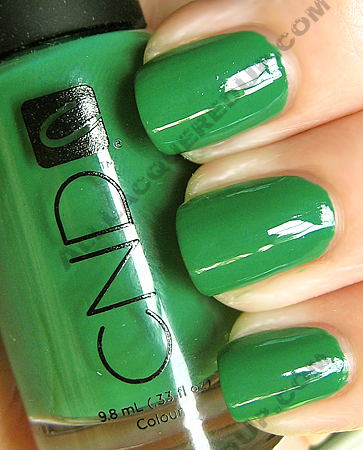 For my interpretation of Jade I wanted something a bit softer so I layered the sheer neutral, Cream Washed, over Green Scene.  Unfortunately my application skills were failing me at the crack of dawn and it came out a bit streaky.  The overall color was what I wanted by the general unevenness was a downer.  Hey, they can't all be winners.
When I tested it at home on a nail art wheel the color was ideal so when I ran into CND's Angi Wingle backstage I asked her for tips on how to get a more even application.  Her suggestion… dilute Cream Washed with a bit of CND Air Dry.  Making it a bit more watery or jelly-ish will help eliminate streaks without compromising the integrity of the color.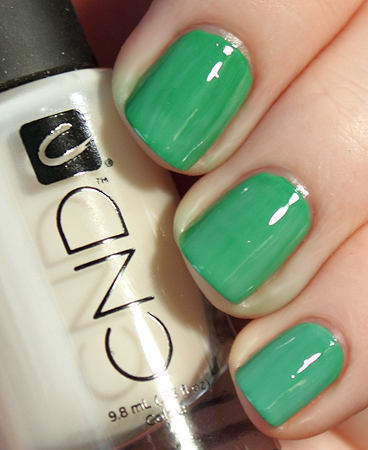 CND Colour & Effects are available at salons nationwide including chains like ULTA. Colours retail for $9/ea and Effects retail for $11/ea. To purchase online visit your favorite e-tailers including GoIndulge.com.
What do you think of my Jade? Have you had luck layering sheer cremes over darker colors? What are your tips for making the finish smooth and even?
Disclosure: A product sample was furnished to me by CND. For more information read my Disclosure Policy.