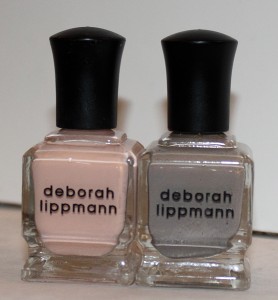 While I was backstage at the ADAM show, I had the chance to chat with Deborah Lippmann whose team was polishing the models' nails with Fashion for the runway.  We talked about the look of the show of course (more on that later) but we also discussed what's next for her line.

First off, while there was no official announcement, the brand name has changed to Deborah Lippmann as opposed to Lippmann Collection.  The nail polish packaging is different as well.  The white and blue paper boxes have been replaced with clear acetate so the gorgeous bottle and color are no longer hidden on display shelves.

For Spring 2010 Deb created a duo of soft pretty cremes named I'm Not Innocent (semi-sheer) and Waking Up In Vegas (opaque).  Check them out after the jump along with some exciting advance info on her upcoming Summer, Fall & Holiday colors.

Deb describes I'm Not Innocent as a peachy version of Before He Cheats.  Saying that is offers "some coverage, not complete coverage," but that with enough coats it can be worn opaque.  I chose to go opaque which only took me three coats to achieve though, to be honest, with the bit of streaking I observed, I can't imagine wearing it as a semi-sheer.  Then again, I can't imagine purposely wearing sheers period but that's just my taste.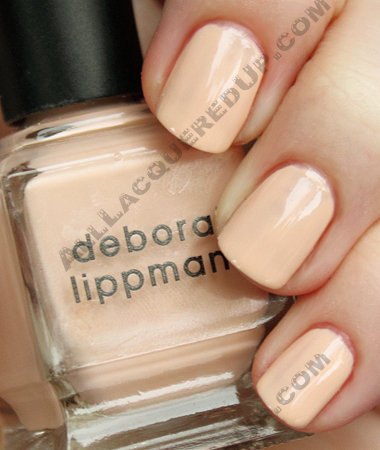 Of the two spring shades, Waking Up In Vegas is the color that immediately drew me in.  I saw a bottle image a while back and knew it would be a winner but it's even better in person.  As much as I love a cool-toned gray (RBL Concrete Jungle), I've been all over the warmer versions as of late and this one is just perfect for me.  It doesn't get too taupe-y or yellow plus it's uber-pigmented.  Like I barely needed two coats.  Though what's odd is that the formula dries to a satin finish so I'm showing it with a top coat since that's how the majority would wear it.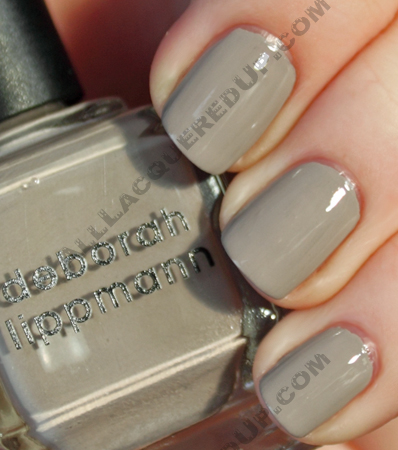 To give you an idea of what I mean by a warm gray that leans towards taupe, I'm showing Waking Up In Vegas next to Essie Chinchilly.  Don't get me wrong, I dig Chinchilly but it's not as flattering on me.  It starts to look a little green and not in a good way.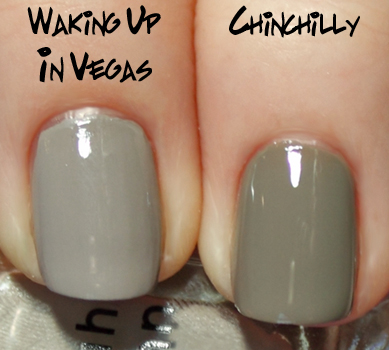 Now for some advance Lippmann scoop.  I got a sneak peek at Deb's Summer, Fall and Holiday collections including her special set for Nordstrom's Anniversary Sale.  After summer hits, it's a full on glittery party for the rest of the year.  Brace yourselves for a Lippmann Bling-gasm.
The blue-green sparkler below was used in the Lela Rose show last week and will be released this Fall.  The shade, Across The Universe, was perfectly described by my gal Amber from Beauty Blogging Junkie as resembling a "mermaid."  The turquoise and green glitter are suspended in a sheer navy base.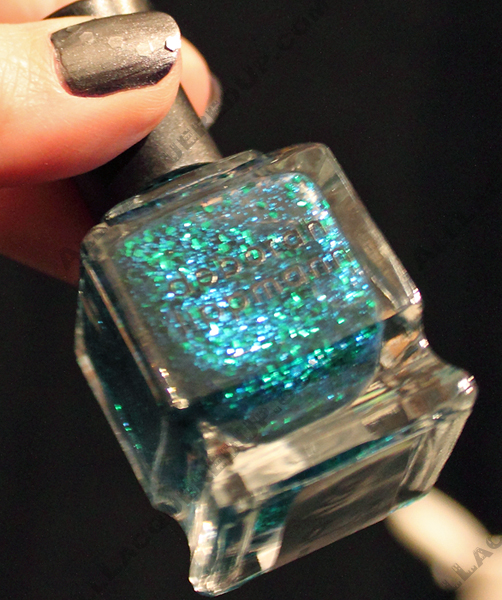 Summer
Between The Sheets (Hot Magenta/Fuchsia creme) & Supermodel (Fire Engine Red jelly) created with model Dree Hemingway.  This jelly is said to provide more coverage than I Want Candy.  Can't wait for that!
Nordstrom Anniversary Set – sold separately post-Anniversary Sale
The set, named All That Jazz, includes multi-sized glitter polishes in clear, black and navy bases. Lady Sings The Blues (Graphite & Silver), Razzle Dazzle (Red) and Some Enchanted Evening (Pink).
Fall
Look for a dark fuchsia version of Ruby Red Slippers called Bad Romance and Across The Universe (pictured above) which Deb says applies like Happy Birthday getting more dense with each layer.
Holiday
The silver glitter, Today Is A Fairytale, really does look like New Year's Eve in a bottle and the warm toned gals will love its gold glitter counterpart.  I didn't catch the name but according to someone at Deb's lab the "color is like an orgasm."
A peek at some of the glitter-tastic shades heading our way.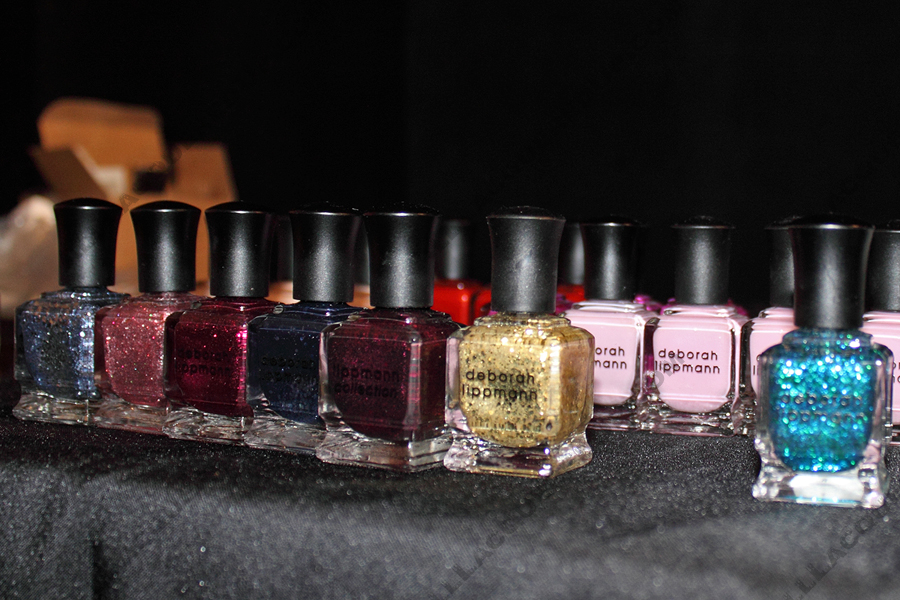 The Spring 2010 colors from Deborah Lippmann are available for purchase now on DeborahLippmann.com and will be on sale soon at Beauty.com and Nordstrom.  The polishes retail for $16/ea.
What do you think of the new Lippmann colors?  Are you still loving gray?  Who's on board for a big ball of glittery Lippmann goodness come fall?
Disclosure: A product sample was furnished to me by Deborah Lippmann.  For more information view my Disclosure Policy.