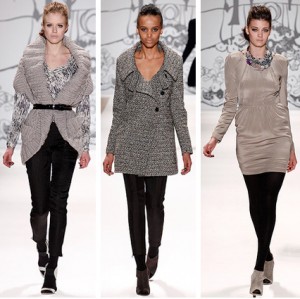 Saturday was my first real day at the tents and it ended with a show I always look forward too, Twinkle by Wenlan.  I just love Wenlan's knitwear and she always has a great story behind her collections.

You see, when I go backstage to check out the beauty look, I'm looking for inspiration and a fab fashion story really adds to that.  I've heard all I can take about a "fresh, pretty girl."  Give me something quirky, intriguing, mysterious, etc. and I'm over the moon.

This season Wenlan took us on an adventure into the haunted woods and the teams from CND, MAC and Redken helped create her vision giving the models a dark, romantic fairytale-inspired look.
Giampaolo Ceciliato for MAC made the eyes a focal point with matte skin and a muted lip.  By mattifying the skin and using Lip Erase in Dim he created a "white canvas" which makes the eyes really pop.  There was no blush used, just a bit of contour around the eyes using Laguna Mineralize Blush.
To create the smoky eye, Ceciliato used a deep bronze shadow (not yet named) with Eye Kohl in Smolder.  He used lots of mascara and finished the eye with a tiny bit of gloss to give it a shiny texture.
John Ruidant for Redken created a whimsical twisted updo that he described as having a "kind of like Hansel & Gretel. Or Sleepy Hollow" feel. He said that Wenlan wanted the hair to look "product-y but not wet," so he created a twisted version of a bun with sleek sides and a bit of volume and texture on top.
To create the look – split hair into two sections (front & back). Apply Fabricate & Thickening Lotion and blow dry hair with hands, overdirecting the hair to create texture and volume (on top). Pull the top section into a ponytail creating a half up/half down look with the sides sleek. Roll the rest of the hair to the right, incorporating the pony and then roll up, as you would a pin curl, to create a bun on the side.
I spoke with CND's Roxanne Valinoti backstage where the color of choice was Dark Ruby. I saw that shade pop up in a lot of different ways throughout the week but at Twinkle it was softened by CND Super Matte.  As you'll recall, Super Matte isn't a true matte top coat, it gives more of a satin finish.
Roxanne noted that Wenlan is "going dark and that's a statement." That she chose "dark nails but in a different way, subtle and more shadowed."   Dark Ruby is the perfect complement to the deep burgundies and purples in the collection.  As you can see below, Super Matte really brings out the purple undertones in the polish.
The models' nails were filed short and round.  Roxanne referenced the heavy masculine influence for Fall and that warrants a short, tailored nail.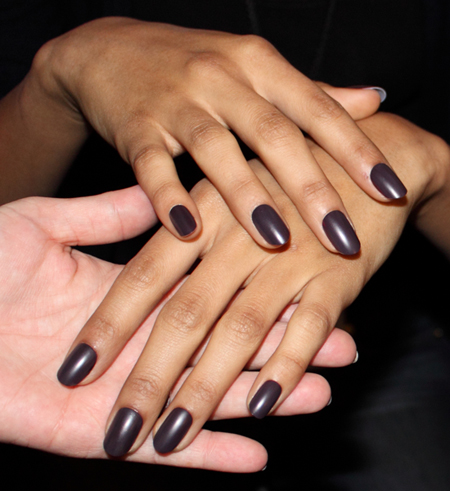 I was fortunate to be able to attend the show as well before running off to the NYFW Media Mixer and very happy that after a long day of standing I had a seat.  Unfortunately, I had a very tall woman in front of me so that made snapping pics a little rough.  This is one of the few semi-clear shots I got of the finale.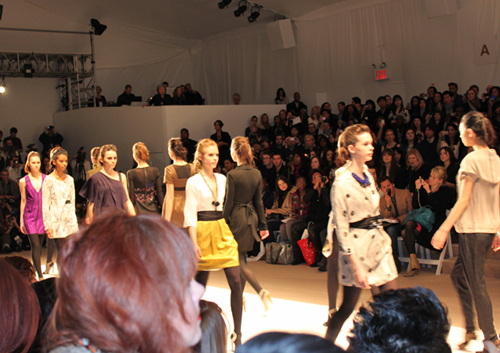 What do you think of the satin finish nail look?  Do you think the matte trend will carry into fall?  And for you anti-matte girls, does the satin finish make the idea of matte more user-friendly/wearable?