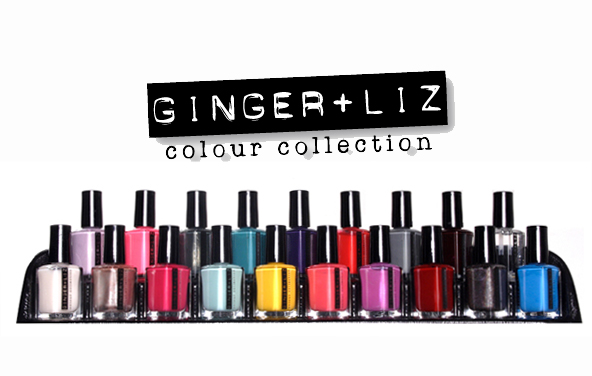 Being the lone nail blogger at NYFW means that everyone either looks at my nails, hides their nails in embarrassment (I'm so NOT judging) or asks me about different polish brands.  Well this season was a bit different because when I'd run into my blogging friends backstage the majority asked if I had met Ginger and Liz.

Ginger Johnson and Liz Pickett are the brains behind their eponymous polish line Ginger + Liz which recently had its retail debut at a Henri Bendel trunk show.  Before this week I've tweeted and emailed with the duo but never actually met them.  Well let me just say, these ladies are not only beautiful and charming but they have a fabulous sense of style and color.

Meet Ginger and Liz, check out my funky multi-colored manicure and swoon over the appropriately named metallic, Swagger, after the jump!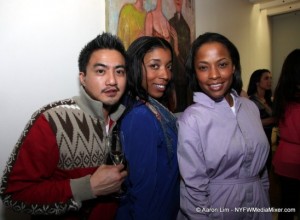 Thanks to my darling pal Sarah Conley from StyleIt for introducing me to Ginger and Liz at the NYFW Media Mixer last Saturday night. Even though the music was pumping and the Candoni Wines prosecco was flowing we still had a chance to chat about their line and how it came together.

Friends and nail polish fanatics, Ginger and Liz wanted to create a luxurious line of nail color that was more affordable than the traditional department store brands yet more high end than the average salon line.  With an tightly edited collection of colors that offers both conservative and edgy hues, they already have quite a following amongst the celebrity and blogger communities.  Celebrity Manicurists Kimmie Kyees and Tracylee Percival are just two of their nail pro fans.

This past Tuesday I visited Robert Verdi's Future of Fashion suite at his Luxe Lab where Ginger + Liz were giving manicures.  While getting the manicure pictured below using Boy Toy, New Money and Gray Area we discussed how the Ginger + Liz brand came to life.

All the polishes in the Ginger + Liz line are conceptualized and named by the ladies.  The colors come first and then come the names which all have some sort of personal connection to their lives.  Hold The Drama, for example, was a phrase exclaimed by Ginger after breaking up with an ex.  When I asked about their most popular colors and the type of women who buy their polish, they shared that they envision their polishes being worn by very distinct types of women; Conservative Chic, Rocker Glam, Bohemian, Prepster and Girly.  That women of each type were buying the G+L shades within the range created for them during the Bendel's trunk show.
Normally when I go for a manicure at an event in the city, the color range is pretty conservative and the manicurists aren't overly creative but this was definitely the exception.  Not only was I having problems deciding on a color but the manicurist was willing to go there with me and try some nail art.  Even though she didn't have any nail art brushes handy she was able to freehand this look using just the bottle brush.
I chose combination of Boy Toy, Gray Area and New Money because picking just one color wasn't happening.  The Wax Coat finish Gray Area HAD to be included so I could see exactly what "wax coat" meant.  According to Liz, their market research showed that the majority women aren't fans of the flat matte look so they went another route creating a satin finish polish that looks like candle wax on the nails.  Combine that finish with the industrial gray of Gray Area and you have a very rubberized, almost bondage-esque look.  I'm totally into it!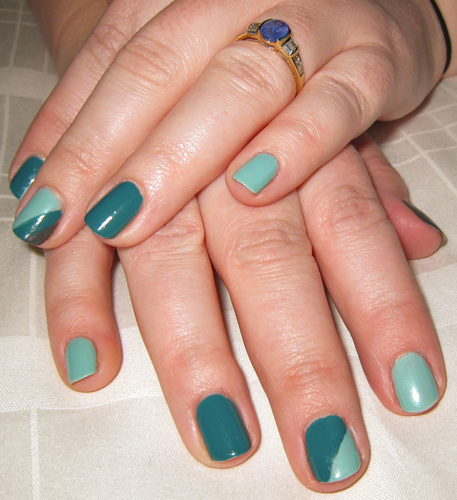 New Money and Boy Toy are both well pigmented cremes that apply smoothly with two coats.  For a polish as light as Boy Toy you know that's impressive.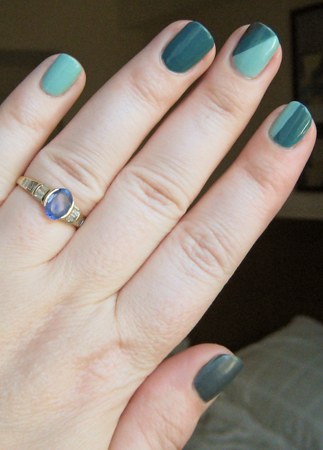 Of course the jewel of the line is metallic stunner Swagger.  A warm, slightly coppery gold, the finish of Swagger reminds me of the Orly Foil FX line.  It's a glittery metallic so there's no brush stroke madness here.  I first spied Swagger on the nails of Heidi Montag and even though she's the last person I would look to for nail inspiration (there's a reason Chelsea Handler calls her Herpes 2), the color is an eye-catcher.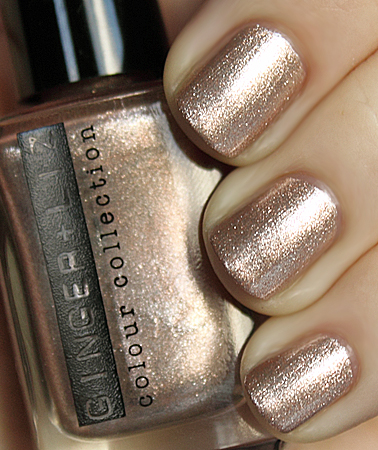 I originally gave Boy Toy a trial run last fall before the line officially launched.  As you can see, it dries very glossy and smooth and WOW does it wear well.  Check out the results below.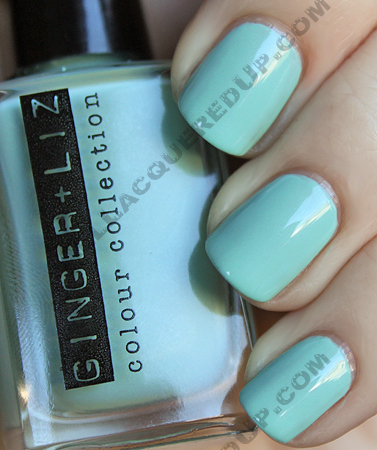 What you see below is after a full six days (I forgot to take it off on day five) of wear using Nubar Foundation Base Coat and Olan Labs Quick & Slick top coat.  With the exception of the small chip on my pinkie that I got using my nail as a tool (not a recommended practice) the polish wore like iron.  I jokingly wonder if the polish was made of glue because it's not playing around.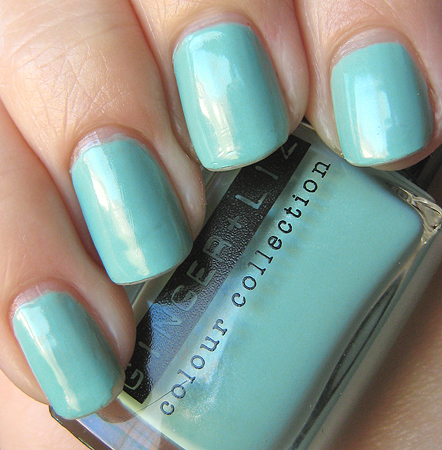 The Ginger + Liz Colour Collection is currently available online at GingerandLiz.com and they will be back at Henri Bendel in March and April.  The polishes retail for $12/ea, they ship international and charge a flat rate.
++++And as a bonus to those of you that are on the ball, in honor of NYFW and Robert Verdi's Future of Fashion, Ginger + Liz is offering $2 off per bottle through today (Friday) with the code RVTIPS.
Have any of you tried Ginger + Liz yet?  Which colors are you dying to try?  If you place an order, let me know what you get?  Hold The Drama is totally gorge and on my shopping list along with Tough Luxe (a mossy metallic green).
Disclosure: A product sample was furnished to me by Ginger + Liz.  For more information view my Disclosure Policy.
image credit: Aaron Lim courtesy of the NYFW Media Mixer.