There is no rest for the weary at Fashion Week and while most people were enjoying their Sunday morning in bed, I was up with the roosters (like there's farm life in NYC) to head backstage at Lela Rose. There are a few shows that I can't miss each season and Lela Rose is one of them. Why? Because the dream team of Ted Gibson and Deborah Lippmann is more than enough reason to get out of bed in the morning. Add in Tina Turnbow for Tarte and Supermodel Carol Alt with her Raw Essentials skincare line and well, can life get any better? Seriously, there was so much magic in that room, I could barely handle it.  I spoke with Carol for over 15 minutes and couldn't stop myself from going gaga inside over how fabulous she looks.  Total fan girl moment!
Of course I'll spill the deets on the backstage action with you later but let's get back on track with the nails. I had this whole plan set in motion about how I would plot out my polish based on who I'd be seeing that day.  Sally Hansen for the Tracey Reese show, China Glaze for Charlotte Ronson, etc.  Though I made the mistake of telling Deb's publicist that I would be wearing Marquee Moon on Sunday. So even though I woke up with a massive hangover from being out WAY too late Saturday night, I somehow managed to drag my happy ass out of bed extra early for a polish change.  It's a good thing I did because she totally checked up on me!
I've showed you Marquee Moon before so you know about its origins but in case you need a refresher, this is the shade Deb created with sisters Kate and Laura Mulleavy the brains behind Rodarte.  It's a silver metallic base with hexagonal silver sequins that look like tiny mirrors on the nail.
The whole point of Marquee Moon is to have a perfectly imperfect manicure.  It's not about getting the same number of sequins on each nail.  If some end up with no sequins, so be it.  Which actually makes this an ideal last minute manicure choice.  You can just slap it on and not worry about the end result. If you biff it, the world isn't going to end.
BTW am I the only person one the planet still saying "biff" because everyone who's heard me use that word this week is all, "aww, 'biff' I haven't heard that in forever."  Well, I'm bringing it back people!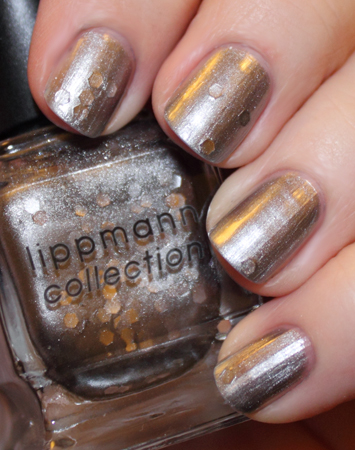 Marquee Moon retails for $16/ea and can be purchased online from DeborahLippmann.com or Beauty.com. You can also pick up Deb's polish at a Nordstrom near you.
ps I hear that Badgley Mischka selected this shade for their runway show this morning.  That there was a whole Avatar theme happening.  Can't wait to see pics from the show!
Disclosure: A product sample was furnished to me Deborah Lippmann. For more information view my Disclosure Policy.