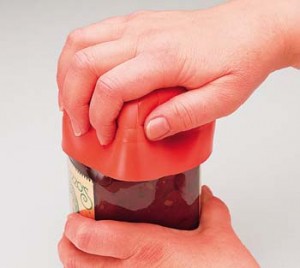 Has opening a bottle of nail polish ever made you feel like the weakest person on the planet?  Have you struggled with a stuck-on cap that's even more air-tight than a jar of pickles?  I know I have!  This morning in fact.  It's like they're sealed by body builders or something.
While OPI seems to be the worst in terms of new bottles, I want to kick myself when a bottle cap is stuck due to my own laziness.  I don't always take the time to clean excess polish from the rim of my bottles and when that stuff dries, it's like glue!
Sure you can get all muscleman on the bottle but if you're too rough, it can break.  I don't know what's worse, staring at the lacquer you can't apply in a stuck bottle or a broken mess of spilled polish on the floor.  So what's the trick?
1. If it's simply that the bottle cap is too slippery for you to grip, try wrapping a rubber band around the neck or using a rubberized jar opener (pictured above) but don't force it.
2. Dip the bottle in hot water for a couple minutes. The heat from the water will liquefy the dried polish so you can easily unscrew the cap.  Just don't submerge the bottle.  Extreme heat can ruin the formula plus you can lose the label if that gets wet.  Oh and don't forget to clean up the excess polish from the rim.