Day 2 of my NYFW experience started relatively late (noon). Knowing my usual travel patterns, I purposely left Saturday morning free so I could sleep in and catch up on the rest I missed while packing for NYC.
Since I had time for a full manicure (no matte polish needed today), I opted for NARS Purple Rain from the Spring collection that is inspired by Catherine Deneuve's role as Lucille in La Chamade.  You know how I love a purple and I have to say this is one of the best colors NARS has put out in a while.
When I first saw the promo pic I thought there was no way this polish could live up to it.  We all know the story, vibrant under flash, almost black everywhere else.  I'm happy to say that Purple Rain surpassed my expectations.  Is it the blue-based purple we were teased with on their site?  No, it's more of a red-grape but the metallic shimmer really gives it something special.  Literally everyone who looked at my nails that day asked about the polish and when I say everyone I mean other brands too.
FYI, being in NYC is so outside my normal swatching element that it's throwing me off my game in terms of photography so know that this pic was taken in my hotel bathroom meaning it's not 100% accurate.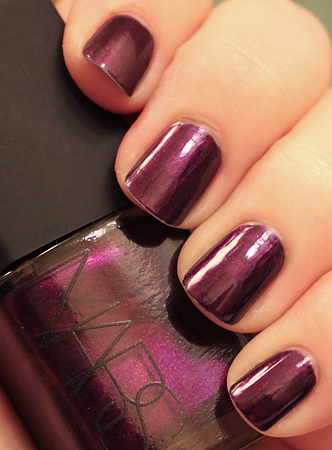 NARS Purple Rain retails for $16/ea and is currently out of stock on the NARS website but I found it online at Bloomingdales.com and Sephora.com.  You can also check with your local NARS counters and Sephora stores.
What's on your nails today?  Have you checked out Purple Rain yet?  Is purple still in fashion or totally out?
Disclosure: A product sample was furnished to me by NARS.  For more information view my Disclosure Policy.