The cynic in me assumed that all "textured nail polish" would be created equal. After seeing it happen with the mattes, crackles, foils, etc. it has become harder and harder not to pre-judge a trend or fad. Well, color me proven wrong. And all of you are to blame!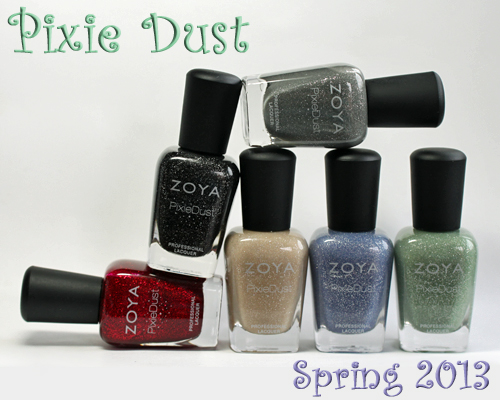 After reviewing the OPI Liquid Sand polishes, I kind of wrote off the whole textured nail look as different but kind of "meh" and then I started reading comments about how you prefer the Zoya PixieDust polishes. So, I decided to give this collection a whirl and I'm so glad I did. Pat yourself on the back, Fanatics!

Formula & Application: Zoya Pixie Dust nail polish is 5-Free (free of DBP, Toluene, Formaldehyde, Formaldehyde Resin and Camphor). Their signature Italian glass bottles have a tapered, matte black cap that rests comfortably between the thumb and index finger while polishing. The brush is short, round and medium in girth with flexible bristles that allow for ease of control.
The Zoya PixieDust formula is smooth and easy to control in spite of the glitter in the base. The base colors are all sheer and jelly-ish but build-able. I found that three coats are ideal with the lighter shades while two coats are all you need for the darker shades.
Because these are polishes designed to be worn matte, you should not apply top coat. According to Zoya, to achieve the perfect sugar crystal finish, "apply 1-3 (for full coverage) thin coats of polish. Allow product to dry completely for full effect. Do not use a base coat or top coat." Personally, I used an Elmer's glue base coat to make removal easier but, on their own, they wear really well. Like most glitters, this formula adheres strongly to the nail.

Zoya Chyna PixieDust is a ruby red sand texture nail polish with tonal glitter. When applied, it looks a lot like Dorothy's slippers from the Wizard of Oz but dries down deeper.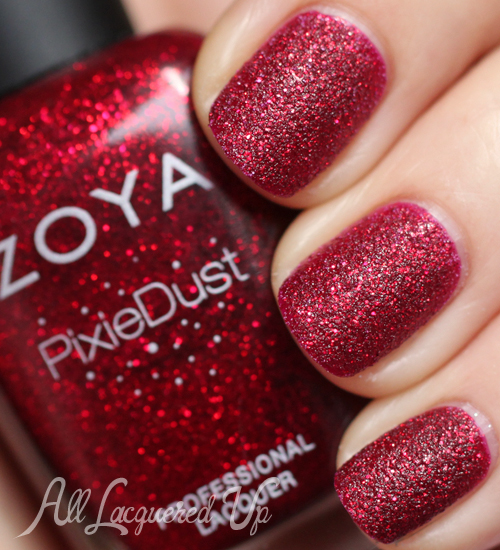 Zoya Dahlia PixieDust is a black sand textured nail polish with black and silver glitter. It reminds me of the black sand beaches of Hawaii. As though thousands of volcanic rocks broke down to become the crystals in Dahlia.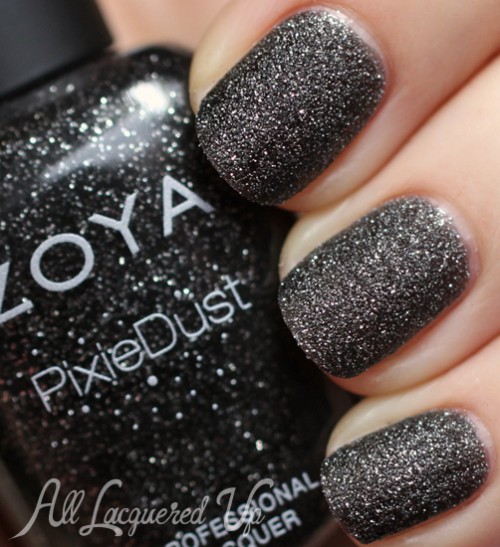 Zoya Godiva PixieDust is a nude sand textured nail polish with tan and silver glitters. It's a very office-friendly cafe au lait (heavy on the lait) and a great way, if you're hesitant, to introduce texture to your nail wardrobe.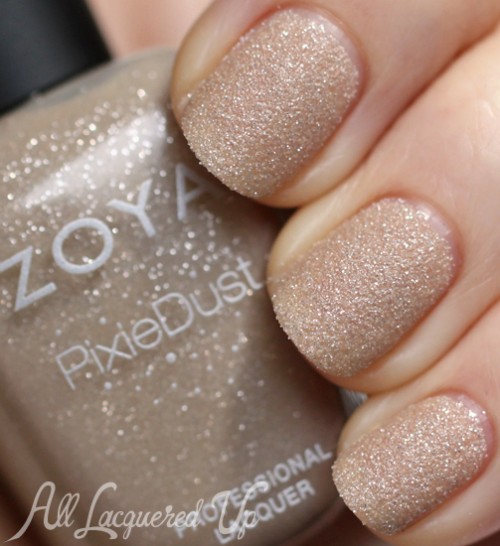 Zoya London PixieDust is a graphite sand texture nail polish with grey and silver glitters. If you crystallized a pencil lead, you would get London.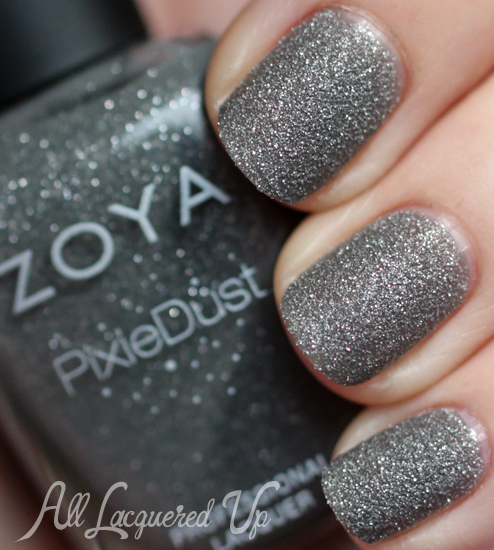 Zoya Nyx PixieDust is a soft periwinkle blue sand texture polish. It's whimsical and dreamy.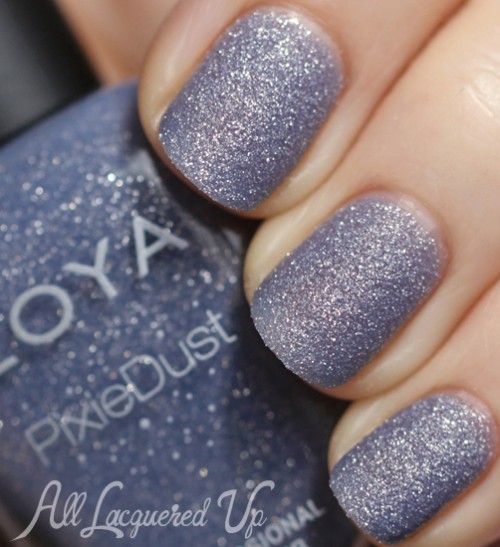 I wanted to see what Nyx would look like glossy so I applied one coat of Gelous and two coats of Seche Vite. One coat was good but still left texture. With two coats it was full on glossy. Pretty but soooo many layers to get the look.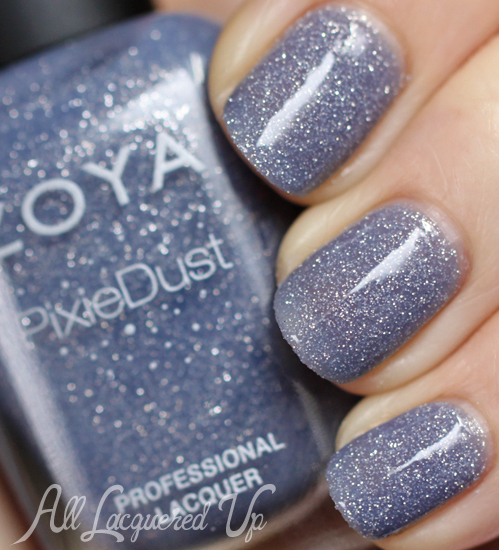 Zoya Vespa PixieDust is a pastel grass green sand texture nail polish with mint and silver glitters. It's like the underside of a leaf being kissed by silvery moonlight.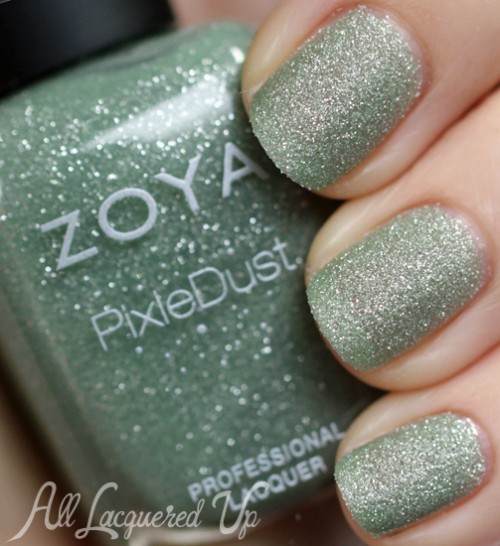 I've seen some fun nail art looks with textured polish, including this PixieDust ombre from Lisa Logan. I "attempted" to create something similar but it's nowhere near as chic. I originally tried sponging, DON'T, but I gave up and just painted the stripes. But with London as a base it took too many layers to get Nyx and Vespa to show up so it's just a mess. File this under #NailFail.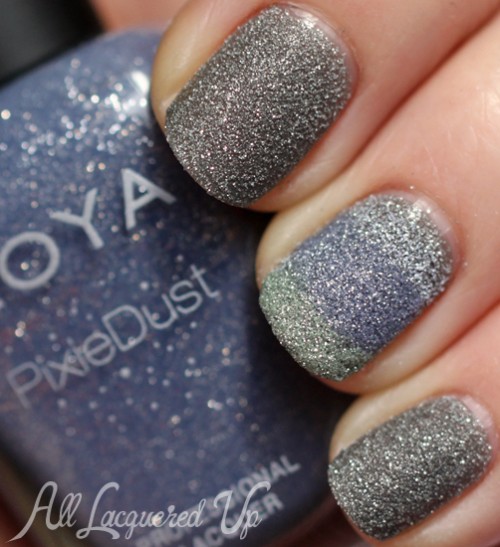 Bottom Line: The fine grit of the glitter in the Zoya PixieDust polishes gives a more sugary and crystal-like appearance than OPI's Liquid Sand. Plus, the chunkier particles (sequins & stars) made them a bit garish. I prefer the more refined look of PixieDust. Personally, I'm drawn to the softer hues (Godiva, Nyx, Vespa) as they make the textured nail more accessible but the black and grey (Dahlia & London) are perfect for an edgy, downtown type of girl. The red, Chyna, is the only color I'm not a fan of. It is SO gorgeous glossy that it becomes a let-down as it dries.
The Zoya PixieDust nail polishes are available now on Zoya.com and at salons and spas nationwide, including ULTA. The lacquers retail for $9/ea for a .5oz bottle. ps the "sampler" includes full size bottles even though the name suggests otherwise.
Oh and get ready for more PixieDust, kids. Zoya is launching a summer edition with six new shades. Liberty (blue), Stevie (violet), Miranda (rose), Destiny (coral), Beatrix (tangerine), and Solange (gold) go on sale April 1st (no joke!).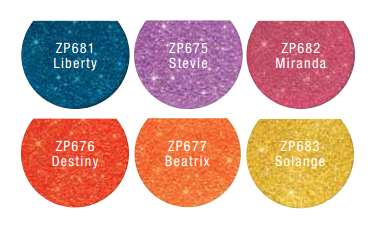 Are you digging PixieDust? If you were on the fence about texture before does PixieDust change your mind? Which of these shades are going on your shopping list? If you already have them, which shade is your fave? And have you created any nail art with them?
Disclosure: Product samples were provided by Zoya. For more info view my Disclosure Policy.