This past weekend, Cleveland got its first real taste of Spring. It was so deliciously warm and sunny and I never wanted it to end. So much so that I can't even think about wearing dark colors on my nails anymore. It's like inviting Winter back in. Instead I want luscious, sweet cremes and brights all over my tips which is why I'm all about the China Glaze Avant Garden collection.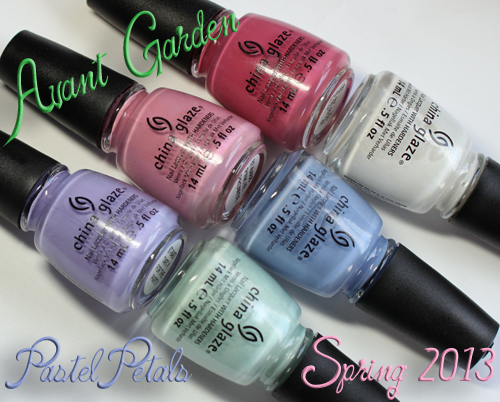 Broken up into two, six shade sets, the Avant Garden collection consists of punched-up pastels and bold brights in both creme and subtle shimmer finishes. Today I'm showing you the Pastel Petals selection.

Formula & Application: China Glaze is a 3-Free brand with a round brush that is both medium in length and firmness with enough give to allow for ease of control. The cap is slightly tapered and made of smooth plastic that is comfortable to hold.
The creme polishes in the collection apply with a squishy, jelly-like texture that is easy to maneuver. They are very well pigmented so I only need two coats for full coverage. The two shimmers are like a cross between the glass-fleck jellies China Glaze is known for, and a creme. It results in a somewhat chalky texture that can be a bit cumbersome to work with. I needed three coats to reach opaqueness in this case.

China Glaze Dandy Lyin' Around is a pure white shimmer filled with fine, crystal flecks. It's one of the best white shimmer polishes I've worn in a long time. I'm not saying it's White-Kwik-Silvr, the BEST white EVER, but it's damn close.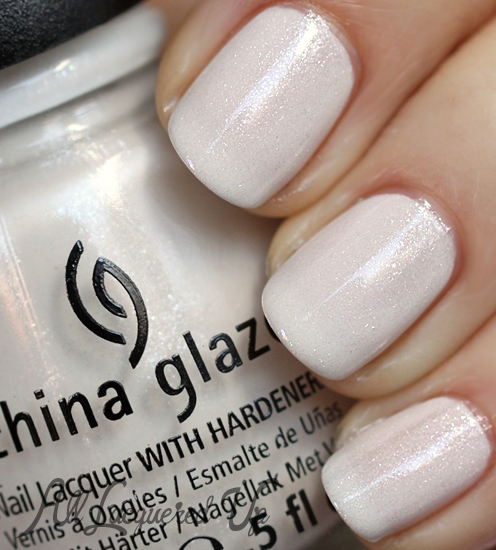 China Glaze Fade Into Hue is a softened periwinkle creme. It definitely leans more towards the blue side of periwinkle, than purple, and it's more muted than Secret Peri-Winkle.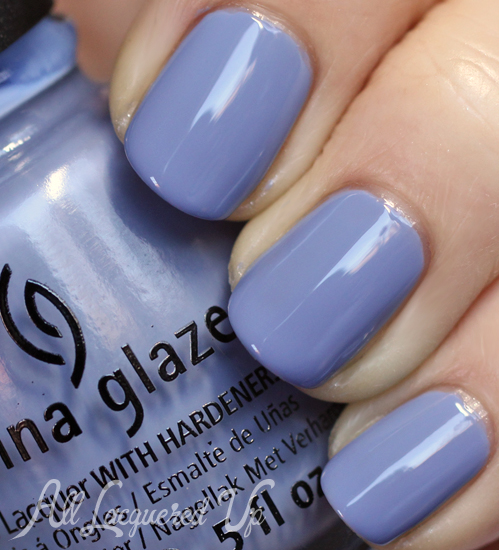 China Glaze Keep Calm, Paint On is a minty, leafy pastel green shimmer with the same subtle fleck finish of Dandy Lyin' Around. It's got that fresh feeling you get from a wintergreen Tic Tac.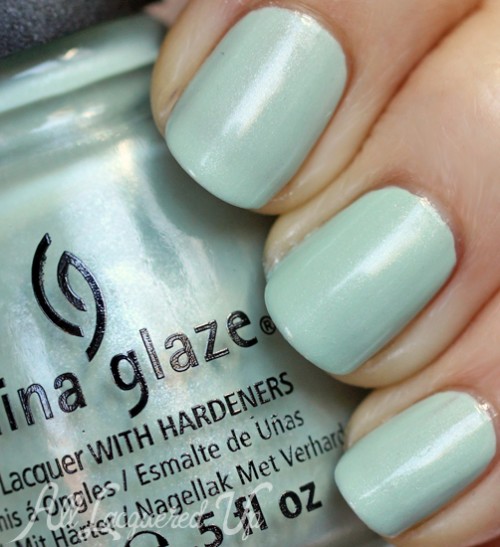 China Glaze Life is Rosy is an energized, dusty rose creme. It's rich without being too bold. China Glaze describes it as a mauve but I don't see enough purple in the base to give it that distinction.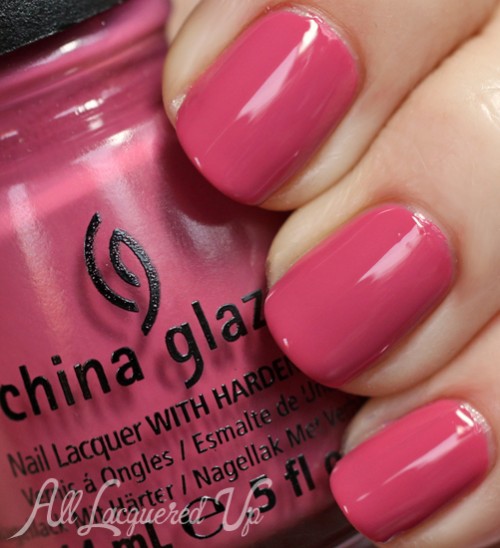 China Glaze Pink-ie Promise is a subdued bubblegum pink. There's a hint of pink shimmer in the bottle, but on the nail, it just adds to the depth of the creme finish.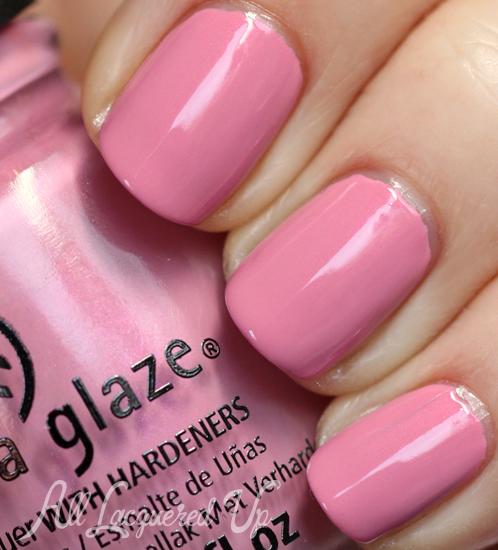 China Glaze Tart-y for the Party is a lavender creme. It isn't too pink, which makes it a more universally flattering version of lavender.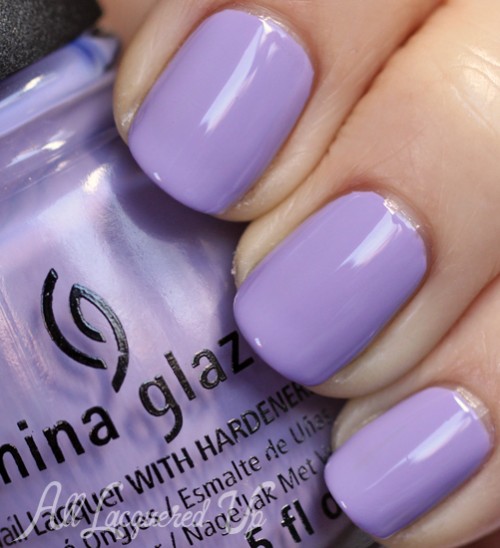 The shades in this set lend themselves to multi-colored manicures. You could pair any of the colors together successfully but tonal polka dots were the first thing that came to mind.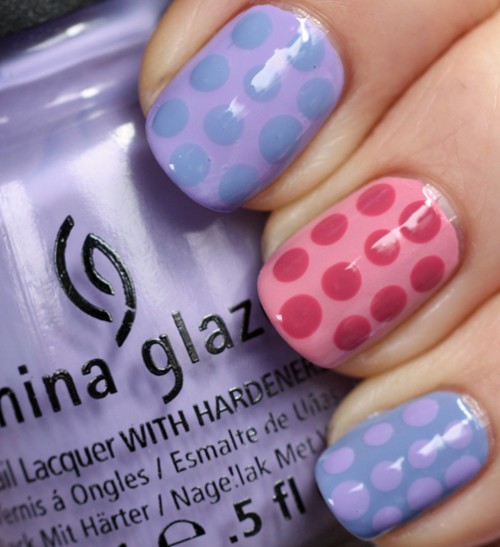 Bottom Line: I'm not a pastel type of girl and if these polishes had been true pastels, I would have dropped them like a hot potato. Pastel nails for spring make me think of this…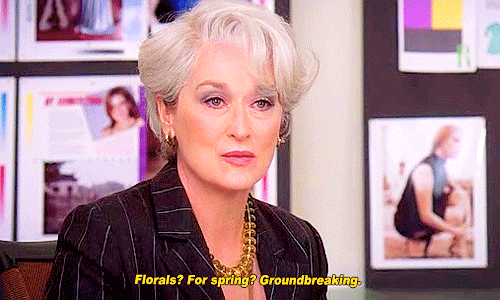 Thankfully, these energized pastels are anything but boring. That being said, I have my favorites, of course. Dandy Lyin' Around is a MUST, especially if you don't own White-Kwik-Silvr. Even if you don't think you can pull of white, trust me and try it! Fade Into Hue is like no other polish I own and Tart-y for the Party is a winner because it's a light purple that doesn't make my skin look alien-like. As much as I love greens, Keep Calm, Paint On didn't win me over because of the chalkiness of the formula. I LOVE the name though.
China Glaze Avant Garden "Pastel Petals" are available now at salons and professional beauty supply stores nationwide including Sally Beauty and ULTA. To locate a retailer near you, visit ChinaGlaze.com. China Glaze nail polishes retail for $7/ea for a .5oz bottle.
Are you feeling the Pastel Petals colors? Have you ditched dark colors and sparkles for cremes, pastels and brights? If these aren't your thing, stay tuned, the Blooming Brights are up next!
Disclosure: Product samples were provided by reps for China Glaze. For more info view my Disclosure Policy.