Shimmer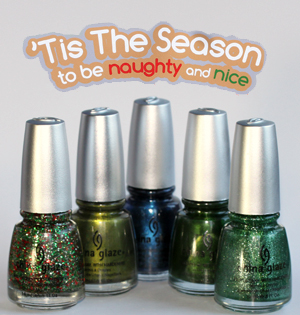 China Glaze has definitely been Naughty AND Nice this year.  Nice for releasing so many cute holiday gift sets and a fun range of colors but Naughty for overwhelming us with so many options.

Unlike the past few years where they've released just a few holiday shades, for Holiday 2010 the 'Tis The Season to be naugty and nice collection consists of 16 nail polishes.  That's right, SIXTEEN!

To make it easier to take in, I've broken down the collection into its three main color families; Blue & Green, White, Silver & Gold and Red & Vampy.  We'll start with my obvious favorite the lone blue (Little Drummer Boy), three greens (Jolly Holly, Mistletoe Kisses, Peace On Earth) and the multi-colored glitter bomb (Party Hearty).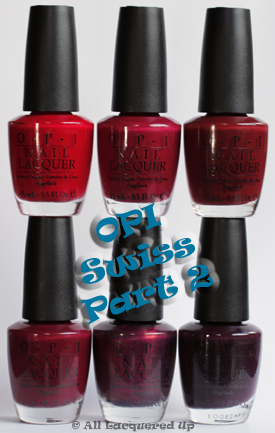 So today I have the second half of the OPI Swiss collection for you.  Like the backdrop for the white cross on the Swiss flag we're in all red territory.

I'm sure it's no surprise to you to hear that the idea of doing an all red post doesn't exactly jazz me.  It's just never been my color.  I have a few staple reds that I turn to again and again but overall it's just not my bag.

However, because I know there are people as fanatical about reds as I am about greens I wanted to share them with you.  And because the formula of all six of these polishes is so stellar, I actually liked a couple of them enough to add them to my stash.  Curious about which ones I gave high marks? Read on to find out!