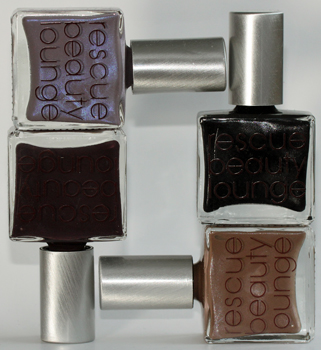 RESCUE BEAUTY'S Spring/11 POLISHES SUIT FASHION SCHIZOPHRENTICS
The variety of moods and personas shown on this Spring//Summer's runways was a tribute to the fashion schizophrentic in all of us.
This Spring, Rescue Beauty Lounge founder Ji Baek has created a collection that is a hodgepodge of her favorite trends from the Spring fashion collections.  It reflects the multiple fashion personalities seen on the runways and, for the first time, we're seeing a RBL collection without a cohesive theme.
Much like a typical woman's wardrobe, Iconic/Ironic is a mix & match cornucopia of color reflecting different trends and lifestyle needs.  From the office friendly neutral, Decorous, to the out-all-night, punk rock black, Iconoclast, this collection has something for everyone.

Unlike previous seasons where one clear trend carried through collection after collection, this Spring, designers are all over the map. There was Betty Page starring in South Pacific at Dior, new wave meets neoclassical at Chanel, sexy Suzie Wongs at Louis Vuitton pared-down minimalism at Celine and Chloe, and a box of crayons at Prada and Jil Sander. Models appeared as 1920's garden party ladies at Galliano, gauchos at Hermes and street-wise punks at the venerable houses of Balmain and Bottega Venetta.
"I love that our wardrobes can reflect our multi-faceted personalities. This season truly celebrates women—every woman—so I've named my Spring polish collection Iconic/Ironic, hues to juxtaposition against every version of yourself."
"The ʻirony' comes from mixing polishes in an unexpected way. Offset all those brights with a neutral cocoa or a grounding black hue. Make your punk looks more tongue-in-chic with lavender nails. It's about adding that surprising detail that keeps you on your (well-pedicured) toes."
Formula and Application: RBL is a 4-Free brand, including Formaldehyde Resin. The brush is round, of average length and on the thicker side. It's a bit more flexible than most which makes application a breeze for me.
As is Rescue's style, the pigment is strong with this collection.  Every polish applied perfectly in two coats and leveled out to a perfectly even, glossy finish.  All swatches were done with a top coat and photographed completely dry.

Insouciant is the toned-down gray lilac of a pressed corsage. Punked out rather than pastel, it is a counterpoint to Spring's ladylike florals and Bardot-worthy uber-feminine dresses. Or wear it with Lanvin's muddied neutrals.
As the name implies Insouciant is a very carefree, greyed lavender with subtle blue shimmer that peeks out at you in the daylight.  Unlike a lot of pale purples I've tried (I'm looking at you China Glaze Tantalize Me) this one doesn't give me a weird alien hands effect.  I've long said that lavender, lilac, etc just don't work on me but obviously that's not the case.  I just needed to find the right one and Insouciant is that color for me.  It's dark enough to not trek into the world of pastels but light enough to have a "spring" feel.  I'm utterly and completely smitten with it.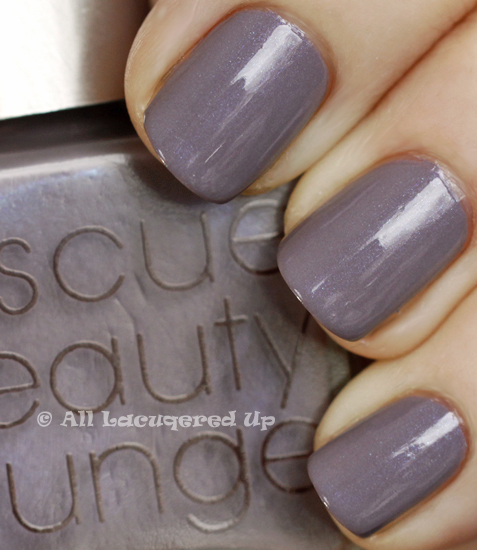 Iconoclast. "Let's face it, black polish has been done to death. I had to reinvent it into something entirely new," says Baek. This one is a richly pigmented ebony with layers of fine glitter, giving it depth and a metallic, mica-like finish.
Iconoclast is the richest black shimmer I've seen yet.  Until now it seems that black shimmers tend to go one of two ways.  Either the shimmer is barely noticeable leaving you with nothing but a black creme or it's so packed with glitz that the color looks more charcoal than ebony.  Ji has found a way to blend the two into a formula that is dense and luscious.  The pink and green shimmer really stand out in the daylight, I just wish it was a little more apparent indoors.  The depth is still there but the uniqueness dies down a bit.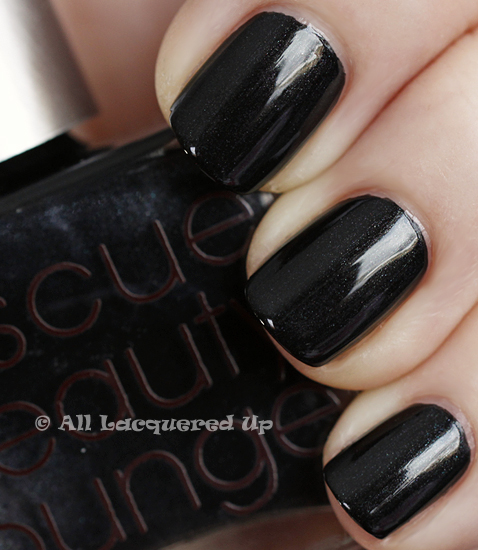 Decorous is a perfectly ladylike light cocoa, an unexpected neutral to offset bright tropical hues or to add a chic finish to an all-black ensemble.
The creamy cocoa base of Decorous has left the lyric "Mocha Choca Lata yaya" from "Lady Marmalade" running through my brain for the past few days now though the color looks more like the Chai Tea I love to drink more than it does Hot Cocoa.  The light brown base color is filled with the same pink micro-shimmer as Iconoclast and Insouciant cooling off the warm overall hue.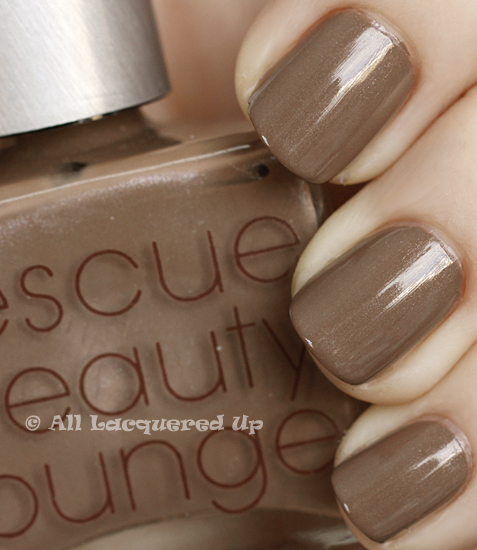 Recherché is a purplish dark brown prune, an exotic accent that grounds oversize prints better than an expected summer pink or coral. Stunning with the homage to classic YSL designs shown by Stephen Pilati or the Proenza Schouler boys' loose-fitting ladylike tweeds and sheer tank dresses.
Recherché is a chameleon in that you can't tell if it's brown, purple, dusty plum, etc.  It changes with the lighting ranging anywhere from a slighter paler sister of OPI LPAD to a bold raisin.  It's a very unique creme in that unlike other colors in this family, it doesn't show a red base in the first coat.  Ji has made this baby so pigmented that all you see is the pure, plummy brown goodness.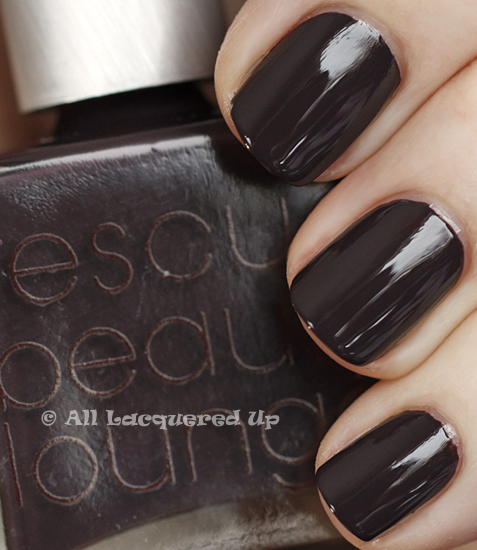 Bottom Line: As much as it surprised me (and Ji when I told her) Insouciant is my hands down favorite of this collection.  It's my ideal version of lavender/lilac, just utterly amazing.  Recherché is my runner up with Iconoclast a close third.  I love Recherché for its uniqueness and density of color.  Iconoclast is a win because it perfectly balances true black color with shimmer, not an easy feat.  Unfortunately, Decorous gets a pass from me.  It just doesn't work with my skin tone nor is it the type of color I see myself reaching for.  In the bottle it had such promise but on my nails it was a fail.
The Rescue Beauty Lounge Iconic/Ironic collection will go on pre-sale before the end of January.  Make sure you're signed up for the RBL newsletter to be notified of the sale dates.  Rescue Beauty Lounge nail polishes retail for $18/ea for a .4oz bottle and can be purchased online at RescueBeauty.com.
Thoughts on the Spring RBL colors?  Which ones are calling out to you?  If you plan to pre-order, what are you getting?
I will be doing comparisons of these so if you have a specific comparison request, leave it in the comments.
Disclosure: Product samples were furnished by Rescue Beauty Lounge.  For more info view my Disclosure Policy.