After spending the past few days sorting through your nominations ballots it's finally time to vote in the All Lacquered Up Fanatic Favorites 2010. Over 600 of you participated in the nomination round to determine the nail polish colors and products you'll be voting on. A huge thank you goes out to all of you who helped with the nomination process.
In addition to the big vote I'll also be hosting a giveaway with polishes from some of the finalists.  Keep reading to cast your vote and see what you could win.

If you can't view the voting box above, CLICK HERE, to take the survey.
Thank you so much for your vote. I will be awarding one lucky voter the following prize package with items from Chanel, China Glaze, Deborah Lippmann, Orly, Rescue Beauty Lounge, Seche and Zoya.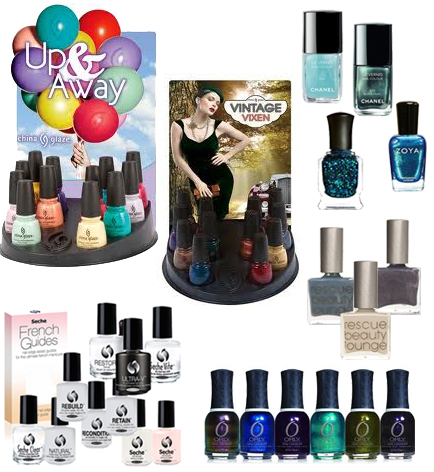 Chanel Black Pearl, Chanel Riva, China Glaze Up & Away Collection, China Glaze Vintage Vixen Collection, Deborah Lippmann Across The Universe, Orly Cosmic FX Collection, Rescue Beauty Lounge Catherine, Rescue Beauty Lounge Catherine H, Rescue Beauty Lounge Jane, Seche Clear, Seche French Guides, Seche Natural, Seche Porcelain, Seche Rebuild, Seche Recondition, Seche Restore, Seche Retain, Seche Rose, Seche Ultra-V, Seche Vite, Zoya Charla
You have from now until Friday January 28th to cast your vote.