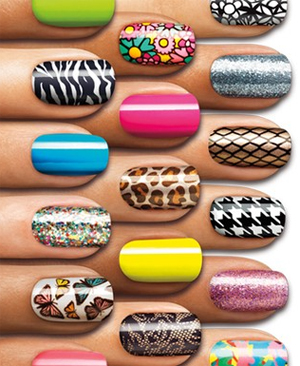 It's no secret that I'm not a nail art fan. I've always said that I appreciate the artistry, creativity and certainly the skill involved but it's just not my bag. I do see designs from time to time that wow me but I won't be jumping on the nail art bandwagon anytime soon.

However for those of you who are into nail art but professional services, including Minx, are out of your budget and DIY'ing isn't in your skill set, Sally Hansen has a solution for you.  The recently launched line, Sally Hansen Salon Effects, are nail appliqués made from real nail polish.  These easy to apply nail polish strips come in an array of styles including solid color glitters and neons for those of us looking for a zero dry time, on-the-go manicure solution.

I recently gave the strips a go putting the "Lasts Up To 10 Days" claim to the test.  Keep reading to see how they fared.

Formula & Application: Sally Hansen Salon Effects are made with real nail polish and are 4-Free (including Formaldehyde Resin) however because they have a different formula than the regular Sally Hansen nail polish I suggest you read the ingredients in full before purchasing to avoid allergic reactions.  Each Salon Effects package includes 16 strips in varying sizes, a cuticle stick and mini file/buffer.
Application instructions are included with each package and are very easy to understand.  You select the correct size strip for each nail, peel off the protective film, detach the polish strip from the backing, press on to the nail and file off the excess.  What's great about these strips is that each end has a different shape, one rounded the other squared, so you can find a good fit for your cuticle line.
Application tips:
Warm the strips with your hands to make them more pliable.
Bend the strip over your free edge and use the file to remove the excess rather than tearing it off.  Tearing can result in an uneven edge.
Between sizes?  Size up and use the enclosed cuticle stick to remove the excess off your skin.
Don't submerge in water right after applying.  I took a shower shortly after applying and the pinkie strip popped right off and my ring finger pulled up some.  I pushed the ring finger back down and it lasted fine but I suggest waiting a couple hours before bathing.

Of all the patterns in the Salon Effects line I was most drawn to Misbehaved.  I dug the shimmery champagne background and simple black fishnet design.  Throughout the week I received numerous compliments from friends and strangers and I chuckled as the impressed looks on their faces fell when I told them it was an appliqué and not my own handiwork.  As if I could create lines that clean on my own.  I'd be a professional nail artist if that was the case.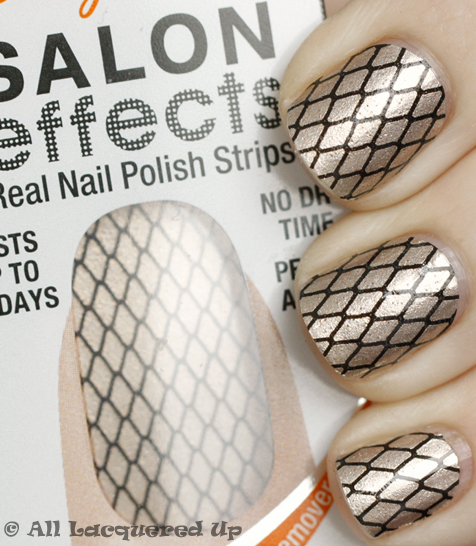 I went above and beyond the promised 10 Days with my Wear Test, keeping Misbehaved on my nails for 12 Days.  In that time I went bowling three times (this is my bowling hand) and, with the exception of my middle finger starting to wear after Day 7, the rest of my nails looked pretty fantastic up until Day 10.  If it wasn't for the growth that was SERIOUSLY starting to bug me, I would have left them on.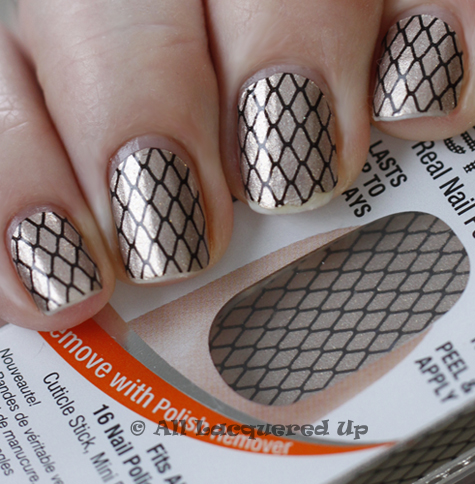 I don't know when the cracks in my thumb nail started to occur but I didn't notice them until I took this pic.  I have a feeling the tape I put in my bowling ball thumb hole last Saturday was part of the problem.  The tape is pretty rough to help with grip and I bet rubbing up against it plus everyday water exposure caused this strip to weaken and crack.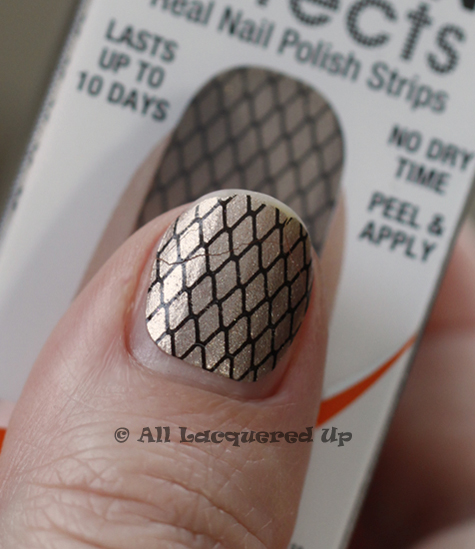 As much as I like Misbehaved, the glitters in this line are my fave.  Blue Ice is a beautiful smoky denim blue glitter and I love that you can get opaque glitter coverage without putting on layer after layer of polish and a thick top coat.  The Blue Ice strip is more flexible than the others I tried and it leaves a perfectly smooth finish.  Of course because it's made of glitter nail polish it is more difficult to remove than the others and can leave traces of glitter behind if you aren't precise in your removal.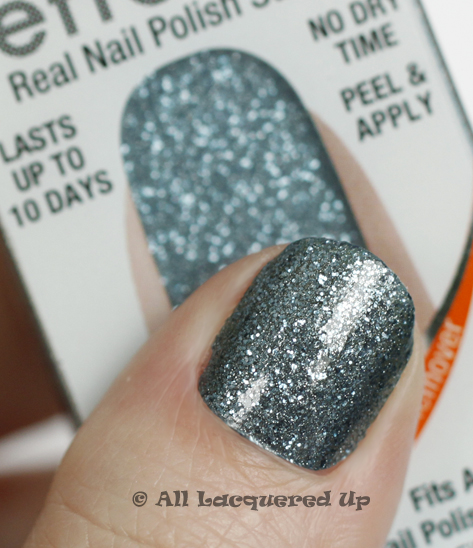 If you love the flower pattern Minx that Katy Perry made famous, you can get a similar look from Girl Flower.  Maybe it's just me but the patterns with light backgrounds, including Wicked Bamboo, and solid color neons feel thicker and aren't as flexible.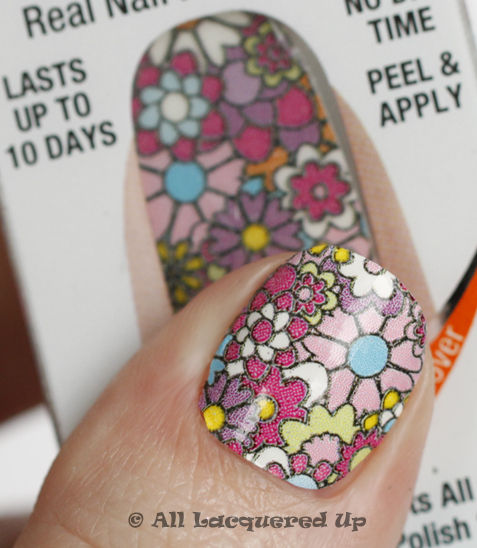 Cry Baby is a hot pink neon creme.  It doesn't look neon on camera but in person it's BRIGHT!  As I mentioned above, the neon strips aren't as flexible as the glitters or Misbehaved.  They also show every nail imperfection, like the ridges I didn't realize were on my thumb nail.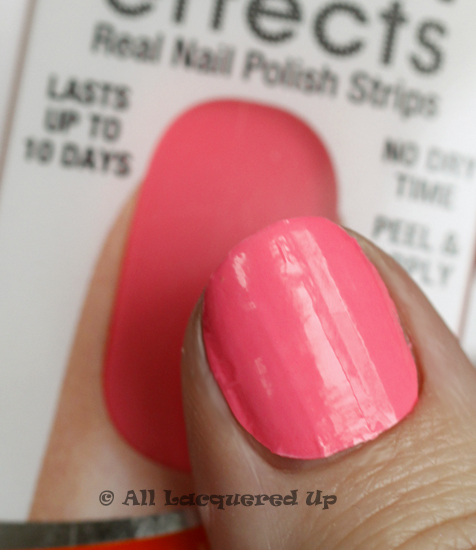 The Full Sally Hansen Salon Effects Line
Cut It Out, Girl Flower, Booty Camp, Collide-O-Scope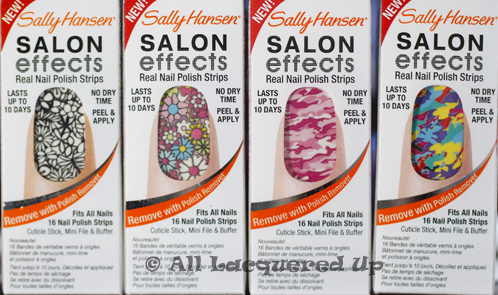 Frock Star, Blue Ice, Bling It On, Glitz Blitz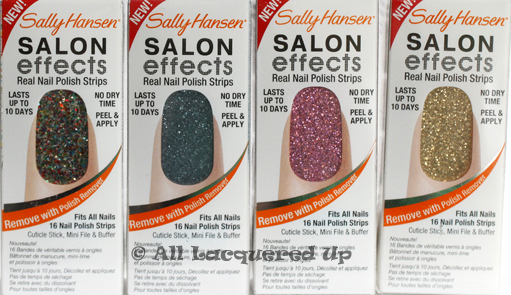 Skinny Jeans, Check It Out, Misbehaved, Laced Up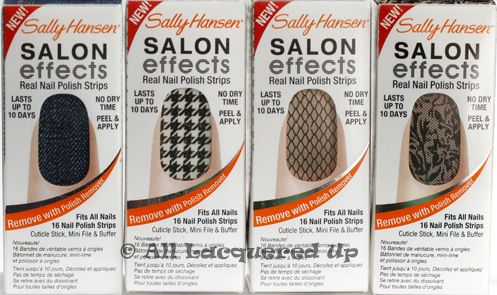 Wild Child, Kitty Kitty, Fly With Me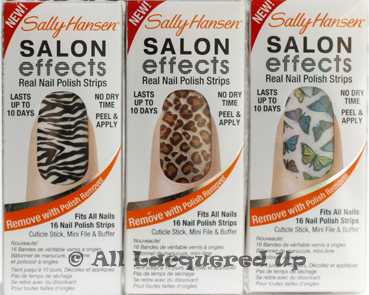 Raise A Glass, Wicked Bamboo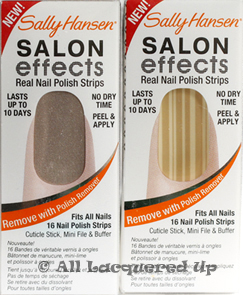 Cry Baby, It Girl, Violet Night, Red-y For Trouble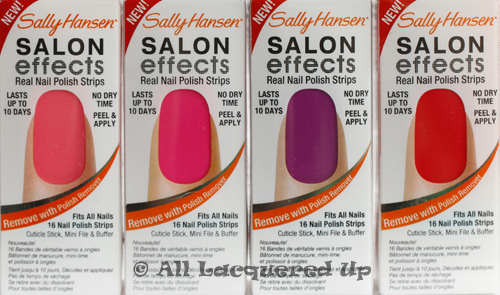 Squeezed, Electric Shock, Groove, Teal With It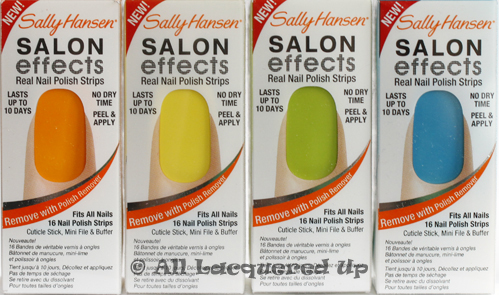 Bottom Line: Overall I was impressed with the diversity of colors and patterns, the ease of application and the wear.  Compared to the other nail appliqués I've tried, I definitely like Sally Hansen's the best.  I've never been able to get the Incoco ones to stick to my nails (frustrates me to no end) and the Sephora by OPI version of Minx are thick and don't last as long.  I personally haven't tried any others but given the accessibility of Sally Hansen, the Salon Effects line gets my stamp of approval.
Sally Hansen Salon Effects Real Nail Polish Strips are in stores now and retail for $9.99/ea.  You can find Sally Hansen products at drugstores and mass market retails nationwide.
How do you feel about nail polish appliques?  Is this something you would wear?  What do you think are the benefits of this type of product?  Which designs, colors or patterns are your faves?
Disclosure: Product samples were furnished by Sally Hansen.  For more info view my Disclosure Policy.