Those I words I never thought I'd utter.  You see I grew up in a Ford/Chrysler home so it has never occurred to me to venture into Chevy territory when buying a car.  So why am I telling you this?  Well the Northeastern Ohio Area Chevy Dealers approached me about participating in their Gotta Love Chevy Girls On The Go program.  Over the past few months bloggers from the area have been test driving different Chevy vehicles and doing fun missions that highlight the features of the car.  Considering that I have no real experience with Chevy I decided to take on the challenge.
Over the next few weeks myself and two of my fellow CLE bloggers will be driving a Chevy Cruze around town putting it to the test during a harsh Cleveland winter.  You can follow our adventures on the Gotta Love Chevy NEO website.

Katrina from Bite Buff and Suzanne from Life On Mars and I picked up our Cruze's together and thankfully the dealer who showed us the car's features was able to deal with our shenanigans. After discussing Suzanne's current obsession with Dexter (yes, she's late to the party), we wondered if the immense truck space that the Cruze touts could contain a body.  Katrina was more than happy to help us find out.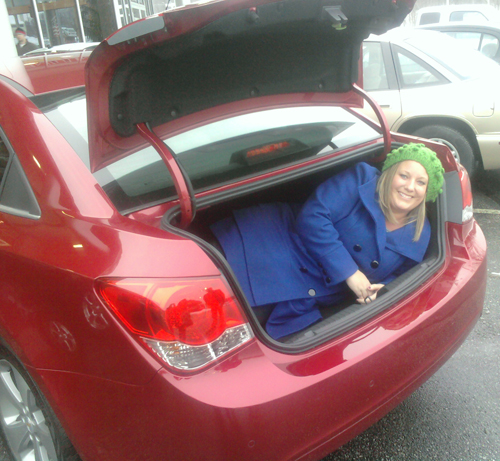 Our Chevy Cruze's (mine is on the far left)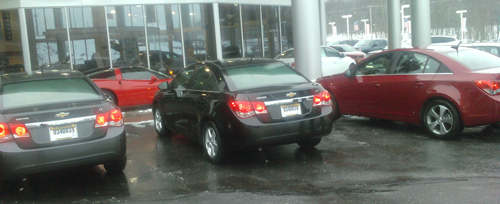 Suzanne and her new Cruze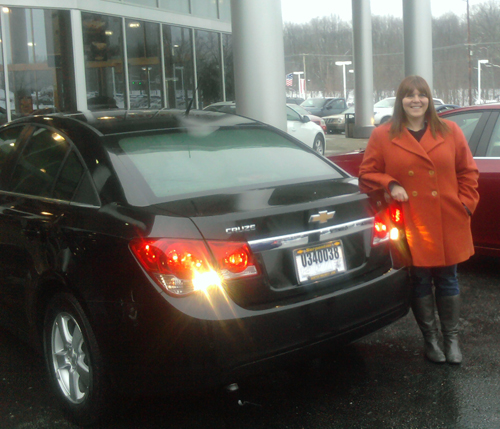 Now that I've had to a chance to test out the Cruze some I have to agree with ALU Dad who said, "That's a pretty neat little car, man."  In ALU Dad speak that's high praise and much like Boomhauer from King of the Hill, all my Dad's sentences end in "man."  Now I haven't driven a car, let alone something this compact, in at least 12 years so it's taken some getting used to but the Cruze does have its advantages.  Like features that you can't find on a lot cars of this size and price range such as heated seats and remote start (so necessary in the winter).
Not to worry Fanatics, I won't be inundating you with a ton of posts about Chevy.  I just wanted to introduce you to the program and my participation in it.  If you want to see what I'm up to and read about the missions me and my fellow Chevy Girls go on, head over toGottaLoveChevyNEO.com or keep up with our discussions on Twitter by following @ChevyOhio or #ChevyGirls.
Also I wanted to let you know about a great giveaway. Enter the Girlfriend Getaway Sweepstakes and you could win a trip to Boca Raton, FL for you and a friend.  The trip includes roundtrip coach airfare for two to Boca Raton, Florida and one hotel room, double occupancy for four (4) days, three (3) nights at the The Bridge Hotel in Boca Raton. The full details and rules are on the Gotta Love Chevy NEO website
Disclosure: The Girls On The Go campaign is being sponsored by Northeastern Ohio Area Chevy Dealers, who gave me a Chevy Cruze to test drive for one month and blog about my experience using the vehicle. All opinions expressed are my honest opinions. The program has given us some fun "missions" to do and will be providing me with gift certificates to allow me to do this. Follow Gotta Love Chevy NEO on Facebook or on Twitter (#chevygirls).  For more info view my Disclosure Policy.