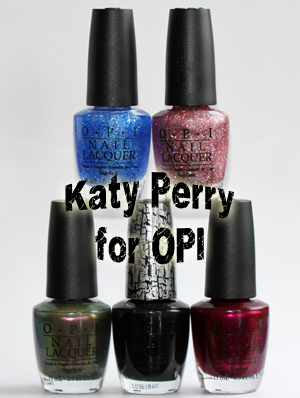 Katy Perry combines her love of music and nails to introduce a new line of lacquers with OPI, launching January 2011. Inspired by Katy's cutting edge style and latest album, Teenage Dream, the Katy Perry Collection by OPI will include four fierce, irresistible colors for nails and toes.
Complementing Katy's already daring nail trends on and off the red carpet, a revolutionary Black Shatter™ formula will accompany the collection to create a ground-breaking cracked pattern when applied over each dried bright lacquer.
Katy Perry has become a celebrity nail icon thanks to her eye catching nail designs so it only seems natural that a brand like OPI would want to partner with her.  Though to be honest, I am surprised that she hasn't collaborated with a brand know for nail art, like Minx.
The Katy Perry Collection utilizes the new OPI Black Shatter polish to add some artistic flare to the colors which include a duo-chrome, sparkly red and two glitters.

Formula & Application: OPI is a 3-Free brand. They made the switch to 3-Free in 2008 and the Black Shatter formula is also 3-Free. You can identify an OPI with the 3-Free formula by the green lettering on the label. Bottles with black lettering have the old formula. Always check the labels to be sure. The OPI Pro Wide brush is flat, wide and medium in length. It's of average stiffness and easily spreads out on the nail when pressed. The only downside to the Pro Wide brush is that it can be too wide for slim fingers or little toes.
Due to the varied range of finishes in this collection I will address the application of each in the individual reviews.  Know that I used three coats for all the polishes as opacity is not their strong suit.
Black Shatter is a top coat that needs to be applied over completely dry nail polish. It applies like a typical black creme but dries in a "shatter" pattern once dry. A thin coat will shatter more resulting in smaller shards of polish on the nail while a thick coat will make it more chunky.  Thanks to a reader suggestion, I applied Black Shatter on my ring nails in a sideways motion to show how you can change the look of the crackle pattern.

Not Like The Movies looks green with a reddish flash in the bottle but on my nails it's lavendar with green and pink flashes and random flecks of silver micro-glitter.  I applied a bit streaky due to the metallic pigment though the glitter kept it from looking like a total brush-stroke nightmare.  This color reminds me of a Scherer Chameleon polish I picked up at Rite-Aid and like previous OPI duo-chromes (Significant Other Color) it changes color depending on the angle and lighting which makes this a perfect shade to put under Black Shatter.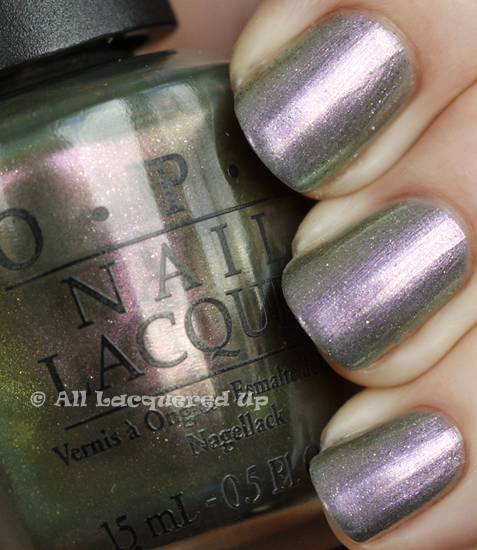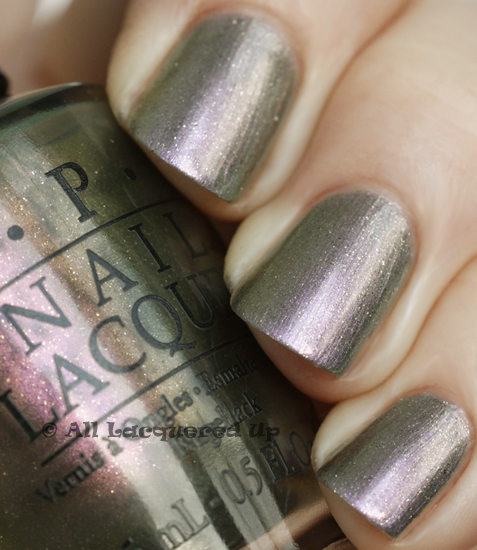 On its own I would probably not opt to wear Not Like The Movies but with Black Shatter on top it's pretty stunning.  I'm still on the fence with the whole crackle finish trend but the changing of the base color makes this look really unique and fun.  Definitely my fave combination in the collection.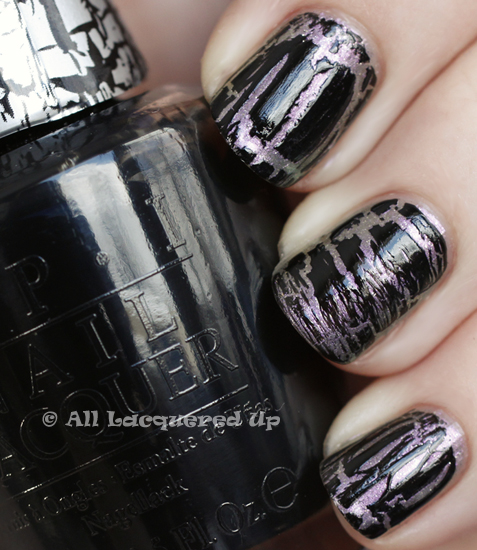 The One That Got Away surprised me.  I wasn't expecting to love this color but I do.  In the bottle it looked kind of foil-esque with a hint of duo-chrome but on the nail, SHUT IT DOWN! This deep raspberry has the glass-fleck finish that China Glaze made popular and, as you know, I can never have enough glass-fleck in my life.  Any of you who own glass-fleck polishes know that a camera really can't capture its natural beauty so you know this one is even better in person.  It applied utterly flawless even though it needed three coats and yes, I know I'm gushing over a very non-ALU color family but this one's a winner people.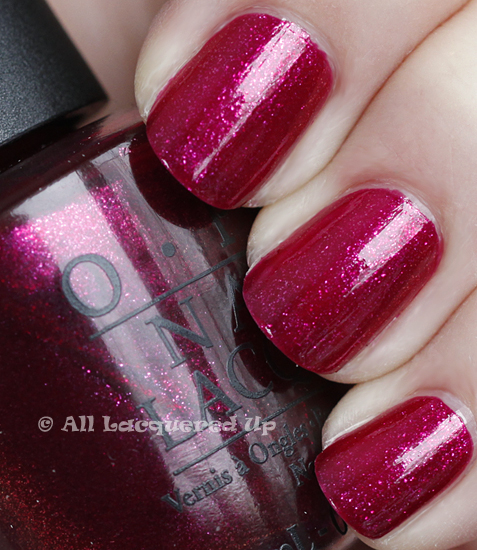 The One That Got Away definitely pops against Black Shatter but I would rather wear it solo.  The rubber textured shatter gives this girly color a bondage-esque edge but I don't think it needs it.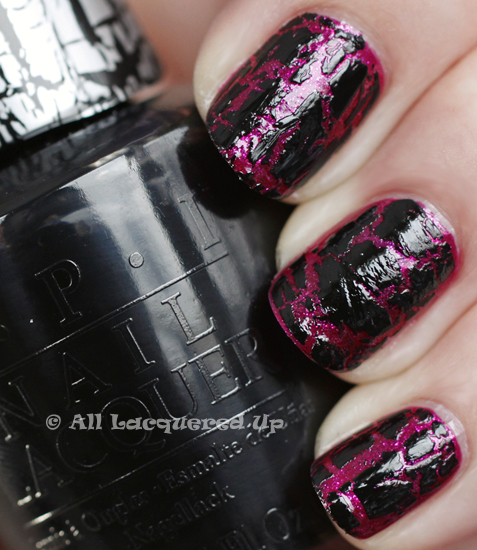 Last Friday Night is a very sheer pale blue based glitter.  The tiny foil micro-glitter and chunkier blue, pink and green hexagonal glitter are evenly peppered throughout the base giving a nice even coverage.  The issue is with the opacity.  This color is just too sheer for me to wear it on its own.  It makes a great top coat but that's about it.  I put a fourth coat on my ring finger and it's still REALLY sheer.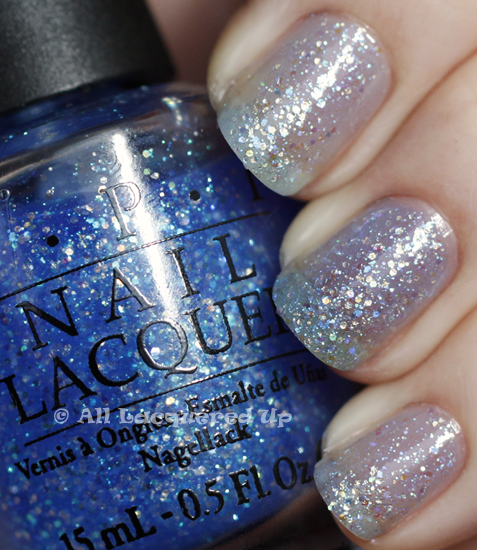 For me, even Black Shatter can't save Last Friday Night.  The blue is so washed out that it doesn't pop against the black.  Instead it makes my nails look pretty grungy underneath.  Not a fan!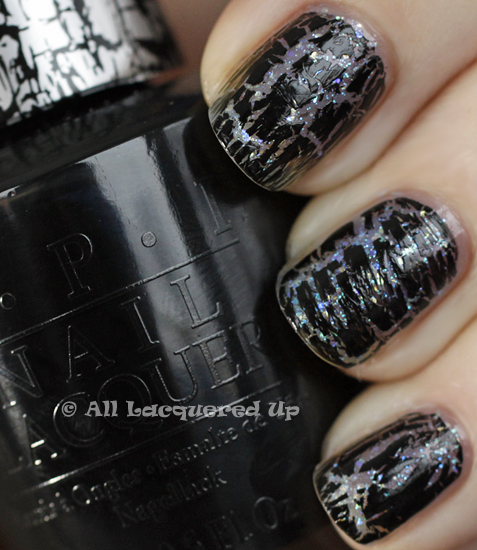 Now Teenage Dream is built the same as Last Friday Night but instead of making me look dead, it actually flatters my skin.  It's still to sheer for my taste thought it builds up much better than its blue based counterpart.  I'm not much for pink but it's pretty and fun though I think it makes a much better top coat.  The application of both glitters was kind of goopy and jelly-like and I found if I didn't wait long enough between coats it would drag.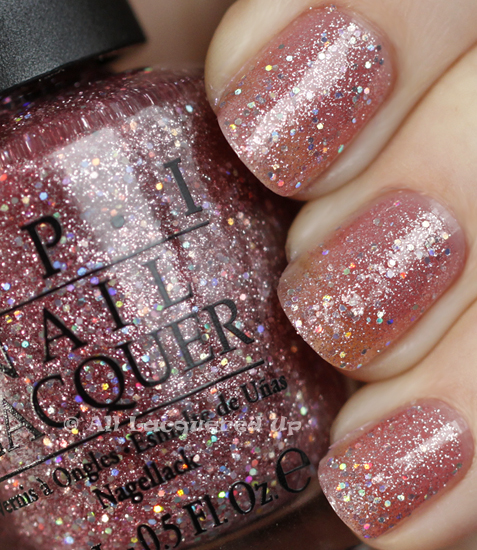 If you're not using it as a top coat Teenage Dream does look good under Black Shatter.  The chunky glitter plays off the light and creates a pretty eye-catching combination.  This is the epitome of mixing girly and punk.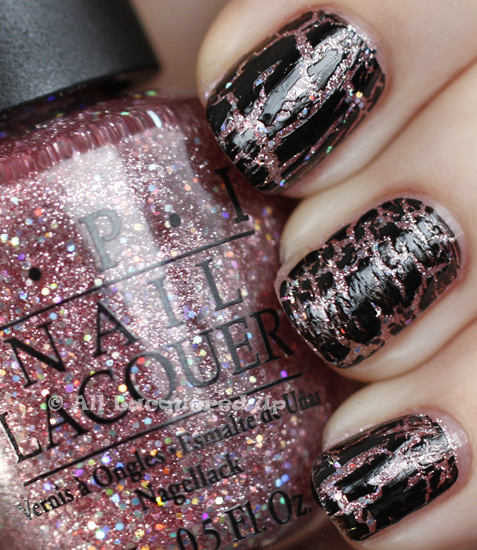 Bottom Line: Overall I'm not especially wowed.  I think OPI could have done a better job choosing the base colors to pair with Black Shatter.  Things that would have popped more against the black.  I also wish they would have given us a different Shatter color.  China Glaze is coming out with six different crackle polishes certainly OPI could come out with more than one shade.
The One That Got Away is pretty sensational and I give it a thumbs up with or without Black Shatter.  The glitters are pretty pointless to me and unless you really need another glittery top coat they get a pass.  If you're into the crackle look definitely get Not Like The Movies to wear under it.  You won't regret it.
The Katy Perry by OPI collection is available now.  OPI nail polishes retail for $8.50/ea for a .5oz bottle and can be purchased at salons and spas nationwide including national chains Beauty Brands, Beauty First, Chatters, Dillard's, JCPenney, Pure Beauty, Regis, Trade Secret, and ULTA.
Thoughts on the Katy Perry collection? Which color do you like best under Black Shatter? Crackle finish haters are you warming up to the idea the more you see them? Which polishes, if any, will you get from this collection?
Disclosure: Product samples were furnished by OPI.  For more info view my Disclosure Policy.